Safe Handling of Cleaning Chemical
By Mike Sawchuk
Published: 11/19/2012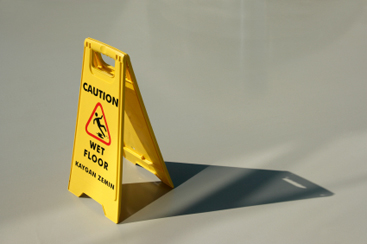 While correctional facilities must take all kinds of security precautions--including everything from making sure weapons aren't brought into the facility to stopping the spread of potentially contagious diseases--there may be one item that deserves more care and precaution than it normally receives: cleaning chemicals.

Because we all use cleaning chemicals in our homes or at work, many of us have developed a nonchalant attitude toward them. And now that more and more locations have transferred to Green cleaning, the belief that cleaning chemicals are always safe has become even more commonplace.

It is true that when used properly, both conventional and Green cleaning chemicals are relatively safe. However, these products are not always properly handled, and accidents can and do happen. The U.S. Department of Labor continues to list cleaning and custodial work as one of the most dangerous jobs in existence, mainly because of the many accidents involving chemicals that occur each year.

It is estimated that 6 out of every 100 custodians in the U.S. experiences a job-related injury each year caused by exposure to cleaning chemicals. These often include eye injuries, many of which are irreversible. Other injuries are typically skin related, such as burns, and the rest are the result of inhaling chemical fumes.

Many people are surprised to learn that all of these injuries can occur even when using Green cleaning chemicals. While environmentally preferable cleaning products are indeed safer than conventional chemicals, when they are improperly or carelessly used, injuries can still occur.

Green chemicals are sometimes even more dangerous than conventional chemicals because they are delivered in such highly concentrated forms. This makes them last longer, which is more sustainable because it reduces fuel, transportation, and packaging needs. But in such highly concentrated forms, these products can also be very powerful, and therefore dangerous. In many cases, both Green and conventional chemicals must be diluted by 2 parts to as many as 20 parts in order to be used properly and safely.

Because of this, correctional facility managers are encouraged to work with their janitorial distributors to develop a cleaning chemical safety program designed specifically for their facility. This will minimize the potential for injuries to staff or inmates. Once put together, this program should be formalized--meaning it is put in writing. Everyone in the facility who uses, moves, stores, or handles cleaning chemicals in any way will need to be familiar with this program.

Components of a Cleaning Chemical Safety Program

Among the components of a cleaning chemical safety program are:

Complete listing and documenting of all cleaning chemicals used in the facility; this should include how many gallons (and multiple gallon containers) are stored, where they are stored, and the potential hazards of and precautions necessary for each specific chemical (for instance, whether or not they need to be kept away from direct sunlight).
Material Safety Data Sheets (MSDS) for each chemical used; this should be included with the documentation listed above.
Storing all chemicals in their original containers and never mixing chemicals, even if they are the same "type" of chemical.
Storing chemicals in well-ventilated areas without HVAC intake vents; this helps prevent any fumes that may occur from spreading to other areas of the facility.
Safety signage in multiple languages (or, even better, signs that use images and no words) that quickly conveys possible dangers and precautions related to the chemicals.


Other Components

Cleaning chemical safety programs should also include getting rid of chemicals that have not been used for a prolonged period of time. A good rule of thumb is to consider disposing of any chemical products that have not been used for six months, and to properly dispose of any product that has not been used for a year.

It is also important to note that properly run housekeeping/custodial departments rarely dilute cleaning chemicals manually. Instead, they use auto-dilution/dispensing systems. These not only ensure accurate and safe dilution, they also reduce chemical costs. Most chemicals should be stored at moderate room temperatures away from direct sunlight. Temperatures above 85°F or below 60°F not only increase safety hazards, they can also reduce the effectiveness of the product.

Finally, administrators should realize that chemical safety is an ongoing concern. Once the cleaning chemical safety program has been established, managers should hold regular meetings with custodial workers and others who handle chemicals to ensure proper chemical use. When it comes to the safe handling and use of cleaning chemicals, ongoing education is a must.

Mike Sawchuk has been involved with the Green and professional cleaning industries for more than 20 years. He is Vice President and General Manager of Enviro-Solutions, a leading manufacturer of proven-Green cleaning chemicals based in Ontario, Canada.
---