A Mother's Worst Nightmare..and for us, this was not just an average day on the job
By Dalonika McDonald, Texas Department of Criminal Justice/Parole Division
Published: 02/11/2013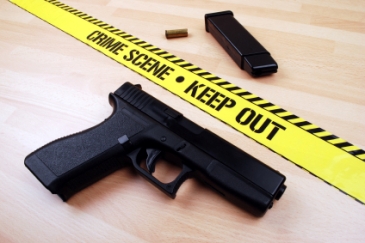 September 24th, 2010 started out as another beautiful day for Shirley Sanchez and her daughter LaTressa. They were in the kitchen, while Mrs. Sanchez filled the house with the smell of her good cooking. Mrs. Sanchez remembers this day like it was yesterday. "LaTressa continued to tell me how pretty I still looked. She told me don't worry about going with her to take care of errands (as I usually do), she would go instead so I could continue to cook. Moments later I watched LaTressa brushing her hair into a pony-tail in the mirror for the last time. I remember gazing at my beautiful baby as I told her how pretty she looked. She responded back, "Oh Mom, you always say that!" I reminded her that it was the truth "And what I appreciate the most is how you're pretty on the inside as well as on the outside." I spent time really sharing my heart with my daughter about how proud I was of her, which today while I'm reflecting, I'm so thankful I did. I would have never known our lives would not be the same after that moment.

I watched my daughter grab the car keys as she walked out the door wearing her beige capris and a cute top to match. Toby, her significant other, and his three year old daughter (who we had adopted as our own) were walking out of the front door with me trailing behind Latressa. As she went out the front door and waved good bye, I locked the screen door, something I never do. The next few minutes were in slow motion. I was walking back inside the house and heard the unmistakable sound of a gun shot. I just knew my daughter's ex-boyfriend had shot my baby! He had made many threats. I just knew he had shot my baby! The gun shots were too close to the front door. I tried to run out the screen door, but it was locked and I couldn't get through. I could see LaTressa's car was blocked in by her ex-boyfriend's yellow van. I ran to the side window in the bedroom and looked this 'man' right in his eyes. I saw my daughter laying on the grass bleeding and I couldn't stop myself from screaming as I dialed 911. I was trying so hard to keep my composure, but I couldn't. "He shot my baby! Send somebody please!", I yelled. Finally, I found the key to our screen door and ran as fast as I could to get to my baby. I layed on the grass and picked my daughter's head up and held her close to my chest as she said, "mom" in a faint voice as I watched LaTressa take her last breath.

After ambushing and killing LaTressa and Toby, he left in his van. Toby's daughter's life was saved because he and LaTressa used their bodies as shields to protect her.

My daughter lost her life because of a jealous rage...

Today would not be a normal work day

I received the call about Mrs. Sanchez's daughter from Mrs. Sanchez's parole officer, Laura Trimble. I was riding in the back seat as my officers drove me to the crime scene. I remember thinking on the way there from the heart of a mother and not a supervisor for parole. My thoughts went back to my first meeting with Mrs. Sanchez at our women's class for women on parole as she was just released from prison. She is one lady you can never forget. No matter how bad times were for the other women in the class, she was always the encourager. How could this happen to her? She is a beautiful woman on parole who was determined not to go backwards.

When we arrived to Mrs. Sanchez's home it was a terrible sight. Where her daughter's body laid, you could see her blood in the grass. The mother of a slain daughter set on the porch with tears coming down her face as I just held her. Her question to me over and over was 'Why?' I didn't have an answer for her as my own heart broke for this mother. I, too, wanted to know how and why was her 38 year old daughter shot dead with her boyfriend by 10:30AM.

Detective Carroll heard the call and description of the guy responsible for two lives. He made a call to his son who works for the Fort Worth Police Department as well, "Son, this could have been your sister, my daughter. Make an arrest today." David Jackson, 34, was in custody that very day.

The corrections staff was supportive and allowed Mrs. Sanchez to speak to her son to let him know the tragedy which just struck their family. Victim services were called to step in and help Mrs. Sanchez through this traumatizing ordeal. The prosecutor working on the case made promises to Mrs. Sanchez. He too was bothered by the way this tragedy unfolded. David received life in prison without parole.

Today, Mrs. Sanchez partners with Fort Worth Parole District Re-Entry Center and the Fort Worth Police Department to advocate safety and non-violence.

We don't talk about this much but many inmates have family members who are abused which have lead to deaths for many. Resources must be available to inmates to share with their family back at home to get out of threatening situations. Especially for teens who are in abusive relationships. During the month of February: Teen Dating Violence Awareness month we need to take this time to educate on domestic violence.

For resources for domestic violence please contact:

National Resource Center on Domestic Violence
1-800-799-7233 anonymous/confidential 24/7
Local 211
YWCA
Victim Services
Your local police department for resources


"When a man tells a woman he will hurt her or her family, she should believe him."-Shirley Sanchez

There is help available before its too late.

Other articles by McDonald

Corrections.com author Dalonika McDonald is a former Lieutenant for the Nebraska Penal System. She was promoted by The Texas Department of Criminal Justice to supervise staff to promote security first, and then provide resource services and programs to ex-offenders and their families. 
The scope of McDonald's professional experience encompasses more than inmate relations, she is a highly accomplished criminal justice and public relations specialist poised for her role as a community liaison, instrumentally contributed to recruitment initiatives, training and development and strategic building of relationships with corporate leaders, as an active member of many local and national organizations including: National Association of Women Business Owners, American Correctional Association, Executive Women in Texas Government.
---