Creating Cleaning Standards for Correctional Facilities
By Matt Morrison,Communications Manager, Kaivac Cleaning Systems
Published: 03/18/2013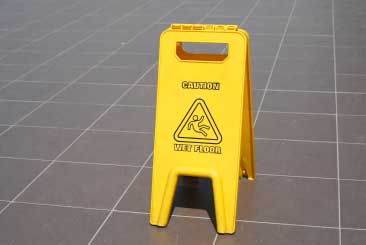 Infection control is paramount in a correctional facility. Due to close quarters and overcrowding, disease and infection can rapidly spread in a prison setting. Fortunately, proper and effective cleaning can play a major role in reducing and even preventing the spread of infection. In fact, the goal of cleaning is to protect human health.

However, accomplishing cleaning's ultimate purpose requires establishing a "cleaning standards" program that should be in writing. A written, detailed plan "formalizes" the facility's commitment and also helps ensure ongoing communication in regards to what cleaning tasks are to be performed, when, where, how often, and using which products, procedures, employees, etc.

All employees involved in a correctional facility's cleaning and maintenance operations should be fully aware of this plan. Additionally, managers should reinforce the initiative with proper training. These steps can move the team forward, help increase morale and buy-in, and also uphold cleaning's goals of meeting health and appearance needs. While there are several components to an effective cleaning standards program, selecting the right cleaning chemicals and equipment is key.

Chemicals

A high performing cleaning standards program for a correctional facility involves three different types of cleaners: all-purpose; sanitizers; and disinfectants. Administrators and cleaning professionals must be well-versed on each type of cleaning chemical. These products were uniquely formulated to meet specific cleaning needs and users must be fully cognizant of what product is most appropriate for a particular task or area of the facility.

An all-purpose cleaner is for general cleaning of all types of surfaces, from counters and floors to possibly even windows. Moreover, an EPA-registered sanitizer might be used in a food service area, for instance, because it is designed to kill or reduce surface pathogens.*

An EPA-registered disinfectant goes further. Used properly, disinfectants are designed to kill 99.99 percent of pathogens, germs, and bacteria on most surfaces and fixtures as well as high-touch areas, including railings, doors, door knobs, etc. The specific pathogens targeted will be listed on the product's label. These chemicals are also designed for use in healthcare areas of a correctional facility. In fact, depending on the services provided in the healthcare location, disinfectants may be legally required.

Administrators and custodial workers should be aware of the following considerations when using these products:

All chemicals should be properly diluted. The use of auto-diluting systems is highly recommended to ensure maximum cleaning chemical performance and to minimize waste.
In most cases, a surface must be cleaned first before a sanitizer or disinfectant is applied. Unless the product is clearly identified as a cleaner/disinfectant, for instance, this rule applies. Routine cleaning removes contaminants, sanitizers and disinfectants reduce or eliminate pathogens.
Sanitizers and disinfectants require dwell time; dwell time is the amount of time these chemicals must "dwell" on a surface to be effective, usually three to as much as 10 minutes. Also, if the product dries on the surface, clean the area, and then reapply the sanitizer/disinfectant.
While a disinfectant is designed to kill germs and pathogens, different disinfectants are designed to kill different types of organisms. Read product labels or contact the manufacturer to determine which pathogens and microorganisms the disinfectant is designed to kill.
Use disinfectants sparingly because these products can be harmful to the worker and the environment.


A note about Green cleaning chemicals: When it comes to using environmentally preferable cleaning chemicals, administrators are reminded that the first order of business in cleaning is to protect health. If a Green product can do the job, all the better.

Equipment and Tools

Establishing an effective cleaning standards program also requires administrators to evaluate the actual equipment used in their facilities. They should consider these tools' effectiveness and ease of use and if they are based on old or new cleaning methodologies.

When it comes to infection control, correctional facility administrators may also need to "cut through the hype" on certain cleaning products. For instance, many administrators and cleaning industry professionals believe microfiber cleaning cloths remove up to 99 percent of bacteria from non-porous surfaces, even without the use of chemicals. However, recent field and lab tests dispel this conclusion. These studies show bacteria removal rates of microfiber cloths is generally in the 50-60 percent range—about half of what is often touted.

Further, we now know that commonly used conventional systems, such as mops, buckets, sprayers, and cloths, may simply not be effective as part of a cleaning standards program, especially when it comes to infection control. According to presentations at the Cleaning Industry Research Institute (CIRI), an alternative is a no-touch, spray-and-vac, or dispense-and-vac cleaning system. With these systems, chemicals are applied to surfaces, such as floors, tile and grout, and fixtures. No mops are used that may spread contaminants. Then, the areas are pressure-rinsed or brushed and vacuumed, thoroughly removing solution/moisture and contaminants, which is critical to hygienic cleaning.

The Training Component

While it was mentioned earlier, it cannot be underestimated how important training is in establishing a cleaning standards program and for advanced infection control. Cleaning "best practices" training is now available from several worthy sources, such as industry associations, groups, and other organizations focused on cleaning education. A 24/7 correctional facility has unique needs and is vulnerable to cross-contamination issues. Working with a reputable expert in the cleaning industry to lockdown a cleaning standards program can help safeguard these facilities from an outbreak.

Matt Morrison is communications manager for Kaivac Cleaning Systems, developers of the No-Touch and OmniFlex Crossover Cleaning systems.

*The Environmental Protection Agency closely regulates disinfectants and sanitizers in the U.S. When registered it means the product has been approved for use by the EPA.


---