MOCK PRISON RIOT: Stopping the Disturbance Before It Starts
By Paul VanDeCarr
Published: 06/10/2013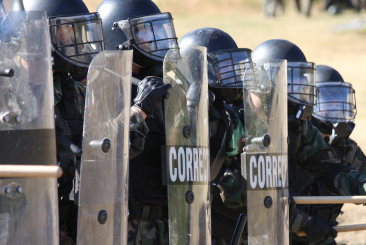 It's not many people who will describe being held hostage as an "opportunity." But then, most people are not like Mike Coleman, Director of Security for the West Virginia Division of Corrections (WV DOC).

It was New Year's Day, 1986 at the West Virginia Penitentiary, where Coleman was working as a corrections officer. Four years earlier, prisoners had filed suit to challenge what they saw as the inhumane conditions at the facility—problems with overcrowding, heat, sanitation. Some say it was the lack of progress in responding to those complaints that led to the 1986 riot, when 20 inmates armed with knives stormed the cafeteria and took 15 corrections officers and food service workers hostage. Coleman was among them.

"At one point," he says, "the training kicked in," namely the do's and don'ts when taken captive. "People say when you're under stress that you fall back on training—and it's when you don't have training that you're really in trouble." Coleman and the other hostages were released by the end of the 42-hour standoff, and he, at least, learned about prison security from another perspective.

Poetic irony, then, that the same facility—decommissioned in 1995, after the state supreme court ruled that the small cells and overcrowding constituted cruel and unusual punishment—should now be used for the Mock Prison Riot, an annual training event that prepares people to respond to those same kinds of crises. "We're training for stuff that we hope never happens," says Coleman, "but if it does happen and you don't have the training, it's going to take a bad situation and make it catastrophic."

The Mock Prison Riot is now in its 17th year, and has grown into a four-day law enforcement and corrections technology tradeshow and training event. It's a partnership of the nonprofit West Virginia Corrections Training Foundation and the WV DOC (Coleman is the Riot's project director for the DOC). This year's event, in May, attracted nearly 1,000 corrections officers, CERT team members, academics, criminal justice students, and other practitioners from around the U.S. and six foreign countries. The first two days were comprised of skills competitions (e.g., individual and team obstacle course runs); the second two days featured workshops (e.g., pressure-point control tactics, pepperball user certification) and tactical scenarios (e.g., disturbances in the cell blocks, infirmary, dining hall) in which criminal justice students played the role of prisoners. Over 40 vendors attended this year to showcase protective gear, munitions, monitoring technology and more.

"This is the probably the best real-live scenarios [training] you can get," says Sgt. LaDonna Brady of the Lee County, Florida Sheriff's Office, where she is the sole sergeant at the county jail. Whereas in other trainings the participants know what to expect, "here [at the Mock Prison Riot] you have no idea what you're going into [in any given scenario]. You're going through a door, and you have to respond"—even if you have limited information about what's behind the door. "That's reality," she says.

Corrections officer Jeff Reasoner from the Cotton Correctional Facility in Michigan agrees. "The last scenario we did was a building clearing. We do that on a regular basis … doing counter-sweeps or hemp recovery. That's a real-world application for us." Attendees, vendors, and trainers get to exchange new tactics for corrections facility security. Cpl. Leonard Barnett of the WV DOC says, for example, that this year participants learned a new method of clearing a room using diversionary tactics. Other attendees say the workshops are similarly useful.

It's not just the tactical training that makes the Mock Prison Riot valuable for attendees. "The team building is one of the biggest benefits," says Capt. Scott Brock of Lee County, Florida: "Being together on the road and living together and going through all these skills events brings that out."

The same goes for criminal justice students who attend, and who play the role of prisoners in the scenarios trainings. (For safety purposes, students are given instruction and protective gear.) "We went full on into those [officers'] shields and we got knocked down immediately!" says a student named Kelly of the scenario in which she had just participated. "It's tougher than it looks." For her, playing the role of a prisoner is not just a physical challenge, but an important means of learning the other side of a profession she's considering. Her classmate Chris is mostly interested in law enforcement, and plans to attend the police academy; but the Mock Prison Riot is "a good opportunity to meet correctional officers in case I go into that [field]." Their professor, Chris Przemieniecki of Montgomery County Community College (Pennsylvania), contends that "people don't often start off saying, 'I want to be a corrections officer.'" But the opportunity to be exposed to corrections work may prompt them to consider it as a viable career field.

Riot attendees say that, as important as tactics and teamwork are, good technology is also needed. At this year's event, more than 40 vendors presented their goods for both law enforcement and corrections. In the vendor booth section, a representative of Mistral Security invited passers-by to take a whiff of the tiniest sample of one of the company's products. It was in a small bottle, and when opened up it smelled like a cross between a bathroom and rotting food. It was a malodorant, and when used in greater quantities it helps disperse crowds, such as at demonstrations (it's not used so widely in prisons). 3M was there to show off its "Home Curfew RF Monitoring" technology, which a representative says is getting more sophisticated by the year. And Combined Tactical Systems displayed literature on its chemical munitions, flash-bangs, and other products.

As important as the Mock Prison Riot may be for attendees, it's also a last resort. Nobody wants a corrections facility to get to the point where these trainings and tools are necessary to stop a riot or another, lesser disturbance. Maintaining security at a prison or jail may have less to do with quelling a disturbance already in progress than preventing one through good management and facilities. After all, the riot where Mike Coleman was taken hostage was prompted in part by prisoners being fed up with living conditions a court agreed were inhumane.

"A lot of factors go into operating your facility and agency so that you're proactively preventing things from occurring," says WV DOC's Mike Coleman. "Good management practice, hiring practice, retention practice, paying a good wage." When Coleman began in corrections nearly 30 years ago, he says the dominant management scheme was "top-heavy," whereas the more modern "unit management" approach brings staffers together into multidisciplinary teams, making for safer facilities. And in West Virginia, DOC Commissioner Jim Rubenstein has spent the last decade having facilities accredited by the American Correctional Association. "When you have a commitment to running your organization in a professional manner," says Coleman, "you're doing quite a lot to prevent that [crisis] call from coming in."

That's a notion that would resonate with Bruce Bayley, a professor in the Department of Criminal Justice at Weber State University in Ogden, Utah, and himself a retired corrections officer. 2013 marks the sixth year that Bayley brought a group of his students to the Mock Prison Riot. (Bayley says that academia and corrections can be a "perfect partnership"—but only if academicians don't presume to tell corrections officers how to do their jobs, and instead ask how their scholarly research can be of use.)

Bayley and his students collected survey data about Riot attendees' job satisfaction, covering such factors as pay, co-workers, and opportunities for promotion—it's a research project he launched four years ago at the Mock Prison Riot, and he intends to use the results to help departments of corrections do a better job of retaining officers.

"You can have all the great technology," says Bayley, "but in the end it's the individual officer who's working the module or walking that row [who is] going to make or break your agency"—and that's why ethics, hiring, and job satisfaction are important. And especially considering that Bayley is working with the next generation of correctional officers.

"I'm retired corrections, so I can tell [my students] the stories, I can show them the pictures, but I can't recreate the sounds, the smells, the emotion. [Mock Prison Riot] is as close you can get to being real without being real. We've had a number of students who weren't sure if they'd fit into corrections, and they left here feeling, 'Wow, I can't wait to get into corrections.' It's worth its weight in gold."

Corrections.com author, Paul VanDeCarr, is a freelance writer in New York City. He has a Master of Public Administration degree from Harvard University. VanDecarr writes for nonprofits and foundations on criminal justice policy, religion, and media, this was his first trip to the Mock Prison Riot.
---