Of Routine Operations: A Skunk Tale
By Joe Bouchard
Published: 04/15/2013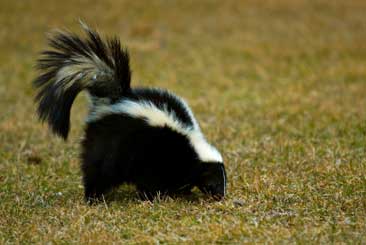 Correctional facilities are about security, not the wonders of the natural world. Yet, there is a lesson or two to be learned when the animals cross into the secure perimeter. In particular, routine operations are often preempted, if only for a brief moment, when wild life breaches the secure perimeter.

One morning as I entered the secure perimeter of our facility, I smelled the unmistakable odor of a skunk. Its pungent melodiousness cut through the institutional aromas that one no longer smells as time goes on.

Anyone who has ever smelled a skunk knows the feeling of extreme caution. Staff and prisoners alike were wary of our stinky uninvited guest. All were fearful that they would be the target of some potent unpleasantly. For a brief moment, the excitement cut through the routine.

Superimpose that scenario on your facility. Would this event be a bit of tongue in cheek excitement? Would the bad puns related to smell start to fly? Would both staff and prisoners enjoy or fear this? Would this be a nine day wonder in an otherwise boring environment?

Unlike the depictions in media, prisons are typically routine and boring. Boring, they say, is good in corrections. But is it always so?

Along with routine comes complacency. Sometimes, we reason that if something has not happened, it is not likely to happen. Therefore, short cuts become the norm. Watchfulness wanes. Bored staff sometimes seek protracted projects to stem off boredom. But these side projects overshadow assigned duties. In addition, bored staff sometimes succumb to the temptation to stir pot with colleagues and prisoners. All of these add to the danger of working inside a correctional facility.

Routine times are not always potentially perilous. Flipping the routine coin, one can find great opportunities to improve operations. Routine times can be the backdrop to perpetuate the safety of a routine through little actions.

Consider scenarios (or play What if?)
Review policy and procedure
Engage in cross training
Read files
Review past misconduct reports and ascertain patterns
Optimally, in routine times, we can prepare for the extraordinary.

Let's return to Spilogale putorius or the stink weasel. Eventually, the skunk was spotted by the fence, long after it was identified by scent. It waddled with a sort of casualness, seemingly unconcerned by the commotion it caused staff and prisoners. Little did it care about count times, meal lines or secure perimeters. Eventually, it left without fanfare.

Sometimes, a skunk is simply a skunk. Other times, it represents an unusual occurrence in a normally quiet routine atmosphere. In the aftermath of the non-routine, it is useful to reflect on the differences between usual and strange. Perhaps a skunk is necessary from time to time.

These are the opinions of Joe Bouchard, a Librarian employed with the Michigan Department of Corrections. These are not necessarily the opinions of the Department. The MDOC is not responsible for the content or accuracy

Visit the Joe Bouchard page

Other articles by Bouchard:
---