Sweeping Alternatives
By Mike Englund
Published: 06/17/2013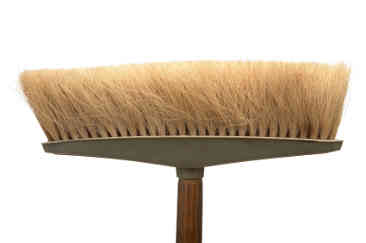 When it comes to removing dry soil from hard surface floors, such as those typically found in correctional facilities, the first reaction usually is to grab a broom or dust mop and start sweeping. And while this may be the correct course of action in a very large area of the facility, in smaller areas such as offices an alternative that might prove healthier and even faster is vacuuming the floor using one of the new generation of backpack vacuums.

As the name implies, a backpack vacuum cleaner is a vacuum that is worn on the back. The systems were first introduced 15-plus years ago. However, over the years backpack vacuums have become quieter, lighter and more comfortable to wear, and much easier to use. In fact, one manufacturer even has the harness - necessary for wearing the backpack - designed and made by a leading German manufacturer of what are considered exceptionanally comfortable to wear camping backpacks.

One of the key problems with traditional broom sweeping or dust mopping of a floor is that it tends to generate a considerable amount of dust. This has two negative impacts:

First, once the dust becomes airborne, it can prove unhealthy for the cleaning worker as well as other building occupants.
Two, while a great deal of the dry soil may have been removed, a considerable amount returns to the floor, leaving a fine dust.


There are other problems with dust mopping as well. For instance, edges and corners can be difficult to clean and often build-up with soil in the sweeping process. This is why it is not uncommon to see soil piled up in the corners of a facility. Plus, if the floor is tile and grout, the dust mopping process often pushes dust into the grout, where it remains or collects on shoe bottoms, which can then carry and spread it over the floor.

In addition to addressing the problems mentioned above, a backpack vacuum cleaner may provide a significant improvement in worker productivity. According to Allen Rathey, president of The Housekeeping Channel, a university study found that it took a janitor 47 minutes to dust mop and then damp mop a classroom floor. Using a backpack vacuum and then a damp mop, the entire process took 25 minutes. It is believed the time savings was realized by the cleaning worker not needing to move around furniture as well as not having to deep clean areas such as corners and edges by hand.

Rathey adds that floors can also come out far cleaner using a backpack vacuum. "Vacuuming is a removal process…[using a dust mop] is a pushing-around process."

Why a Backpack?

If vacuuming a floor offers benefits over dust mopping, can other types of vacuum cleaning systems such as canisters and uprights be used? The answer is usually no. Uprights have a beater bar, which is designed to agitate carpets to help remove soil. If used on a hard surface floor, this beater bar can actually damage the floor. There is also a gap between the bottom of the upright and the hard surface floor that can negatively impact suction power. It is best to leave upright vacuums for carpet cleaning.

A canister can be an option. However, the key problem using a canister is that it can have limitations because it must be pulled from area to area. Should it come in contact with furniture or other obstacles, as so often happens, it can slow down a worker considerably.

With a backpack vacuum, these issues are eliminated. If used correctly, a backpack can be a far more efficient, ergonomic, effective, and productive way to clean hard surface floors. However, the key words here are "used correctly."

Proper Use and Selection of a Backpack

With a conventional upright vacuum cleaner, the machine is usually pushed back and forth on the surface two or three times before the user moves on to the next area. However, this is not the way backpack vacuums should be operated.

Instead, the cleaning worker should first securely but comfortably put on the backpack. To accommodate different-sized users, some systems have made it very easy to adjust the harness if necessary. Further, the waist belts of some systems are designed so that tools and accessories can be worn for easy access while working, which helps increase worker productivity.

With the backpack on, the user walks forward and uses a left-to-right swinging motion to clean the floor. For reaching edges and corners, different attachments and tools can be used, making this a relatively easy task.

When selecting a backpack vacuum cleaner, the most important thing is fit and comfort. As mentioned earlier, these machines have become much more comfortable to wear, which also makes them much easier to use.

Lastly, it is important to select a system that has earned the Carpet and Rug Institute's Seal of Approval, preferably its Gold Seal of Approval. This designation means that the vacuum cleaner has been independently evaluated and has proven its cleaning effectiveness as well as its ability to protect the environment.

Mike Englund has more than 30 years' experience in the professional cleaning industry as a trainer and working with some of the leading manufactures in the industry. He now works as product manager Powr-Flite, a leading manufacturer of professional cleaning equipment.


---