Corrections Officer: Determination, Dedication, Discipline
By Mark Butler and Jessica Herbert
Published: 07/01/2013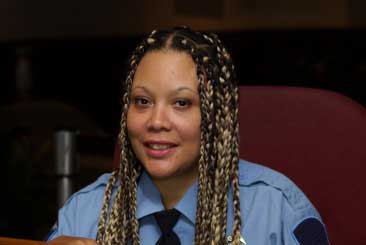 In one minute, you are conducting routine cell checks. Next you are responding to a backup call for an inmate fight in a block. Later, you are attempting to communicate with a mentally ill patient that is pulling "bugs" out of their skin. Next you are giving advice to an inmate who is suicidal or is depressed over their incarceration. You encounter people who love you, people who hate you, people who want to cause you harm and people that thank you – and all this is in one day.

The academy tries to duplicate these situations in training. A field training officer struggles to frame these circumstances for each new recruit and offer ways to manage. Your supervisors look out for the indicators that these circumstances are having an effect on your performance. Your support system helps you manage the impact of these situations on your professional and personal life.

This is the career of an officer. A journey through many situations and ranges of emotions all in a day's work; however, you chose how these effect you. An officer chooses if these experiences erode your being, make you cynical and biased or if these experiences will drive your determination, dedication and discipline. These characteristics are the foundation for an officer's career.

Determination - to make a difference, to set a standard of performance that challenges yourself and others and promotes the best you have to offer, not how others define you.

Dedication - to yourself, your partner, your profession, to the oath of your position and to the community you serve. The dedication to deliver fairness and equality to all you encounter – regardless of their opinion of you and what you may represent.

Discipline - to choose the right decision, even when it is not popular, and maintain the ethical bounds of your person and your position, even when no one is looking.

In the course of your career this foundation will be tested, challenged, pushed and sometimes broken; however, without struggle there would not be progression. As we enter into July, a time of celebration for our freedom and independence, we recognize the struggles made throughout history and the great strides many have taken to build and maintain a solid foundation for a country of freedom. The nation's progression continues with the determination, dedication and discipline of those willing to protect and serve.

Mark Butler and Jessica Herbert with 3D PTC offer actionable training for officers and agencies using this foundation to challenge officers and promote the best qualities for law enforcement officers.
---