Family Engagement Sessions Another Key to Reentry Process
By Lisa Lamb, KY DOC, Director of Communications
Published: 06/03/2013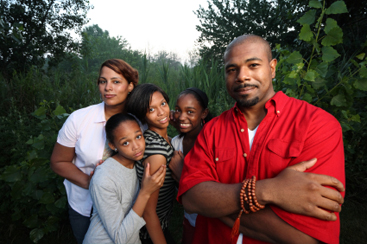 Helping offenders transition back to the community is much more than just a lofty goal set by someone in Frankfort or the national level.

We all know by now that working to achieve this is not only a priority for the Department of Corrections; it's the right thing to do for public safety. "Reentry" isn't a buzz word – it is a head-on approach to stem the tide of people returning to our custody

But how? We've implemented several initiatives over the past four to five years to help offenders and prepare them for the day they are discharged. Now, we're excited about a program that is designed to help families of offenders.

The DOC Reentry Branch hosted its first "Family Engagement Session" recently and more are planned throughout the state.

The sessions are designed primarily for family members and significant others of individuals who have been newly incarcerated and those that are nearing release.

"Family relationships are a key factor in the success of an offender's reentry process," said Reentry Branch Manager Brigid Adams. "The Department of Corrections knew that we must involve families in the reentry process, but did not have a clear idea how to accomplish this. Kristin Smith's Commissioner's Executive

Leadership Development Project sparked the idea for Family Engagement Sessions."

Adams said Reentry Branch staff then conducted a focus group in Northern Kentucky with a group of family members to determine what would have been helpful for them to know when their loved one began their incarceration, and then what they would like to know as their loved one prepared for release.

From this focus group, Branch staff designed two distinct informational sessions for families.

"We found that families did not know how to find information about mailing a letter, how to visit or when the offender could call home," said Adams. "The Family Engagement Session provides information about ways to maintain communication with the offender. Additionally, families had little information about what would be expected of them upon the offender's release, including the requirements of serving as a home placement."

So the second half of Family Engagement Sessions are devoted to reentry and discuss the role of the home placement while the offender is on supervision. The sessions also include presentations from the parole board and probation and parole officers.

Families are not required to sign in to avoid any concerns about information or questions being tied back to their loved one. The sessions are also held in the evening to accommodate working families.

"We enable families to ask questions directly or write them down," said Adams.

"We talk about the importance of maintaining a relationship with the offender prior to release, with a particular focus on the impact of incarceration on the offender's children. In the sessions we've already held we have had some very dedicated family members attend who expressed appreciation at having an opportunity to ask the nitty gritty questions."

Sessions have been held or have been scheduled in 11 sites across the state thus far.
---