Going to the Mat for Mats
By Dennis Knapp, Director of Sales and Marketing, Crown Mats
Published: 09/16/2013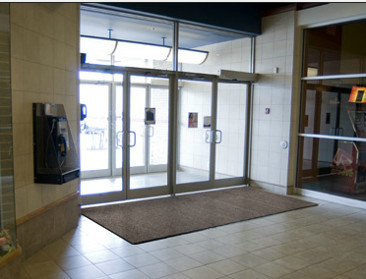 When it comes to cleaning and maintenance, correctional facility administrators typically emphasize the cleaning products, tools, and equipment their staff uses. Meanwhile, the importance of proper mat selection and placement may be overlooked. Proper matting is essential in building maintenance, and with colder and more adverse weather right around the corner, it can play an even more crucial role in keeping facilities – including correctional facilities - cleaner and healthier.

In fact, mats are so important they are now considered an essential element in Green cleaning, mainly because they can help keep soils out. Depending on which study is referenced, with proper selection and installation, mats can capture and trap 70 percent to more than 80 percent of the soil and moisture typically brought in on shoe bottoms, preventing these contaminants from ever entering a facility.

A first consideration for correctional facilities is whether to rent their mats or purchase them. Rental mats are typically rented from a service on a weekly or monthly basis. Administrators often select rental mats because of the perceived low cost and convenience, as the service company typically picks up and replaces the old mat on a set schedule. However, while these mats can help remove some moisture and soils from shoe bottoms, their effectiveness tends to be limited.

Mats that are purchased for a facility are very often high-performance mats. These mats are usually made with higher-quality fibers and materials, which means they tend to last much longer and work much more effectively than typical rental mats. High-performance mats may last as long as two years; a rental mat may last only about six months before it must be disposed of. As a result, high-performance mats help promote sustainablity considerably.

High-performance mats also prove less expensive than a rental mat. This is because they are more effective at keeping soils out, which can help reduce cleaning-costs. ISSA, the worldwide cleaning association estimates it costs $500 to remove one pound of soil. Further, purchasing a mat that lasts one or more years is often less expensive than making monthly payments on a rental mat.

There are three types of high-performance mats that have been designed to work together in a system. Each type of mat plays a specific role in keeping soil and moisture out of a facility. A proper matting system includes the following three components:

Scraper mats: These mats are designed to scrape off large debris from shoe bottoms. Five feet of scraper mats should be installed directly outside key building entries such as where staff or visitors enter the facility.
Wiper/scrapers: These mats are installed in the vestibule area or breezeway between two sets of entry doors. Many correctional locations will have a double door entry system. Once again, five feet of wiper/scraper mats are recommended in this area.
Wiper mats: The final component in the high-performance matting system is five feet of wiper mats. Known as the "final line of defense," these mats remove any remaining soil, dust, or moisture still found on shoe bottoms. These should be placed inside the facility in lobbies or walkways.


You will notice that an effective matting system involves 15 feet of matting. There is a reason for this and it is quite important. According to studies conducted by a major American insurance company, during snowy weather it takes 10 to 12 steps on a high-performance mat to adequately remove soils and moisture from shoes. When it is raining, a person must take eight to 10 steps on a mat to remove most soils and moisture. And, even when it is dry and sunny, six to eight steps are required to remove dust and debris. In all of these cases, 15 feet of matting is necessary.

Whether a rental mat or a high-performance mat is selected, mats must be cleaned and cared for in order for them to perform effectively. Because most of the soil they collect is dry soil, vacuuming daily, if not several times per day when installed in a busy entry, will keep the mat clean and healthy. Cleaning technicians should also pick up the mat occasionally and make sure moisture has not accumulated underneath. This can weaken the backing of the mat and cause mold and mildew to develop.

The most effective way to deep clean a high-performance mat is with a carpet extractor. This method removes soils and moisture, which can seep deep into the mat fibers. It is important to thoroughly remove these soils to ensure the mat continues to work properly. Once cleaned, reinstall the mat after it has thoroughly dried, usually in two to six hours. A clean, dry mat will help keep the facility clean, dry, and healthy as well.

Dennis Knapp is director of Sales and Marketing for Crown Mats, one of the oldest and largest matting companies in the United States.
---