Rosie's Law
By Cyndi Palma Adjunct Faculty, Kaplan University, School of Arts and Sciences
Published: 09/23/2013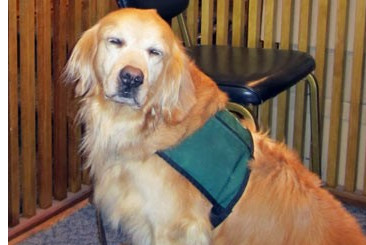 Rosie was a 11-year-old golden retriever who went to work at The Children's Home of Poughkeepsie, a foster care agency in New York in 2001. Rosie was a fully trained facility service dog who worked with children. While with the Agency, Rosie worked with children who were in foster care after being removed from their parents, most of these children had been physically, emotionally, or sexually abused. All were traumatized, at least to some extent.

Rosie's job was to provide comfort, support, and encouragement to the children and she did exactly that. Rosie was specially trained to recognize certain cues and respond in ways that would be comforting to the child. Rosie participated in therapy sessions and visits children had with their parents, engaged in petting and cuddling sessions, and actively played with the children during playtime.

Because of Rosie's success at her job, she received special permission to attend a court proceeding where a 15-year-old girl required to testify against her father for sexually abusing her. Rosie stayed with this child in the witness box, kept her head on the girl's lap and knew when this girl was struggling emotionally and responded by gently nudging the girl's arm. With this kind of support, the girl was able to complete this grueling and painful testimony without further trauma and her abuser was sentenced to 25 years to life.

By being in the courtroom and providing support and comfort to this girl, Rosie set a precedent in New York State. She was the first judicially approved courtroom dog in New York State. Shortly after Rosie's court room appearance, Rosie's Law was proposed by Senator Terry Gipson and Assemblyman Frank Skartados in May 2013.

Rosie's Law would allow judges the discretion to decide if a facility dog can accompany certain witness to the witness stand while they testify. Rosie's Law would not just affect children, but also adults. Advocates for domestic violence praise the law, as abused women and other distressed witnesses would be able to use a facility dog while testifying. Unfortunately, the proposed bill was not voted on during New York's last Assembly session and has been tabled for a later date. When that date will be is currently unknown.

Advocates for Rosie's Law in New York will continue to push the Assembly and Senate to take action. The success of facility service dogs in other states shows the emotional benefits to witnesses by allowing the dogs in the courtroom.

In November 2012, Rosie passed away; she cannot be replaced and is sorely missed. She has however been succeeded by her grandson, Ace. Ace has stepped up and is working with the children and is loved by many.

Cyndi Palma is a Licensed Clinical Social Worker and adjunct instructor with Kaplan University's Arts and Sciences Department. She is also a Program Director for The Institute for Family Health in their psychosocial services department in the Mid-Hudson Valley New York.
---