Incident Command System/Incident Management System Part III
By Fred Lovell
Published: 10/14/2013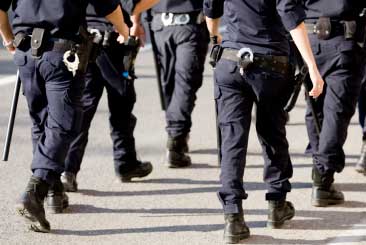 I apologize for my tardiness in writing this next article.

To recap we have discussed activation of the incident command / Incident Management Systemand the transference of command in part I and part II. Now let's talk about the different positions that are crucial to the ICS / IMS running smoothly.the person initiating ICS / IMS is your incident commander. They're responsible for evaluating the situation deciding what resources are needed and ensuring that the five tactical priorities of ICS / IMS are followed and completed.

To recap these priorities are

Ensure the safety accountability of the public staff and inmates (SAW),
Stabilize isolate and contain the situation (SIC),
Remove endangered persons and obtain treatment for the injured (Medical)
conserve loss of property and limit expenses (Property) and
Resolve the incident and return the unit to normal operations (RINOI).


In earlier articles we discussed the ideal span of control is five people. But when you do with an ICS of a great magnitud how is this possible? The first thing to remember that as the ICS / IMS expand it is a good idea to implement the command center. Depending on your organization this may include OPA L or OPALF.

OPAL stands for Operations, Planning, Administration and Logistics.

OPALF stand for Operations Planning Administration Logistics and Finance.

This team falls under the direct control of the incident commander and they are the only people who should talk to command to avoid confusion. The operations section leader is responsible for the operational aspect of the incident. This person will serve as the liaison between team leaders and the commander. The planning section leader is responsible for the planning of events of the incident such as a breach for a hostage situation or the delivery of meals to staff and inmates. The administration section leader is responsible for paperwork and other administrative functions related to the ICS including finance unless your agency uses OPALF in which case Finance is it 's own section, Logistics section leader is responsible for the beans and bullets. In other words supplies.

These sections work together for the incident commander to resolve the incident. It is important to have kits ready to go with all the necessary paperwork, supplies and anything that the section leader might need. The other person that is important to the ICS is the SAM or Staging Area Manager. In the event of a large ICS/IMS the SAM will collect the names of staff members and place them in the staging area and notify the Incident commander of the resources that have arrived or that are staged until needed. This design keeps the span of control at five if using OPAL or 6 if using OPALF.




This is what the plan should look like



Good Luck with your ICS/IMS Planning and remember drill as often as possible. Practice makes perfect. Always debrief and ensure everyone has a say in the system from the newest person to the most seasoned veteran. Focus on the positive and the negative from each person. This will ensure everyone knows what is going on and has a stake in ICS/IMS.

Corrections.com author, Lieutenant Fred Lovell, is currently a shift Lieutenant for The Texas Department of Criminal Justice at the John B Connally Jr Unit in Kennedy Texas and has almost 10 years in corrections. Prior to working for the Great State of Texas he worked as a Correctional Officer and Sergeant in Arizona where he also taught at the ASPC Kingman Correctional Officer Training Academy.

Other articles by Lovell:


---