No stars for the Graybar Hotel: aka The Santa Clara County Jail
By Lance Scimeca, President, Santa Clara County Correctional Peace Officers' Association
Published: 11/04/2013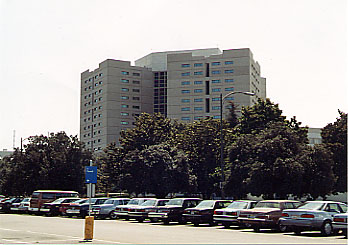 It's definitely not the five-star Ritz-Carlton Hotel on Nob Hill in San Francisco. It's not a Hilton or a Marriott, not even a Motel 6.

It's the Graybar Hotel, otherwise known as the Santa Clara County Main Jail. Because I work there as a correctional sergeant, and have since 1995, people often ask me what it's like to go to jail.

There are three short answers: It's grim. A lot depends on the crime you're charged with. Attitude is a huge part of it.


Your arrival at the Graybar Hotel: You'll arrive in handcuffs in the back of a patrol car. The handcuffs will be locked behind your back. Securing them in the front would just give you a dangerous, edged metal weapon. Depending on your attitude, you can walk in under your own power or be escorted in by anywhere from two to six deputy sheriffs. As soon as you are past the double doors, a deputy will remove your handcuffs and replace them with shackles for your ankles and a waist belt with attached hand bindings. You will immediately notice the intake-area smell. Although the area is kept clean, it's impossible to mask the odors of many unwashed people and various bodily functions, each more disgusting than the last. There will be a hint of alcohol in the air because a large percentage of people who are arrested arrive drunk.
Checking in to the Graybar Hotel: Jail nurses will screen you medically, and then deputies will take your booking photo and your fingerprints and run your records.
At the counter, deputies will separate you into one of three categories:
Day Stay: You have minor charges. You will be given a date in court and released.
Misdemeanor, But Not Citable: The charges don't qualify you for an issued court date, so you stay until you make bail or see a judge.
Felon: You'll be staying in jail until you make bail or the case is adjudicated. These inmates are in for the longest stays by far.
Your accommodations at the Graybar Hotel: These are based on the same three categories I just mentioned.
DAY: If you're just with us for a day, you will be assigned to one of two holding cells along with many other inmates. The cinderblock walls have telephones and the floor is rubberized. I will let you imagine why the floor is rubberized.

There is a set of two open-bay toilets. They have a clear view of the intake area filled with arrestees, jail deputies and arriving police officers with their prisoners. You'll spend anywhere between five and eight hours there, until you receive a citation with a court date and are released.

MISDEMEANOR: If you're in the second category, and have a misdemeanor charge that isn't citable, you will go to the holding cells just like the day-stay inmates.

This is where the DUI suspects go; they need five to eight hours to sober up and regain their ability to care for their own safety. Some people are surprised to learn that DUI is a misdemeanor unless it is your fourth DUI, you hurt or kill someone, or any DUI after you had a felony DUI; then it's a felony, and it's a whole new ballgame.

You will see our classification personnel. They will assign you to specific accommodation based on your charges and your attitude. This could be the minimum-security facility called "The Farm" because it once was a farm worked by inmates, the Main Jail North Tower or the run-down Main Jail South, built 60 years ago.

FELONY: These high rollers stay at the Main Jail North Tower or Main Jail South in San Jose. California Governor Edmund G. Brown Jr. is carrying out the 2011 Assembly Bill, AB109, keeping certain convicted felons in county jails and not state prison due to prison overcrowding. I have been told that the longest jail stays will last up to 12 years. This means you might have a cellmate with considerable criminal sophistication and an extremely bad attitude.

A word on attitude and classification on general population and high security: The old saying "Attitude is everything" applies very strongly in jail. It's not 100 percent of the equation, but it's at least 80 percent.

Over the years, I have seen people who were accused of homicide, yet followed the rules and regulations and adhered to orders given to them by jail deputies, and were allowed to participate in the general population. That means they get the most time out of their cells as well as the ability to participate in meetings of Alcoholics Anonymous and Narcotics Anonymous, to attend domestic violence prevention classes and to study for their GEDs.

I've also seen people who were locked up for minor offenses, but their explosive and potentially violent behavior and lousy attitude makes us assign them to the highest security levels, where they are locked down in their cells the maximum time possible to protect others, the facility and themselves.

So, there you have it, the Graybar Hotel, not exactly a five-star accommodation. You decide if you want to check in.

Commit a crime, you get to visit us. Abide by the law, you can go home to a much nicer place. If you do decide to check in with us, you won't like it.

Lance Scimeca started work in the county jails in 1995, and was promoted to sergeant a decade ago. He is physically imposing, but like many correctional officers, he has been banged up in altercations with inmates. He has a cadaver graft in his right knee, and his right shoulder has been rebuilt.

Other articles by Scimeca:


---