The Rebel as Prisoner
By Venancio J. Tesoro, Penal Superintendent IV of the Bureau of Corrections
Published: 11/04/2013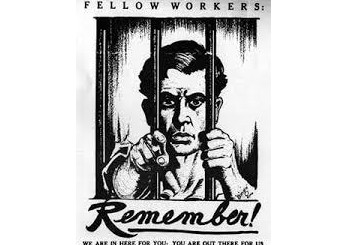 There is a crime in the statute books that spells out an offense conducted in the heat of ideological struggle. It is called "Rebellion." It is an act or a show of defiance toward an authority or established convention; and no organized body wanted anyone trying to bullshit their established norms. And so, prison is most likely the place for this type of personality.

Now how does a rebel fit into the conclave reserved for the scum and dregs of society? He gets into the groove of fellow rebels too, but rebels of a different nature; they are those who are against proper conduct; they who violated the standards for peace and safety; they who stole, maimed those who gets into their way with the sole reason of gaining something. They have committed acts without cause or reason except to harm and impair. There is mischief in the process therefore. They comprise the attributes of felons, the fellows the real rebels would interact no end in the course of serving time.

Sooner however the real rebel would realize that his fellow travellers in prison are no different from his persuasion, although there is difference in faith and approaches. He would appreciate that he and his fellows are mere players of humanity, tasked to perform a specific order from which they should adhere. The real rebel may wish for a social change, in the same manner that a convicted thief or murderer would likewise wish for the same, except that their manner of projecting their conduct is a world apart.

In a few summers, the real rebel becomes de-radicalized by the prevailing climate in prison. He either would isolate himself, burying his thoughts through books and literature, trying to live in a world or simply retreat, defining and perhaps inventing some gods that would suit his contemplative moment. Even if his heart desires to radicalize his environment, the grinding routine, the gross familiarity, the boring environment, the tedious surroundings, the dreary expression on the faces of denizens do not inspire idealism. The prison climate is static. It is the same from the time a person is ushered in up to the time he witnesses some movements. Sometimes releases promote hope, at times, death is wished for as an alternative for optimism.

His day is so common, so rundown, so ordinary. Calendar is of no use in prison. A weekly planner is better reckoned than an almanac. Life is appreciated after sundown and it is re-enacted at dawn. In between, there seems to be no better hours to check. In a heavily guarded fence above 14 feet on each side, the only light from the sun that visits the community is made only at high noon. Any prison has no use for the rising sun neither for the western moon.

For the rebel in prison, a period of isolation is better than a stretch in a crowd. A rebel prisoner is categorized as high risk. He can influence anyone. He can easily blend and adjust. He can smoothly get into one's concern and prescribe with efficiently how to deal with anything. But the rebel no matter how competent, how encouraging, how inspiring he projects would soon realize that he could not transcend a higher level of social or institutional change because rebels must tear down authority to do that. The rebel prisoner knows that prison cells, CCTV, perimeter, patrol and uniformed guards are symbols of authority that could not be broken down. Hence, his contemplative moments more pronounced as years go by.

Triviality becomes the order of the day in prison, everything turns to superficiality. As the adage goes, "It's hard to face your problem if your problem is your face!"

Reprinted with permission from philippineprisons.com

Other articles by Tesoro

Venancio J. Tesoro is presently Penal Superintendent IV of the Bureau of Corrections and has written several books on Criminal Justice Administration (specifically Corrections). He is also an academician, Criminology Board Reviewer, public speaker and a certified lecturer of Penology.
---