Maintaining a Healthy Team Environment
By Jessica Herbert
Published: 12/09/2013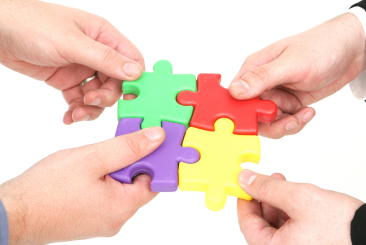 There are millions of books available about team development, team building, team communications, team dysfunctions and any other related minute topics. A quick search on Amazon.com for books gives over 100,000 options. These books are written by corporate personnel, military personnel, and academia – just to name a few. One would think with all these options and perspectives, we would have the topic of "team" perfected, or at least to a 99% solution. The fact is – teams are made of people and people are the most influential factor, in both negative and positive ways.

There are four basic stages of team development most experts agree upon, (paraphrased definitions):
Forming – establishment of team structure and roles
Storming - working through early conflicts and establishment of workflow
Norming – workflow and roles are established and functioning for all
Performing – functions as a unit, focusing on the task and end goal
My previous article addressed the communication and role definitions in the first two stages. Overcoming these stages can be a great hurdle; however, maintaining a healthy team environment in the latter stages, especially over an extended period of time, can be equally challenging to leaders.

Personnel change over time and with that, their expectations change, resulting in frustrations or conflicts. An employee assigned as a leader, may no longer want to lead; an employee that is not assigned as a leader, may want to lead, but is unsure how to position themselves in that manner. Personal factors, such as family events, may require an employee to take a step back from responsibilities for a period of time. Performance issues may cause leadership to reassign roles.

These changes, along with the routine of day-to-day tasks, can wear down the motivation and focus of a team. The productivity and efficacy of team may plateau, or even significantly decrease, depending on the factors at play. At worst, individual employees may become disengaged completely. During this period, interval events can assist in allowing teams take a mental break from work tasks and enable casual, social conversations and experiences that reinforce a bond. Any group task is recommended – from fishing to skydiving to rock climbing to volunteering for charity events.

What activity – or series of activities – you chose is irrelevant. But there are some rules:
This activity is not about work – Choose an activity that allows everyone to relate to each other as a person, not as a coworker. If the team decides to make it about a work task, that's okay – but don't enforce participation in the activity to be related to work.
Conversations about work are prohibited – This will happen, it's the common bond for the group to begin with, but make it a point to steer the conversation in another direction. Conversation icebreakers or even trivia questions can get a group to recall memories on other topics.
(Healthy) Competition is mandatory (and sometimes needed)- Everyone has a level of competiveness, this is what shapes his or her role in the team. Drawing this out during an event can be key for those who are looking to have a better position within the team and also increase awareness about who the true influencers and trusted personnel may be.
Location, location, location – far away from work- It doesn't mean everyone has to fly away for a weekend (sunny skies and beaches preferred please), but the change of location is always a step in the right direction and allows for the mental break from work related items.
There is no prescription for how often these events should occur, or what they entail. They may be informally suggested among team members, or formally supported by leadership. A little bit of both options may be best, but anything is better than nothing.

Corrections.com author, Jessica Herbert, currently works in the private industry. She supports the law enforcement community through education and training as the primary instructor for 3D Professional Training and Consulting and as an adjunct professor for a criminal justice program. She actively mentors women entering and within the workforce for many professions.

Other articles by Herbert:


---