The Shine King of Texas:
Appears on The Steve Harvey Show after Prison Release
By Dalonika McDonald, Texas Department of Criminal Justice/Parole Division
Published: 01/13/2014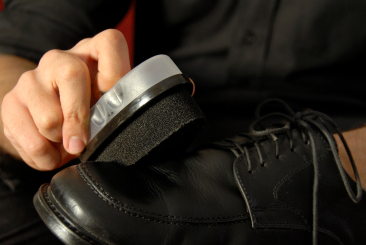 I know you are wondering how this all came about. How did this man from the Texas Prison system go from being shackled to appearing as an guest on Steve Harvey's Show? Well, it really did happen. On Thursday October 03, 2013 Clarence Campbell sat confidently as a guest on Steve Harvey's Show-titled Second Chance. "Let's take you back…and get right to it! How it all began."

Following the Wrong People Trying to Make a Fast Dollar

Clarence Campbell was known as the apple of his Grandmother's eye. In his own words, "I was spoiled." He was not brought up in the manner you would likely have thought for someone ending up in prison. He was reared up to be a king. His presentation propelled him to be one of the best dressing, shoe-shining men in the city! Clarence was always a cut above the rest. This is one of the qualities that his grandmother installed in him. On his way to college, Clarence had his dream and vision before him. Somehow he got side tracked, wanting to move up quickly in the world. Clarence's desire to obtain what he wanted expediently would lead him to make wrong decisions and hang with a criminal-minded crowd. A life of destructive outcomes was bound to happen. Clarence would fall into the trap of a cycle of crime, leading him quickly to a prison cell. Clarence was caught in this ugly net, and here he was, back in prison for the second time. However, a life changing event would cause his cycle of incarceration to be broken. His prison cell would now become his prayer room and THINK tank. It is here, on his first day of his second sentence, that Clarence would hear the worst news ever. His precious Grandmother, who had been his rock of support, had passed away. The deep sorrow he felt from the loss of his grandmother would drive him to pursue a new direction. After a period of praying and thinking, The Shine King began to be conceived.

A Life Changed

Clarence's focus became more fixed than ever. He made the decision to move forward into shoe-shining, even though this was not his trade or what he went to college for. Clarence had always been a fan of sparkling, dazzling shoes! After making his mind up about his new occupation, everything began to fall into place, and soon he would begin to visualize himself as a global entrepreneur. At this time Clarence was flourishing with his new shoe shining job. It was time for Clarence to go up for parole. Everything was right for him. His new job placed him in the position to service the Warden of the prison. Clarence's shoe-shine stand was right in the front where he was visible to potential customers, along side the best barber and shoe-shiner in the institution. World class tips would be given and incorporated, mashing with Clarence's own skill sets. This was the best time to go up for parole. He was sure the parole board would see him as the success he was! To Clarence's horror, the parole board denied him. This was absolutely discouraging, making him feel like he had just taken a 'Rocky' punch right to the stomach.

The Package That Changed His Life

At this point, Clarence felt he needed a boost to remain on the right track. He bent on his knees asking God to guide him, and it was not too much longer before he received a package. It was a 26-29 page application, which was the key to the door he had been hoping for, the Prison Entrepreneurship Program. PEP is a pioneering nonprofit that delivers the nation's best results in terms of recidivism, employment and small business creation among ex-offenders.

Clarence was determined to complete every requirement. Three thousand applications were sent out, yet only one hundred spots would be filled. Your test score had to be over 90%. Clarence scored 92% and made it into the program with ninety-eight others. Clarence stated it was difficult to remain in the program, due to being terminated for anything which went against a business man's code of ethics. As Clarence developed in the program, he went beyond shining just shoes, but to include shining anything leather. Clarence went on to create a business pitch which would be one of the keys to opening many remarkable doors. Clarence went up for parole again, and this time was approved. He was determined to let all his mentors and business coaches know he was serious about his new endeavor. Within a few days of being released, he made his business a professional entity with the State of Texas. Clarence would continue to be mentored by exceptional people, such as Jeremy Gregg.

Jeremy Gregg-A Man On FIRE!

The World knows Jeremy by his six-minute speech given on television, RETHINK PRISON.

After serving as a volunteer member of the Dallas Advisory Board for the Prison Entrepreneurship Program since 2007, he was named the organization's Chief Development Officer in 2012. Jeremy was breathtaking while sharing his heart and passion. After interviewing Jeremy for this article, I was impressed with his commitment, compassion and no-nonsense mixture of a personality. Jeremy is on a mission to expose men and women in the prison system to a new mind-setting makeover, helping to give them a new perspective of how they visualize themselves. Jeremy explains that if you give the person the ability to take care of themselves, you are giving the gift of dignity. Jeremy had his first encounter with Clarence when Jeremy arrived to the Ellis Unit to hear the men recite their business plans. Clarence showed himself even then as a man set apart from the rest when he made it into the top five for best business plan pitches! Their connection continued after Clarence's release from prison.

One Uncommon Mentor Can Change Your Life

Clarence was introduced to a business woman, inventor, motivational speaker with skills, talents and a BIG vision- Cheri Garcia. Cheri connected with Clarence through the PEP program. Cheri uses volunteering as way to give back to the system. Cheri Cheri and Clarence crossed paths at the state transitional home where Cheri visited frequently to give wisdom and support to men and women coming from prison back into the community. Cheri uses her own personal experiences to encourage and develop talent in others. Cheri knows what it is like first hand to dive into a criminal life of-drugs selling, using, and in and out of jail. Cheri also knows the power in a transformed life. A person who can brand their pain, mistakes and mishaps. Cheri's vision is to see the cycle she has begun continue on. Just as Cheri had reached back to get others in trouble, they will in turn reach back to get more people until the world has been impacted. Clarence believed in Cheri because he felt she understood the hurdles he faced. Clarence felt if Cheri transformed her life, he could do the same. Cheri asked Clarence about making a appearance on Steve Harvey's Show. Clarence did not hesitate. Even though he acted confident to Cheri, there was fear there because Clarence knew he was still on parole. It just seemed impossible to get an approval to go out of the State of Texas and appear on a television show. Clarence was set on not being overwhelmed, but allowing prayer to work on his behalf. Clarence was the first person to be on parole to make an appearance on the Steve Harvey Show with his ankle monitor still wrapped around his ankles. The Show was called Second Chances, and can be watched on YouTube (Prison Entrepreneurship Program Second Chances).

Multiplies of phenomenal doors opened for Clarence, and many are still opening, including an appearance on Life Choice Radio and a visit with Mark Cuban, owner of the Mavericks NBA team. Clarence is a prime example it is possible you can turn your life around by believing in your faith and working hard, and by having good mentors, you can do anything you put your mind to.


Clarence's Rules of Success:

Have God First

Be Reliable

Balance God, Family and Business, any of one of these out of order and you will feel a pull.

Work Extremely Hard

Save Your Money

Have a Passion for What You Do

Network

Always Be Honest

Have an Accountability Group, Someone that Can Hit You and Your Chest When You're Wrong

Be Responsible and Treat People Right
Bonus: Do Your Best In Everything You Do

Cheri Garcia's Rules to Success:
Passion: you must have a inner push and fire
Tenacity: staying in is important no matter what
Faith: you must believe in yourself and what you're doing
Jeremy Gregg's Golden Rule:
Believe in Yourself: anyone successful has a inner belief in their abilities.
Other articles by McDonald
Corrections.com author Dalonika McDonald is a former Lieutenant for the Nebraska Penal System. She was promoted by The Texas Department of Criminal Justice to supervise staff to promote security first, and then provide resource services and programs to ex-offenders and their families. 
The scope of McDonald's professional experience encompasses more than inmate relations, she is a highly accomplished criminal justice and public relations specialist poised for her role as a community liaison, instrumentally contributed to recruitment initiatives, training and development and strategic building of relationships with corporate leaders, as an active member of many local and national organizations including: National Association of Women Business Owners, American Correctional Association, Executive Women in Texas Government.
---