Cleaning Chemicals 101
By Paul Wildenberg
Published: 01/20/2014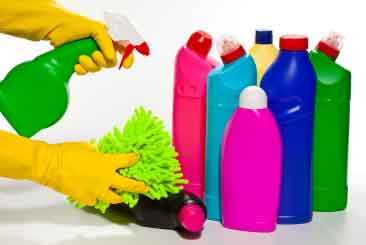 Correctional facilities use large amounts of a wide variety of cleaning chemicals to maintain their locations. There are chemicals specifically for restrooms and locker rooms, and others for floors; food service areas; emergency cleaning (to clean-up biohazards or to stop the spread of disease, for example); as well as those for general cleaning.

Administrators should know as much as they can about the chemicals used in their locations, including the types of chemicals and how and why they are used. After all, when it comes to cleaning chemicals, knowledge is not only power—it is also safety and health.

To begin, administrators should have a general understanding of the pH scale. A pH measure is an indication of the acidity or alkalinity of a chemical. The scale ranges from 0 to 14, with 7 an absolute neutral. Distilled water would fall into this category. Chemicals with acidic properties register a pH below 7, with the degree of acidity increasing as the value decreases. Alkaline chemicals occupy the upper range of the scale above 7, and the alkalinity of a product increases as the numeric value increases. So why is this important to know? Most cleaning chemicals are alkaline because most soiling is acidic, and alkaline cleaning chemicals remove acidic soils. However, the higher the pH, the more corrosive the chemical can be. Because of this, it is recommended that correctional facility administrators and custodial crews use a neutral cleaner in most cases, turning to more alkaline chemicals only if and when necessary.

Neutral Cleaners: Not So Neutral After All

While cleaning chemicals are often called "neutral cleaners," the term can be a bit misleading. While these products generally have a pH close to 7, they may be a bit more alkaline or acidic in nature. For this reason, one type of neutral cleaner may be more effective on certain types of stains compared to another. These cleaners are used primarily for daily and routine cleaning, including floor mopping. The common denominator of almost all neutral cleaners is that they are safe to use as long as you read and follow the manufacturers recommended dilution and use instructions.

All-Purpose or General-Purpose Cleaners

Often confused with neutral cleaners, all-purpose and general-purpose cleaners are generally more powerful than neutral cleaners and tend to be more alkaline. They are used for the removal of more stubborn types of soils and can be especially effective for cleaning heavily trafficked floor areas. However, administrators and custodial crews should be aware that there is a very fine line between removing soils with an all- purpose/general-purpose cleaner and removing floor finish (wax). Using proper dilution ratios is essential to ensure effective soil removal without damaging the floor's finish.

Sanitizers vs. Disinfectants

Of all the chemicals commonly used in correctional facilities, sanitizers and disinfectants tend to be the most confusing. While these chemicals are different, in reality the difference is can be relatively small depending on where they are used. However, because disinfectants tend to be very powerful—which can be detrimental to building users and the environment—some facilities use sanitizers instead. There is also a tendency that if a disinfectant is used in one area (for instance, cleaning restrooms), over time they tend to be used in a variety of areas where they are not needed. This can be costly, wasteful, and environmentally harmful.

As to the difference between these products, it's all in the numbers. Sanitizers destroy 99.999 percent of specified test bacteria in 30 seconds. Disinfectants, on the other hand, completely destroy all specific test organisms in 10 minutes. Disinfectants are designed to kill certain pathogens, so be sure the pathogens your facility wishes to eliminate are listed on the product's label.

In general, medical areas of a correctional facility should be cleaned using disinfectants, while food service areas should be cleaned using a sanitizer. Also, administrators need to know that in most cases, using a sanitizer or disinfectant is part of a two-step process. Surfaces must often be cleaned before a sanitizer or disinfectant is applied.

Degreasers

Degreasers are most commonly used in food service areas because they are designed to help remove the fat, grease, and oil that can build up in these locations. However, they can also be used to clean industrial and mechanical floor areas of a facility. Degreasers are high-alkaline cleaning products that are also very powerful. They should not be used on common-area floors because they can remove floor finishes. However, they can safely be used on concrete or clay-type floors on which no finish has been applied. Still, even with these tough materials, such chemicals can dull a floor's appearance if they are not diluted properly.

Floor Stripping Chemicals

A final type of chemical commonly used in correctional locations is floor strippers, which are generally highly alkaline. This alkalinity helps remove finishes; however, in most cases, before new finish can be applied, the floor must be rinsed to neutralize the alkalinity. Of all the chemicals used in a correctional facility, degreasers and strippers tend to be the most powerful and, because of this, the most dangerous.

Safety First

Administrators tend to think that if a product is green, it is safe no matter how it is used. Nothing could be further from the truth. Green chemical are typically highly concentrated so if not properly diluted they can prove dangerous to use. Be sure to read all instructions before using any cleaning chemical, regardless of whether it is alkaline or acidic, Green or conventional. Selecting the right chemicals helps ensure that surfaces are cleaned effectively and correctly, helping to protect the health and safety of staff and inmates.

Paul Wildenberg is vice president of sales for Charlotte Products/Enviro-Solutions, leading manufacturers of Green and conventional cleaning products.
---