Prison was Not an Option For 2013 Superbowl NFL Champion Chris Johnson
By Dalonika McDonald, Texas Department of Criminal Justice/Parole Division
Published: 02/10/2014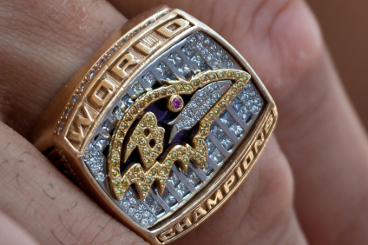 Everyone knows our Texas cornerback #39 Chris Johnson as one of the Super Bowl winners from Sunday, February 3, 2013 at the Mercedes-Benz Superdome in New Orleans. This game will forever be tattooed in the minds of millions as a power-outage caused a delay of 35 minutes in the middle of the game. But that didn't stop Chris's team, the Baltimore Ravens, from defeating the San Francisco 49ers with a final score of 34-31. This moment was monumental but for Chris- it almost did not come.

Two years earlier we all grieved alongside Chris as shocking and devastating news broke from Fort Worth, Texas of a shooting which involved his mother and sister. Chris's sister Jennifer and his mother were both shot by the father of Jennifer's youngest daughter, Eugene Esters, on Dec. 5, 2011. Chris's mother miraculously survived, although his sister Jennifer did not. This was a difficult time for Chris and his family, one that no one will forget. This devastation almost caused Chris, who at the time was with the Oakland Raiders, to walk away from his professional football career forever.

Has it always been this hard for our Texas Champion?

There were other moments of tragedy, costly mistakes and flat-out difficult occasions in this Champion's life. Chris has never tried to hide behind the mountains which stood in his way, instead you will find him standing on top, victorious. When you hear Chris giving a presentation, he openly speaks about his experience growing up in Texas with humble beginnings. Recently Chris spoke to a room full of ex-offenders concerning his leadership role in selling drugs in high school and doing jail time for forgery. He also spoke about what life would have been like for him if his first child Krissy, who is now 14, would not have been born during his Senior year of college. His diverse life experiences has caused Chris to be requested all around the country to tell his remarkable and unbelievable story.

We were privileged to hear one of his many speeches in December of 2013 at the Women R Worth It and Progressive Males graduation. This is a program started by former Regional Director of the parole division, Vickie Hallman, to assist ex-offenders through a 12-week program. It provides a variety of services for offenders seeking to acclimatize to life outside of the penal system. To begin the show the song Testimony, by gospel recording artist Marvin Sapp, was played, causing tears to begin to fall as ex-offenders all over the room identified with the powerful message in the song. This was all before Chris even grabbed the microphone to speak. After the song ceased, Chris went on to explain he didn't have that Hollywood story of being the one guy on the field which all the scouts came to see. It was actually the exact opposite. His name wasn't even on the list. We all watched and listened as the Champion told his astounding story about his fight to rise to the top. As he spoke of pain, sacrifice, let downs, success and sheer determination his speech was so moving you could literally see feelings stirred up in the room with his powerful message.

With so many fans that adore and follow Chris Johnson, but never get to see the true persona of this amazing man, we would like to share with you some insights about our Texas Champion that you didn't know. Meet the Chris Johnson behind the winning ring.

15 Things You Didn't Know:

Five AMAZING Facts about Chris


He's a people person. From wife Mioshi in a interview with Pro Players Insider, "He comes off as hard and very reserved when you first meet him. When you get to know him, he is so funny. He loves to talk and crack jokes and make people laugh. He loves to hang around family because he knows he can just let his hair down and be his goofy self." You can see more of Mioshi's interview at http://proplayerinsiders.com/nfl-woman-of-the-month-mrs-chris-johnson-a-pretty-smart-girl. Chris also notes about himself, "Many people assume that I'm hard to talk to. Once you get to know me you realize I'm just Chris. My Pastor-Bishop Jakes says it the best, I only know how to be me. I can't be nobody else. I really like people and if you get to know me you would like me as the man that I am."



Chris has a huge heart for others. If he sees someone in need, rest assured that help is on its way. He refuses to be someone who tries to look good on the outside and behind closed doors is something completely different.

Chris recalls a young brother and sister who were in the local grocery store unaware that Chris Johnson was standing behind them in the check-out line. Chris noticed the kids had fallen short on their Lone Star food stamp card and could not cover their grocery bill. As the children were trying to figure out what to do, people in line were getting irritated and impatient. In Chris's mind no kid should have to go without, so he made sure the children left with all of their items, paying for the bill himself. This philanthropist knows he has a calling to help others. Don't you wish Chris was at the store the day you did not have enough money to cover your bill!?!



He is a man who will go to the moon for his family. Chris desires to raise exemplified uncommon children, ensuring his boys will to turn into extraordinary- uncommon men and husbands, and he wants his Queen Mrs. Johnson to never lack or want for anything.

Chris has accomplished what very few others are willing to do without expecting any pay off or proceeds, obtaining full custodial rights of his nieces after their mother lost her life tragically. "If the shoe was on the other foot, my sister would have done the same for me."



Chris loves video games. When you work as hard as he does with daily grind of physical training for football, you have the right to play hard! You can discover Chris at home in front of the television dominating the video game scene, sometimes all night long.



Chris Johnson is THE "Ride or Die" Friend. Friends of Chris know they can truly count on him. He is loyal, trustworthy and dependable, and he will always have your back.
Chris's Five GREATEST Accomplishments
Statistics was destroyed over Chris life. He is thankful that he has a family like he does. The life he can provide for them is one of his proudest achievements, as he came from humble beginnings and a less than ideal upbringing.



Playing professional football in the NFL.




Achieving a Super Bowl ring. Chris notes, "Whatever profession you are in, there is always the highest level which everyone desires to achieve. Winning a Super Bowl was the pinnacle for me."




His education. Education is imperative in the Johnson home. "In our home education is important. The world can take everything from you except your knowledge and experience." Chris will complete his Bachelor's degree soon.




The founding of the Love is Not Supposed to Hurt Foundation, in honor of his sister Jennifer, which expresses that "Love isn't supposed to hurt. If you love somebody, you wouldn't hurt them."


Chris has been blessed with great memories of Jennifer, and this was an ideal way to honor her. "My memories with my sister are always cherished. Even though Jennifer has passed away at an early age, we were able to experience a lot together. My relationship with my sister was good. It was good to hear my wife state that my sister was proud of me and the all-around man I have become."

Chris Five Rules to Success:



 Dedication.





Put in the Time. Not just wasteful time, but quality time. Chris detests having time-wasters around.




Keep successful people in your life.




Appreciate the power of great sacrifice. Chris recalls when his daughter was born 14 years ago while he was still in college. Missing out on many sentimental moments still affects him, but something that had to be done to provide her and her siblings with the amazing life they live today.




Have a dream, and then see yourself evolve in it.


Chris has many new endeavors for 2014!

Keep your eyes open for Chris and his wife Moishi as they continue on their global vision.

We celebrate Chris, Our Texas Champion!
---