Tips for Proper Sanitation in Commercial Kitchen Facilities
By Robert Kravitz, President AlturaSolutions
Published: 03/17/2014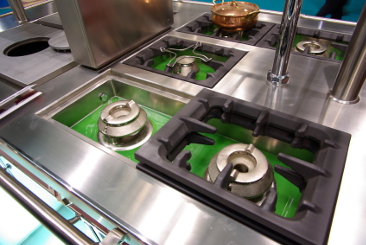 In August 2012, about 350 inmates of nearly 900 in one Arkansas correctional facility were placed in isolation due to illness. Most were held for three to five days before prison officials decided they were well enough to join the other inmates. It was later discovered that the chicken salad served over the weekend was the culprit.

As most correctional administrators know, what happened in this, the Tucker Unit of the state's prison system, may be rare but not unheard of. Just as we hear stories of patrons becoming ill after dining in a restaurant, so it can happen in any facility involved in processing or cooking large amounts of food.

While we do not know exactly what caused the chicken salad to spoil, we do know that correctional administrators can take steps to ensure their kitchens are as clean and sanitary as possible. Basic but thorough sanitation of kitchen facilities is the first step, and one of the most crucial, in maintaining the health of all working and living in a correctional facility.

One of the early considerations involves selecting the correct and most effective cleaning chemicals to use in the kitchen, according to Jennifer Meek, with Charlotte Products, which manufactures food service products specifically for cleaning and maintaining commercial kitchens. "Selecting the correct cleaning chemicals is not something you want to do on your own. This requires a team approach and most importantly, working with a distributor or chemical manufacturer representative that is astute in commercial kitchen maintenance."

Meek adds that chemicals must always be properly diluted in order to work effectively. "Too much [degreaser, sanitizer, or floor cleaner] can cause corrosion of floors, metal items, etc., and too little may not have the performance or effectiveness necessary." She suggests that correctional administrators use autodilution systems that properly dilute chemicals or, if using a wall unit that is hooked up to a water connection or faucet, adjust the system so that it meets the chemical dilution parameters recommended by the manufacturer.

Among her other suggestions to help enhance sanitation and cleaning in a correctional facility kitchen are the following:


If not using a wall unit to clean floors, consider using two-compartment buckets that hold cleaner in one compartment and rinse water in the other; this can help keep the mop cleaner and more effective for a longer period of time.


Instead of a mop and bucket or wall unit, try a spray-and-vac or dispense-and-vac system, which does not require a mop; this eliminates the use of soiled mop heads.


If using a mop and bucket, do not store mops in rinse water or the solution; rinse clean the mop after ever use and allow to air dry; a soiled mop can spread contaminants, and leaving one in a bucket can allow germs and bacteria to grow and thrive.


Brooms should be replaced every two or three months; mop heads every two to three weeks or more often if necessary. "This can often, but not always be determined by the color of the mop: the darker it gets the sooner it should be replaced."


If using vacuums in kitchen areas, consider replacing them every three to five years, and always select high air-filtration systems that keep vacuumed contaminants from becoming airborne.


Careful food handling is a must; some facilities uncrate, wash, and prep fresh produce in an area separate from the main kitchen to ensure proper handling; all fresh fruit that must be peeled, such as oranges, bananas, and grapefruit, should be washed before peeling.


Bulk grains are typically shipped in large bags. "These should be unbagged and stored in clean, stainless steel drums to prevent contamination; the bags may be unclean and we do not want them to touch any cooking or prep surfaces."


Always separate meat, fish, chicken, and dairy products to help prevent cross contamination.


Wash the tops, bottoms, and sides before putting in storage and again before opening.


To ensure proper cleaning and food-handling methods are followed, place wall charts that explain these procedures in strategic and noticeable areas.


Consider incorporating a color-coding system that helps identify which products are to be used for which surfaces and with which chemicals. For instance, a blue dot on chemicals and cleaning cloths would indicate these products are to be used to clean counters and work surfaces, while a red dot may indicate floors.


"It is also very important to remember to clean those pieces of equipment that are used throughout the day in a commercial kitchen," adds Meek. "Some items like grills and ovens are used continuously and may escape proper cleaning. The best way to handle this is to have a schedule—for instance, all grills are cleaned at 10 a.m. and at 2 p.m. each day—so this important step is not forgotten."

As mentioned earlier, Meek also recommends that correctional facilities work with company representatives or distributors that are well versed on commercial kitchen cleaning. "These people often attend seminars and educational programs on how to properly clean commercial kitchens. . . . View these people as walking commercial cleaning encyclopedias that can help keep your kitchen clean and healthy."

Robert Kravitz is a frequent writer for the professional cleaning, building, and heathcare industries. He may be reached at robert@alturasolutions.com
---