Working on Jail Remedies
By Yvette Urrea Moe, Staff Writer, County News Center
Published: 02/24/2014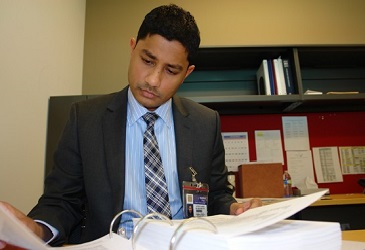 Until recently, someone arrested for an incident exacerbated by mental illness, drugs or alcohol abuse would serve the sentence and then be released and referred to seek community services. Once released, if an inmate stopped taking his prescribed medications or started abusing substances again, he could end up in jail - again and again

Now, doctors who treat these patients in jail are working on setting them up for a successful re-entry into the community by forging stronger ties with service providers.

The shift was implemented by Dr. Alfred Joshua, who took charge as the chief medical officer for the Sheriff's Detentions Services bureau two months ago.

"We're using a much more comprehensive approach for discharge planning, including appropriate follow-up in the community to help them be successful," Joshua said.

Joshua said the jails face challenges as the jail populations continue to grow.

Before Public Safety Realignment, inmates stayed in jail for less than a year. Now, non-violent, non-serious, non-sex class offenders who previously would have gone to prison can serve multi–year sentences in jails. One inmate now is expected to stay until 2020, Joshua said.

Holding inmates longer means that jails have had to revise their plans to include more preventative care and chronic disease management. Yet, the goal is to maintain the high quality of care and be cost-effective, he said.

While most of the inmates are under 40, that doesn't necessarily ensure a healthier population, since many of them come to jail with substance abuse problems that lead to other health issues. Mental health issues are also prevalent, and 28 percent of the estimated daily population of 5,800 inmates is on psychotropic medications, said Joshua.

In the simplest terms, Joshua explains that he is operating something similar to a community care model in the San Diego County Sheriff's Department seven jails - providing all inmates with on-site medical, optometry, dental, and mental health services.

Part of his strategy to keep costs down is to standardize treatment, medications and medical equipment. By doing so, Joshua said the medical staff can also better ensure the quality of those medications and equipment. For example, doctors and nurses are avoiding adverse drug interactions by prescribing from a smaller set of standard medications, he said.

Joshua noted he has also issued a stricter pain medication policy for inmate safety and improved discharge planning.

The chief medical officer notes that he has accomplished this with his very "talented and dedicated Sheriff's leadership team and medical staff."

Many medical services are contracted out with physicians from UCSD Medical Center, a job which Joshua held during his residency and again during while he was an attending physician from 2010 to 2012. This experience made him familiar with jail medical services at least from a clinician's standpoint, he said.

Still early in his career, he already has an impressive resume. He earned his medical degree from the State University of New York, Syracuse and holds a Master's degree in Business Administration from UC Irvine. He has served as the Senior Medical Officer in Healthcare Reform at Tri-City Medical Center and as Medical Director for Volunteers of America, a non-profit organization that assists the homeless.

Joshua, a board-certified Emergency Medicine physician who continues to work in a local emergency room on weekends to keep up his clinical skills, has worked in various administrative roles, but this is the first time he has been in charge of such a large program. He is confident he can head the program to accomplish the Sheriff's goals of quality and cost-effective care.

"His extensive knowledge and experience in emergency medical services management will help in the care and coordination of services to inmates in county jails," said Sheriff Bill Gore.

Yvette Urrea Moe is a communications specialist for the County of San Diego. She highlights emergency management, law enforcement and court public safety programs. Prior to working for the county, she worked as a print journalist for 13 years covering public safety.
---