Ever Thought of Renting?
By Robert Kravitz, President AlturaSolutions
Published: 07/28/2014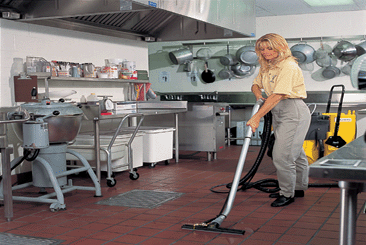 If you do a quick online news search for "budget cuts in correctional facilities," you are likely to find article after article about how correctional facilities are being closed altogether or asked to do more, with larger inmate populations, while receiving smaller and smaller operating budgets. As far as cleaning and maintenance, it has become a very tough nut to crack making sure correctional facilities are clean, safe, and healthy, which is even more necessary with the overcrowding found in some locations.

When it comes to cleaning, one option administrators might explore, which can save some desperately needed funds and still produce favorable cleaning and health results, is to rent more costly cleaning tools and equipment instead of looking for funds to purchase them...at least initially. According to Debby Davis, product manager with Powr-Flite, a leading manufacturer of professional cleaning equipment, among the possible benefits of renting are the following:
The cost savings can be significant. For instance, a floor machine or extractor that sells for $4,000 or $5,000 might be rented for two or three days for $200 to $300.
Renting machines as needed saves space. Some correctional facilities need industrial wet/dry vacuums, as an example, just for specific cleanup operations. These are large machines often needed only for emergencies, like flood cleanup, or other infrequent cleanup operations. Even air movers, which are relatively small can take up valuable storage space, may also be rented when floors are being refinished. In many situations, renting makes more sense than purchasing a machine that spends most of its time in a janitorial closet.
Newer equipment can be selected. Equipment advances in the professional cleaning industry have been significant in recent years. Renting a newer machine can reduce labor costs and improve cleaning results significantly.
Many cleaning contractors rent equipment to help them make a product selection. Instead of spending several thousand dollars on a machine that they later discover does not meet their needs, renting different machines from different manufacturers helps them make a more effective purchasing decision.
"It should also be noted that there are no concerns about servicing the machine or repair costs," adds Davis. "The rental agency is responsible for those issues, which is another cost savings.

What to Rent

Obviously, not every cleaning machine should be rented. According to Davis, equipment that is used on a regular or frequent basis – meaning daily or weekly – should be purchased. Such equipment as vacuum cleaners and smaller floor machines often fall into this category. However, some machines lend themselves perfectly to renting, for all of the reasons cited above. Davis says from her experience, some of the machines most often rented include the following:

Carpet extractors: In most correctional facilities, it is only offices and sometimes public areas that are carpeted. A quality hot-water carpet extractor can cost two to several thousand dollars, making renting a cost-effective option.

Wet/dry vacuums: As mentioned earlier, these are often rented and used for a variety of cleanup operations. "They are also one machine that many administrators find that once they use one, they want one," says Davis. "Wet/dry vacuums can be used to tackle many different cleaning tasks."

Specialty equipment: Some cleaning tools are needed for special projects, emergencies, or other situations. For instance, some facilities use "power foggers" for open-air and surface deodorizing or ozone machines to eradicate odors. Davis notes, "These are not expensive machines, but if rarely used, renting can again be more cost-effective."

"However, when renting any machine, especially a machine such as a fogger or ozone machine, make sure you are using it correctly," adds Davis. "Always read the instructions, including any warnings. An ozone machine, for instance, can be very effective, but no people can be in a room while it is being used."

Where to Rent

Correctional facility administrators have various options when it comes to locating businesses that rent cleaning equipment. One of the best options is the local janitorial distributor. While not all distributors will have equipment for rent, those that do will often also help instruct renters on how to operate the machine properly. Further, if the renter likes the machine and decides later to purchase one, the distributor will likely be more than happy to make that happen.

In addition to distributors, many rental organizations have essentially "discovered" the professional cleaning industry. Possibly due to the many storms and adverse weather of the past few years, rental organizations have found renting professional cleaning tools and equipment can be a lucrative option. "But try and find a rental organization that not only stocks the equipment but can provide some training," adds Davis. "Remember, these are professional tools made for the professional. While they are not hard to use, knowing some of the basics helps ensure the machine is used properly and safely."

Editors Note: Corrections.com author, Robert Kravitz, is president of AlturaSolutions Communications and is a writer for the professional cleaning, building, healthcare, and educational industries. He may be reached at info@alturasolutions.com

Other articles by Robert Kravitz
---