Rising Star in Bexar County: Detention Sergeant's Unintended Journey
By Rosanne Hughes
Published: 08/04/2014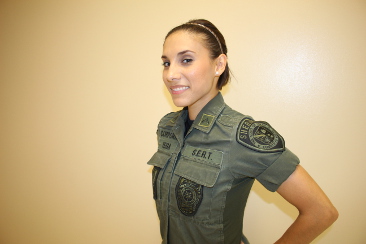 Eight years ago, jails and inmates never entered into Stephanie Vega's mind. She was 19 years old, working in retail more than 40 hours each week to help pay the bills while she attended college full time in San Antonio, Texas.

Today, things have changed. The seasoned detention officer has a challenging career at the Bexar County Adult Detention Center – the 16th largest jail in the nation and the third largest in Texas, with a budget of $58 million and a capacity of more than 4,500 inmates.

During those eight years, Vega has risen through the ranks, joining the jail's Special Emergency Response Team (or "SERT"), then promoting to corporal and becoming the team leader of SERT. Recently, she promoted to sergeant and earned her certified correction supervisor designation from the American Correctional Association (ACA). Vega was one of 28 detention officers from the Bexar County Sheriff's Office to earn professional certification designations.

Bexar County Sheriff Susan Pamerleau said Vega is an inspiration to her peers.

"Stephanie is a great example of what a woman can achieve in this career field," Pamerleau said. "She has applied herself, worked hard and gone the extra mile by earning her ACA certification. I'm very proud of her... and all of our deputies who apply themselves in this way."

She first considered corrections after listening to friends talk about their experiences working at the jail. "I became fascinated at their stories," she said. "They told me they never knew what to expect each day, and that there was never a dull moment – every day was different. That sparked my interest."

When Vega took her first steps and started the application process with the Sheriff's Office, she was in for a shock.

"Going from working at a retail job selling clothes to going through the background check was pretty intimidating," she said. "And the first day at the Academy is a day I'll never forget. Being lined up, having to do push-ups, having drill sergeants yelling at us – I went home and thought, 'Holy cow.' I will never forget it."

Her family was initially opposed to her sudden interest in corrections, because it meant dropping out of college to attend the Academy. Although it delayed her completing her degree, Vega never lost sight of her goal of earning a college degree. In December 2014, she will graduate from the University of Texas at San Antonio with a Bachelor of Arts degree in Criminal Justice.

"My family is really proud of my accomplishments," she said. "My mom didn't think this was something I would stick with. My dad brags to family and friends. They never thought I was going to get this far."

Deputy Chief Raul S. Banasco, the Bexar County Jail Administrator, said women are vital to the success of jail operations, and Vega has made a real difference at the facility.

"Sergeant Vega is someone I can count on to get the job done, and getting her credentials from the ACA shows her commitment to this profession."

After working as a detention officer for two years, Vega began to get more interested in working with SERT.

"We respected them," she said. "We saw their uniforms, their gear, their camaraderie as a team – they were the best of the best."

But there were obstacles to overcome. For one, she was a young woman, and few women were on the team at that time. Secondly, she was only five feet tall and about 100 pounds.

"Everyone was telling me, 'You're too small, you're too skinny, you're not going to be able to handle an inmate three times your size," Vega said. "But that only fueled the fire for me to prove that I could do the job."

When she first joined SERT, the other team members asked her what she would be able to bring to the team.

"I didn't want to be looked at as the weakest link," Vega said. "So I took the proper steps to better prepare myself. I worked out hard at the gym, attended different types of training, like Krav Maga and other self-defense tactics. Ultimately, I proved I could hold my own and could respond to incidents just like anyone else."

Vega has had her share of challenges on the job over the years – from male inmates taunting her, to escalated incidents that required use of force. One of the most difficult inmates she has had to deal with was a woman.

"She did not like to follow any orders or rules and was very disruptive," Vega said. "She disliked me with a passion. I had to deal with her for more than a year."

Looking back on that experience, Vega realizes it was a blessing in disguise.

"Because of that inmate, I became very knowledgeable about policies and procedures," she said. "I learned how to conduct myself professionally in the midst of those incidents, and I learned how to effectively coach my team."

In mid-July, the Bexar County Sheriff's Office decided to do something it had never done before. It held a recruiting event primarily for women, staffed by women who worked in the Sheriff's Office as detention officers, bailiffs, criminal investigators and patrol deputies. The employees made themselves available to answer questions and speak to potential recruits about their careers. They also told their stories to the media during the week before the event. The media exposure ensured word got out about the event – and resulted in nearly 300 applicants.

Vega was a big part of the event's success. She went on a live morning show and talked about her experiences and posed for an advertisement for the event that appeared in the city's local newspaper.

"I had never done anything like that before," she said. "It felt good to represent my agency."

She found talking to potential applicants at the job fair to be particularly rewarding.

Vega said, "Some of them said to me, 'Before I came here, I didn't feel like I could do this. But after I talked to you, I realize now that I can.' Nobody has ever talked to me like that before. It was fulfilling, knowing I am a public servant who is making a difference. I loved it."

Vega credits her leaders and supervisors over the years for her success.

"They trained me and taught me everything I know," she said. "If it wasn't for them, I wouldn't have the knowledge I have now."

Rosanne Hughes is the Change Management Specialist for the Bexar County Sheriff's Office in San Antonio, Texas.
---