A chance meeting?: My time with IACTP
By Joe Bouchard
Published: 09/15/2014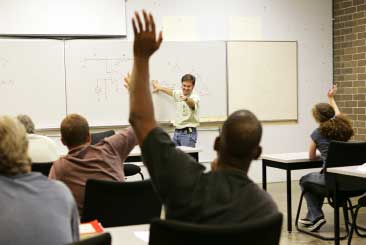 Sometimes, you never know the great impact that one telephone call might have. Looking back to when I called Bill Hudson, former Michigan Department of Corrections' Training Director, I realize that this was one of the most influential interactions of my professional life. I had called Bill just to comment on an article that he had written. Little did I know that when I hung up the telephone, I was on the road to a long and fulfilling relationship with a world class corrections training organization.

You see, in the course of our conversation, Bill suggested that I check out an association of which he was a member – the International Association of Correctional Training Personnel. He told me that I would not be sorry. His words were prophetic.

The International Association of Correctional Training Personnel is a collection of corrections trainers. The members represent all parts of the criminal justice spectrum from across the nation. In fact, the reach of IACTP is international, boasting members from different countries. Yet, IACTP does not have a ridiculously huge membership. I discovered that this is a strength, as a great part of the membership participates in conferences, list serve, and communicating with the board.

I joined IACTP on Bill's suggestion in the middle part of last decade. When I learned that any member could submit an article for The Journal of the Correctional Trainer, I set to work. Sharing classroom ideas with like-minded professionals was right up my alley. Since then, I have served as a columnist, journal editor and as the editor for IACTP's five icebreaker books. I believe that this is not likely to happen in a large, cumbersome organization.

Of course, different people may derive various other benefits from the same organization. Still, what follows are ten things that I personally consider as gifts from IACTP:
The reach is great. Through IACTP, one can network with a diverse group of contacts.
All corrections segments are represented here. Training needs for any corrections' topic or niche you can imagine is just a phone call, text, or email away.
Conferences are medium sized. They are not gargantuan and unfriendly, nor are the conferences tiny and without substance. IACTP conferences are right-sized.
The board is friendly and approachable.
The journal publishes a variety of training articles four times a year.
IACTP has a vast collection of icebreakers and exercises that you can adapt for your corrections or college classroom.
IACTP is what you make it. The individual member can have a great impact. Ambitious and imaginative professionals have the opportunity to make a difference in the corrections training field through IACTP.
IACTP has an annual conference. This occurs at locations all over the United States. The rich variety of venues lends to interesting times with local flavors.
Hosting agencies offer tours of local facilities. That is a great way for conference participants to gauge differences and similarities in practices and physical layout.
Since it is not a huge organization, everyone knows everyone. From this, I have found not only great professional contact but also wonderful friendships.
Again, what you get out of an organization may differ from what I derive. These are merely some of the benefits that I have enjoyed over the years as a member of IACTP. And all of this came from one telephone call. One never knows what can come from a single meeting.

IACTP Mission: The IACTP enhances public safety and the fair and humane treatment of offenders by promoting organizational and individual excellence in the profession of training.

The Annual Trainers' Conference is a unique forum that brings together correctional leaders, training managers, trainers, field instructors, consultants and others interested in both effective corrections practice and exemplary training strategies. It provides attendees with the opportunity to network and share innovative approaches being used within correctional agencies throughout the country. The conference is sponsored by the Arizona Department of Corrections and will be held October 5 - 8, 2014.

All Conference workshops, general sessions, exhibit showcase, and receptions will take place at the Embassy Suites Phoenix – Scottsdale.

Reservations must be made prior to September 13, 2014 to get the group rate: Ask for the International Assoc. of Correctional Training Personnel Group Rate.

There are still a few slots for presenters for this conference. If you are interested in presenting on training tactics or other corrections issues please contact Peter Norris, Training Academy Manager Wyoming Department of Corrections (307) 328-5627.

To learn more about IACTP, go www.iactp.org .

These are the opinions of Joe Bouchard, a Librarian employed with the Michigan Department of Corrections. These are not necessarily the opinions of the Department. The MDOC is not responsible for the content or accuracy.

Visit the Joe Bouchard page

Other articles by Bouchard:
---