Corrections: Dirty Grout Under Arrest
By Sean Martschinke
Published: 10/20/2014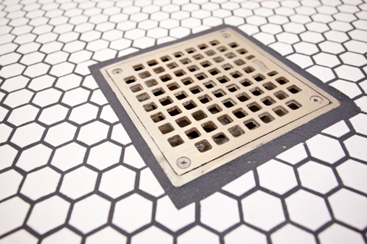 Keeping restroom grout clean and sanitary is a major problem for all types of facilities, including banks, hotels, office buildings, and correctional facilities. In fact, "cleaning grout is the No. 1 challenge facing most facility managers today, not only in restrooms and locker rooms, but in kitchens and showers as well," according to David Frank, founder of the American Institute for Cleaning Sciences. He adds that building users, such as correctional facility inmates, are quick to notice soiled grout and it can have a negative impact on morale and the overall view of a facility.

When it comes to cleaning and maintaining tile and grout, the first thing correctional administrators should realize is that this is an ongoing process. In some cases, grout will be thoroughly cleaned and, especially if no sealant has been applied, be back to its old soiled look and condition in a relatively short time. This is why a grout cleaning strategy must be developed and implemented.

To develop a grout cleaning strategy, administrators must focus on two key components: chemicals and equipment. These are interconnected; even if effective chemicals are used, the results still may prove unsatisfactory if the equipment used to clean the grout is not up to par.

Chemical Selection

The good thing about selecting chemicals to clean grout is that there is a huge selection of chemicals from a variety of manufacturers. The bad thing about selecting chemicals to clean grout is, once again, that there is a huge selection of chemicals from a variety of manufacturers. An astute cleaning distributor can really prove helpful, advising administrators to make thought-based chemical selections and not trial-and-error purchases. Frank suggests selecting chemicals that are proven effective and have minimal odor, which is preferred for a correctional facility since odor can definitely impact indoor air quality. He also recommends chemicals that have low or no volatile organic compounds (VOCs). Also to protect indoor air quality and the health of staff and inmates, be sure to dispose of these products safely. Typically the chemicals used to clean grout include a stripper or a degreaser, depending on the type of soiling, a baseboard cleaner, and mild acidic detergents.

All chemicals should be tested first in an inconspicuous area using a handheld scrub brush to prove they are safe and effective. Remember, these types of chemicals typically require some "dwell time." They must set on the floor surface and grout area in a wet condition for a few minutes before scrubbing. Also remember, these are powerful chemicals. Try to avoid inhalation and, if you are applying the chemical by hand, always wear gloves and goggles. Along these lines and to help promote safety, administrators should always have Safety Data Sheets (SDSs), formerly known as Material Safety Data Sheets (MSDSs), for all products used in grout cleaning readily available.

Equipment Selection

Earlier we mentioned testing the chemicals manually using a scrub brush. Believe it or not, for years grout areas had to be cleaned in this manner. The process was slow and also harmful to the cleaning worker because of the close proximity to the fumes. Furthermore, workers were easily fatigued, yielding less than satisfactory results in many cases.

Even once rotary floor machines were introduced, they were not always effective when it came to grout cleaning. If you look closely at a tile and grout floor, the grout is about 1/8-inch to as much as 1/16-inch below the tile. It is difficult for a rotary machine, which cleans the surface of the floor, to reach these lower levels.

We should also note that because grout is slightly below the surface of the floor it becomes a home to soil buildup. Essentially it becomes a resting place for moisture and soil, and this is why bacteria and other contaminants can build up in these areas over time.

So if cleaning grout by hand, especially in a correctional facility, is out of the question and traditional floor machines may prove ineffective, what options do we have? Developed more than 25 years ago in Europe, cylindrical brush machines are proving to be effective when cleaning tile and grout areas. And, as the name implies, these machines use counter-rotating brushes instead of rotary pads.

You can compare a rotary machine to a cylindrical brush machine to cleaning your teeth. If you were to clean your teeth with a cloth and toothpaste, it could clean the surface, but not reach much further into the gaps between the teeth. That's what a rotary machine does. However, by using a toothbrush and toothpaste, not only is the surface of teeth cleaned, but so are the areas between...as with a cylindrical brush machine. We mentioned earlier that correctional administrators should work with an astute cleaning distributor when selecting chemicals for grout cleaning. Additionally, selecting a distributor that markets cylindrical brush equipment may be a wise move. Very often they will let you "demo" the machine to show its effectiveness and if it works for you.

Sidebar: Other key components of a grout cleaning strategy
Make a list of products and equipment you will need for the project.
Post warning signs around restroom entries.
Make sure the area has adequate ventilation.
Remove all movable furnishings from the area.
Dust mop, sweep, or vacuum the floor and then damp mop.
Place towels around entries to absorb liquid so it does not damage exterior floor areas.
Mix chemical per manufacturer's instructions.
Apply chemical in a 10-by-10 foot area using a bucket and wet mop. Do not let the chemical or stripper dry.
Scrub with a cylindrical floor machine or scrubber.
Remove excess solution with a wet/dry vacuum.
Rinse the area thoroughly with fresh water.
Apply a sealer. A penetrating sealer will help protect the floor.
Sean Martschinke, a CIMS ISSA Certification Expert (I.C.E.), currently serves as the product manager for Tornado Industries, a manufacturer of professional floor care and other cleaning tools and equipment. He may be reached through Tornado's website.
---