Has the Presence of Women in Male Correctional Facilities Changed that Environment? - Part 1
By Dr. Susan Jones
Published: 10/27/2014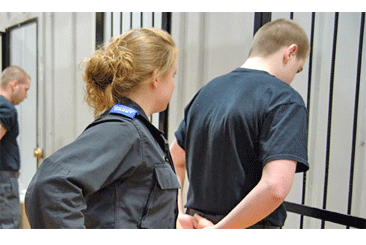 When large numbers of women were first placed into positions with inmate contact in the 1980s, there was a hope that they would exert a calming influence that would reduce incidents of violence. Additionally, it was also theorized that the presence of women in this very masculinized environment would "normalize" the environment and this normalization would help in the rehabilitation of inmates and ultimately reduce recidivism (Cheeseman and Worley 2006; Greer 2008; Management and Training Corporation 2008). However, it would be misleading to imply that women were recruited into male prisons for these motives, in fact their presence was the result of legal challenges by women pursuing equal employment opportunities (Smith 2003) and a result of workforce availability (Pollock 2004). No matter the motive, the question remains did the presence of women change the environment, or did the environment change the women? A conclusive answer to this question is difficult to find, but there are indicators that may shed light upon this issue. I propose that one such indicator is the acceptance of pregnant correctional employees.

I had the unique experience to be the first pregnant correctional officer, assigned to a post with inmate contact, in the Colorado Department of Corrections. When I chose to start a family, my husband and I were full of hope and excitement. My husband was also a correctional officer, so we made this decision knowing the environmental challenges that I would face at work in a male prison. The first strategy employed was an exhaustive search of the law and any policies on the issue. The Pregnancy Discrimination Act of 1979, supported my decision to be able to continue to work throughout the pregnancy, but it did not offer 100% assurance that the agency policy could not place me on leave for safety concerns. There was no agency policy regarding working in inmate contact positions while pregnant, so our next strategy was to hide the pregnancy as long as possible. Obviously this approach was time limited.

Eventually, I had to tell the warden that I was pregnant. During that meeting I had a list of questions, including what type of clothing I would be wearing (housing officers wore street clothes at that time), post assignment, and restrictions on my work. The reaction to my disclosure was merely: "but correctional officers don't get pregnant." In all fairness, the warden was overwhelmed by the fact that his first, and only, female officer in a housing unit was pregnant. He asked me to not say anything to anyone else until he found the answers to these questions and he would get back to me. Up to and including today, he has never gotten back to me. I didn't stop pursing other career goals while I waited for an answer from the warden, and during my pregnancy I was promoted to the level of sergeant at a women's facility. I did not reveal the fact that I was pregnant during the interview, however, that fact was becoming more obvious. At the women's facility employees were encouraged, though not required, to wear uniforms. If the employee chose to wear a uniform, the employee was expected to personally purchase them from a specific vendor, even though the department paid for the uniforms for the employees who worked at the male facilities.

When I was offered the position, I asked about where I could obtain maternity uniforms and was told that they did not exist. At this point, I decided to have uniforms made that would look as close as possible to those worn by other staff. I invested a significant amount of money in this process because I ordered the material from the uniform supplier for the department. Then a seamstress altered a maternity shirt pattern so that it approximated the look of the standard uniform shirt. I was able to purchase maternity pants that were similar in color and material so I didn't have to have these specifically constructed. I showed up in "uniform" and no one asked me about the source of my clothing. I was willing to pay the cost of this uniform because I believed that the fewer questions asked and the less attention I drew to myself, the greater were my chances of being able to continue to work and get paid, throughout my pregnancy.

After I delivered my baby, I returned to work within the Department of Corrections and continued my career. When I became pregnant the second time I was a lieutenant in a programs areas which was a non-uniform position, so I worked through that pregnancy in "regular" maternity clothes.

During this time period, my husband, a correctional sergeant, worked with a pregnant colleague who was having difficulty carrying her radio. These radios were designed to be carried on a uniform belt, and she was not able to use a belt in the last months of her pregnancy. So he designed an over the shoulder type strap that would allow her to carry the radio and complete her job duties. My husband was recognized for his creativity in the department newsletter, but there was no action to replicate the item for other pregnant officers.

As time passed, more women officers became pregnant and a few sought me out to find out where I purchased the maternity uniform shirts. I even referred a few women to the same seamstress who made the shirts for me. However, the days of the employee paying for their own uniforms were gone and the pregnant officers were not usually willing to personally pay for uniform shirts. In the absence of any official departmental response, they began to make adaptations to the uniforms that were being provided. A few officers were given old shirts that they could cut up to make panels in the sides of their shirts to that they would continue to wear the standard shirt throughout the pregnancy. A few individual facility managers saw this alternation expense as something the department should pay for and they had the alterations made by local seamstresses and presented the shirts to the employees. However, most employees were expected to find a seamstress and pay for this expense on their own.

Eventually, most pregnant officers just began to ask for bigger and bigger shirts. These used shirts were readily available from employees that had turned in their uniforms prior to leaving employment. These bigger shirts gave them more room for their increasing waist, but they did not fit their shoulder and necks. It was not uncommon for pregnant officers to rest their elbows in the arm holes of these oversized shirts. The adaptation for pants was usually some type of elastic strap that covered the expanse between the unzipped waist band. Fortunately, the extra big shirts were usually very long, hanging down to their knees, so the top of their pants were not visible.

As I continued my career path from officer to warden, I have to admit that I didn't fully understand what the pregnant correctional officers were going through just to keep in some type of approved uniform. This issue finally got my attention when I was a warden. I was conducting a tour with a group of influential guests, when I suggested that they should see the control center in a housing unit. When we walked into the housing unit I came face to face with the uniform issues of my pregnant staff. A very competent officer was assigned to the control center and when she let us in the control center, she was wearing an oversize shirt that engulfed her and hung down past her knees. Even though she was very professional and enthusiastic as she talked about the control center I could not even focus on what she was saying.

After that tour, I talked to the officer. She was very frank and told me the lengths she had gone through to try to look the professional that she was. She told me that she asked for the control center post because she was unable to keep her pants up as she walked. The years of neglect of this issue were slamming into my reality. I felt sickened by the lack of attention that anyone, including me, had given to help these women that were a key part of our workforce.

I reflected on the hours that I had personally been involved in debates at warden's meetings involving issues relative to the dress code and enforcement issues. Yet none of these hours included addressing the maternity uniform needs. As a department, we were obsessed with hair length, jewelry, type of undergarments, and footwear of uniformed employees. If a male officer or non-pregnant female officer reported to work in the uniform that the pregnant officer wore, the captain would have been expected to deal with the issue through the disciplinary process. Yet no one was concerned about the uniform for the pregnant officers. I could not understand why no one was complaining; not the shift commanders and not the pregnant officers.

Check back next week for the conclusion of "Has the Presence of Women in Male Correctional Facilities Changed that Environment?"

References
Cheeseman, K. A. and R. Worley (2006). "Women on the wing: Inmate perceptions about female correctional officer job competency in a southern prison system." The Southwest Journal of Criminal Jusitce 3(2): 86.

Greer, K. (2008). When women hold the keys: Gender, leadership, and correctional policy. MTC Institute. Centerville, UT.

Jenne, D. L. and R. C. Kersting (1996). "Agression and women correctional officers in male prisons." The Prison Journal 76: 442-460.

Management and Training Corporation (2008). Women professionals in corrections: A growing asset. Retrieved from http://www.mtctrains.com/public/uploads/1/2010/10/WomenProfessionalsInCorrections-Aug08.pdf.

Pollock, J. M. (2004). Prisons and prison life: Costs and consequences. Los Angeles, CA, Roxbury Publishing co.

Smith, B. (2003). "Watching you, watching me." Yale Journal of Law and Feminism 15: 225.

Dr. Susan Jones retired from a warden's position within the Colorado Department of Corrections. She worked in a variety of corrections positions in Colorado for 31 years, including: community corrections, correctional officer, sergeant, lieutenant, manager, associate warden and warden. Dr. Jones research interests have focused on the issues that correctional employees face on a daily basis.
---