Impact of Charity & Volunteerism at Correctional Facilities
By Terry Campbell, Professor, Purdue University Global
Published: 12/15/2014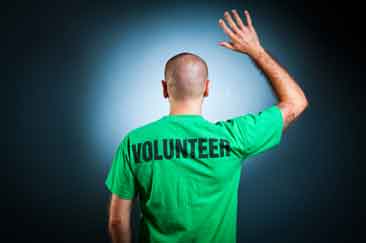 Our December corrections topic looks at the 'Impact of Charity & Volunteerism at Correctional Facilities.' Have you ever considered the impact volunteers have on corrections? I know the question arises that some of these volunteers will make poor decisions and allow themselves to be manipulated by some inmates. This is correct, also true is that some officers and staff become involved in these same activities. Perhaps the question should be does volunteerism outweighs the cons presented? My opinion is yes and based upon the following: Correctional facilities volunteer a number of hours on a monthly basis and if this is equated to a dollar amount, most states correctional systems would not be able to afford paid staff in these positions. Group and individual interactions occur with the inmates and this has proven beneficial over the years. This view also includes my experience working in corrections with many volunteers over the years. Yes there are many pros and cons and you can make your decision if it is beneficial and practical for corrections to continue using volunteers.

You can conduct a search for each state's prison systems to find additional information for corrections volunteers. I selected the Florida Department of Corrections since I reside in Florida. The Florida Department of Corrections is the third largest prison system in the United States. Only the States of California and Texas have larger prison systems. We already know through statistics and intake, inmates face a variety of issues related to incarceration and recidivism concerns. This consists of, and is not limited to the following; lack of education, lack of any vocational and/or job skills, substance abuse concerns, mental health issues, and lack of family support and/or family problems. Many of these areas are identified and inmates participate in a variety of programs to hopefully change their behavior and become productive citizens. However, as you know there are many challenges. Departments of Corrections across the nation have implemented various initiatives to assist the inmate population in adjusting to incarceration, release preparation, and supervision upon release.

I provided the Florida Department of Corrections Chaplaincy Services mission for review. "Assist the FDC in maintaining public safety by providing pastoral care of inmates, staff and their families; assisting offenders in their response to the realities of their actions prior to, during and after incarceration; assisting offenders in discovering or developing their personal faith, and by working in partnership with the community to accomplish mutually beneficial results."

The following programs are available in the Florida Department of Corrections and volunteers are utilized. Note: The programs available to the inmates will vary from state to state.
Worship Services & Studies
Religious Education
Faith-Based Transition
Faith-Based Addiction Deliverance Programs
Financial Independence
Anger Resolution
Marriage Enrichment
Parenting Skills
Confinement Visitation
Chapel Library Program
Victim Impact Panels
Inmate Marriage Counseling
Mentoring
Spiritual Adviser Visits
To supplement these programs and determine participation and effectiveness, the Florida Department of Corrections collects data and provided some statistical information and findings.

Some of the findings reflect the following:
At the major institutions, approximately 42% of the inmate population participates in at 'least on chaplaincy program.'
Inmates attending multiple programs have a lower rate receiving disciplinary reports.
Faith & Character Based Programs (Note this is a 12 month voluntary program). The following statistics were available for review; 'approximately 38,000 inmates have participated in this program and approximately 16,000 completed the program and been released. Of these released, approximately 2,000 returned to prison.' Percentages have not been calculated due to being a fairly new program. Data continues to be collected and will be reviewed and analyzed.
These are only a few interesting statistics I provided. As you can see from your review of the information presented, there are some favorable results and ongoing research is being conducted. Some of the current results are positive and encouraging. Once a sufficient amount of data is collected and analyzed, program decisions, program adjustments, and program effectiveness can also be evaluated.

The volunteers provide a positive role model for inmates and as you know, a positive influence often has not been present. The inmate population has a variety of needs and many of these can easily be completed through the use of volunteers. These volunteers provide a valuable service not only to corrections but the public as well. They bring to the facility a variety of skills and can assist the offenders in making positive changes.

I also selected to discuss substance abuse programs and use of volunteers. As I mentioned previously, a large percentage of the inmate populations admits to using drugs, alcohol, or both at the time they committed their crime(s). Again, the largest percentage of these inmates have not attended nor participated in any type of substance abuse treatment programs. Within our prisons two of the most common substance abuse components have alcoholics anonymous and narcotics anonymous programs. Quite often volunteers assist with these programs. If these programs are offered at your facility, they may be implemented and used differently.

Each state department of corrections will have their own application process for volunteers. There will be guidelines, some minimum requirements to be met, and application. The application will be completed and submitted for processing. If selected, the volunteer will then attend a training session addressing many areas with emphasis on security concerns.

Many states have active inmate Jaycee Chapters linked with state Jaycee Chapters as well. Another group of volunteers that need to be discussed are volunteers from the Salvation Army. The Salvation Army not only assists prisons with volunteer programs but also assists probation and parole, residential treatment programs and re-entry programs. The Salvation Army also maintains a working relationship with many civic groups and other agencies outside of corrections. Hopefully, I have provided you with an overview and better understanding for volunteers in our corrections system. Continued and increase use of volunteers is a must to assist correctional agencies and their effectiveness cannot be stressed enough.

Happy Holidays!

Terry Campbell is a criminal justice professor at Kaplan University, School of Public Safety and has more than 20 years of experience in corrections and policing. He has served in various roles, including prison warden and parole administrator, for the Arkansas Department of Corrections. Terry may be reached at tcampbell@kaplan.edu.

Other articles by Campbell


---