Bexar County Promotes First Woman Detention Captain
By Rosanne Hughes, (Photo Credit: Robbin Cresswell, BCSO)
Published: 01/19/2015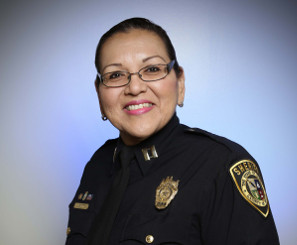 For the first time ever, the Detention Division of the Bexar County Sheriff's Office in San Antonio, Texas, has promoted a woman to the rank of captain. She is also the first Hispanic woman to be promoted to this rank in the agency's history.

"We're very proud of Captain Balditt," said Bexar County Sheriff Susan Pamerleau. "Over the course of her career, she has been a great leader, and she has attained this position through hard work, testing and competing with everyone else. I know she'll set a good example for other women and men in our agency." Sheriff Pamerleau continued, "There are many opportunities for advancement for women in this field," she said. "With the numbers of incarcerated women trending upward nationally, not only are there jobs only women can fill, but also excellent opportunities for continued professional development."

Jail Administrator Deputy Chief Raul S. Banasco agrees. "Captain Balditt is a dedicated, determined public servant who has worked hard to get to this point in her career. It's quite an achievement, and we are so pleased with her success."

Balditt was surrounded by her family, colleagues and members of the media at her promotion ceremony at the Bexar County Adult Detention Center in early January.

"It's surreal," said Laura Balditt, who has served in the Sheriff's Office for 28 years. "I've been hoping for this for a long time, so it's pretty special. It was pretty amazing having my family there around me to witness this. I was grinning from ear to ear."

Balditt wasn't always a detention officer. She first began her career as a civilian in the agency's records office. Over time, she began to consider a career change, but had concerns about working in detention.

"I had supervisors who were mentoring me at that time," Balditt said. "They knew the struggles and the hesitancy I had. I thought, 'I don't know if I can do that job.' But they encouraged me, and said, 'If you respect them, they will respect you.' I found that to be true."

Balditt became a detention officer in July 1992 and quickly rose through the ranks, promoting to corporal the following year, sergeant in March 1997 and lieutenant in August 2002. She attributed her success to her personal drive and initiative, especially in volunteering for special projects.

"When you're sitting in meetings, everyone wants the meeting to be over – people don't want to raise their hands," she said. "But I wanted to learn new things. For me, taking on those extra responsibilities and projects – that was something I welcomed. It was a challenge."

Balditt has also welcomed opportunities for continuing education. She is pursuing a bachelor of applied science in criminal justice at Wayland Baptist University, but has also worked hard to achieve numerous professional certifications throughout her career. She earned her Certified Jail Manager designation from the American Jail Association in November 2014 and her Certified Corrections Manager from the American Correctional Association in April 2014. She also is certified as a mental health officer, master peace officer and master jailer.

To other women who may be considering following in her footsteps and working in a similar career field, Balditt encourages them to give it a try.

"I think they hesitate because they think they can't do the job – that they have to have a certain personality or stature," Balditt said. "But a lot of women may not realize they really can do this job. It's all a matter of respect. Inmates may be incarcerated, but they're still people."

She said opportunities for women in corrections have grown over the years.

"I want to tell young women, they really can do this job," Balditt said. "They can go so far in this career. The boundaries are limitless."

Rosanne Hughes is a change management specialist at the Bexar County Sheriff's Office in San Antonio, Texas.
---