Should We Put Sensor-Controlled Fixtures in Correctional Facilities?
By Klaus Reichardt
Published: 02/16/2015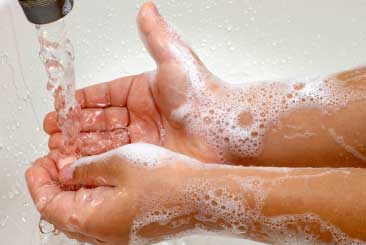 As you are probably aware, 2014 was a very dry year in many parts of the United States. While water supplies and rainfall events can vary from year to year, when it comes to water, the trend appears to indicate that water issues will likely grow in intensity in the future.

According to the National Climate Data Center (NCDC), California, which houses more than 160,000 prisoners; southern Oregon; and most of Nevada had exceptionally dry periods in 2014. Oklahoma and Texas had their fourth dry year in a row, and by summer 2014, drought conditions had spread over parts of the Southeast, mostly in Alabama and Georgia. Even Puerto Rico and parts of Hawaii, areas known for their ample rainfall, were listed as having drought conditions at various times in 2014. (See sidebar below: What Is a Drought?)

"The percentage of the contiguous U.S. experiencing moderate to extreme drought started 2014 at about 17.5 percent," according to the NCDC. "It expanded to 34.1 percent by the end of May, then shrank again to end the year at about 10.3 percent." What this tells us is that, for the bulk of 2014, one-third of the country was experiencing mild to severe drought conditions, considerably more than in most years.

While there was a rebound by the end of last year, according to the U.S. Environmental Protection Agency, "From 2000 through 2013, roughly 20 to 70 percent of the U.S. land area experienced conditions that were at least abnormally dry at any given time."

This tells us that all types of facilities—residential, commercial, educational, as well as correctional—are going to have to deal with water-consumption issues. And not only do drought conditions require everyone to find ways to reduce consumption, invariably as supply goes down, costs will go up, making it a double whammy on facilities.

Steps Administrators Can Take

While sensor-controlled, "touch-free" faucets, toilets, and urinals may seem like a luxury item in correctional facilities, many administrators have considered these as a way to reduce water consumption. After all, water is dispensed upon demand so no water is wasted, right?

In reality, there can be problems with these systems. One problem is that they are prone to what are called "phantom flushes." This means that due to changes in light conditions, shadows, or movement somewhere in the restroom, the sensor system assumes water is being requested—or a flush is necessary—when in reality it is not needed. When water is released unnecessarily, the system is not only not saving water but is actually wasting water.

Further, a four-year study conducted at an office building in Tampa, Florida, comparing water consumption for both manually operated faucets and sensor-controlled systems found the following: "While the results achieved . . . may not necessarily be indicative of results that might be achieved in other projects, they clearly indicate a significant increase [emphasis is in the original] in water demands when manually operated plumbing fixtures . . . were converted to sensor-operated models.[1]"

The original goal of touchless or sensor-controlled water fixtures was hygienic: finding ways for users to avoid touching restroom fixtures. These systems accomplish this, but as far as reducing water consumption, as some manufacturers claim, that is open to question.

So what steps can administrators take that can help reduce water consumption in their correctional facilities? Among them are the following:
One place to start is to install high performance restroom fixtures, such as toilets that use less than 1.6 gallons of water per flush, urinals that use only 1 gallon of water per flush, low-flow faucets, and low-flow showerheads. Installing these systems can reduce water consumption by 20 percent or more.
Taking things a step further, aerators can be installed in faucets and showerheads, reducing water consumption further
Installing waterless urinal systems in place of water using urinals eliminates all water consumption necessary for urinals, saving as much as 35,000 gallons of water annually per urinal. These fixtures can replace urinals in all common areas.
Install computerized controls that can turn water on or off in multiple locations throughout the facility.
Conduct water audits so administrators know exactly how many water-using fixtures are in the facility, if they are operating correctly, and if there are any leaks, which can result in thousands of lost gallons of water.
Install greywater systems that reuse water from lavatories, showers, and laundries; the water is then used primarily for toilet flushing but also can be used for irrigation. The end result is that, after being filtered, disinfected, and stored for use, greywater reuse can save approximately 50 percent of the water being consumed.[2]
There are more ways correctional facilities can reduce water consumption and address the water challenges we may expect in the 21st century. Possibly the best advice I can offer is to "think outside the box." Go beyond even what is listed here, analyzing how water is used in your facility and, just as important, how it can be saved.

[1]Gauley and Koeller, California Energy Commission, "Sensor-Operated Plumbing Fixtures: Do They Save Water?" March 2010.
[2]According to E.W. Bob Boulware, P.E., M.B.A., an engineer that specializes in water-reducing strategies.

Sidebar: What Is a Drought?
A drought is an imbalance between water supply (precipitation) and water demand.

A frequent speaker and author on water-conservation issues, Klaus Reichardt is founder and CEO of Waterless Co. Inc, Vista, California, makers of waterless urinals and other restroom products. He founded the company in 1991 with the goal of establishing a new market segment in the plumbing fixture industry with water conservation in mind. He may be reached at Klaus@waterless.com.
---