Corrections Professionals Make a Difference
By Robert Lampert
Published: 05/04/2015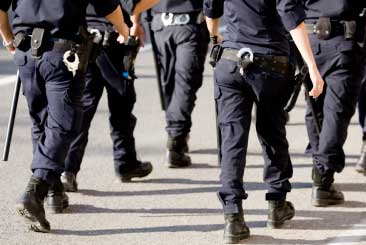 As individuals and communities, we often remember to thank those public servants, such as police, fire fighters, EMT's and military service men and women, who keep us safe. But there is another group of public servants who play a critical role in our day to day safety that receive little or no daily recognition: corrections professionals.

On May 4-8, 2015, Wyoming and the rest of the nation will celebrate Correctional Professionals Week. I hope you will join me in recognizing these hard working professionals who do an extremely difficult job very well.

Corrections employees have provided for the safety of Wyoming families and individuals for over 100 years under various agency names and, for the past 24 years, as the Wyoming Department of Corrections. As this agency has evolved, so have its staff and the expectations of them. Employees, once considered in the aggregate as "guards", now do much more than guard prisoners and, as such, are truly deserving of recognition as corrections professionals. So please don't call them "guards".

Today's corrections staff are well-trained highly-skilled corrections professionals. They effectively manage offenders and community risk, while giving each offender access to the opportunities necessary to become effective, law-abiding citizens upon their transition back into our communities.

In addition to operating five adult correctional facilities, Wyoming Department of Corrections employees provide risk-appropriate levels of community supervision to those offenders who are under probation and parole, or housed within adult community corrections centers in Cheyenne, Gillette and Casper.

These employees continue to strive to make the Wyoming Department of Corrections (WDOC) a benchmark correctional agency. Recent efforts to further professionalize the services offered to Wyoming citizens are illustrated by the WDOC receiving full accreditation with the American Correctional Association (ACA). During the period April 2013 through February 2015, all five prisons in Wyoming, along with the WDOC training academy, central office, correctional industries program, and field services probation and parole offices across the state were assessed by ACA auditors and found to be in full compliance with nationally recognized performance-based standards. This is a testament to the hard work and dedication of WDOC staff and their belief in doing the right thing, at the right time, and for the right reasons.

Despite the inherent risks of the profession, these unsung heroes dedicate their lives to serving crime victims and to ensuring the safety of our communities through the incarceration and supervision process. They do so by role-modeling socially acceptable behavior to the offenders they supervise, by reinforcing the positive pro-social behaviors displayed by those offenders seeking change, and by redirecting inappropriate behavior in continuously holding each offender accountable for his/her own actions as they occur.

The challenges faced by correctional staff members are tremendous, yet these dedicated professionals continue to make a difference in the lives of others. Incarceration, or community supervision, is the punishment imposed on offenders for the wrongs they have committed against victims, families, friends, and our communities. "Corrections" is the process that occurs as a result of the supervision, professional concern, and unselfish commitment of our state's corrections professionals.

That's the impact our professionals have. Our staff makes a difference not by punishing, but rather through accountability, mentoring, interventions, rewards and sanctions, treatment, partnerships with other agencies and community groups, and by assisting offenders in their efforts towards leading a law-abiding lifestyle through best-practice approaches to programming and treatment. All of this is done in an effort to ensure the highest level of public safety.

Today's correctional employees are highly trained professionals who constantly acquire knowledge of what motivates offenders and apply that knowledge in the most effective way possible. The work they do has become multifaceted – their work goes beyond supervision and surveillance of offenders – and is therefore deserving of the designation as a respected profession.

During their week of special recognition on May 4-8 and throughout the year, we should honor and respect the work these men and women do for us each and every day of the year.

Robert O. (Bob) Lampert has more than 40 years of correctional experience, including military and state service. He has been director of the Wyoming Department of Corrections since 2003, and has led the department to the forefront of correctional practices. He was nationally recognized by the Association of State Correctional Administrators as the Outstanding Director of Corrections for 2013.
---