Floor Pads, Brushes, and Colors…Which Is for What
By Sean Martschinke
Published: 05/25/2015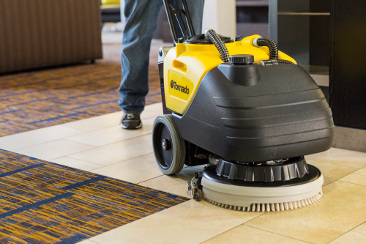 An inmate at an Illinois correctional facility has one primary job in the facility and it involves floor care. No, he does not actually clean, strip, scrub, or polish the floors. Instead, he is primarily focused on the equipment used in floor care and, more specifically, inventorying and dispensing floor pads as requested and needed.

Now, this might seem like a simple job. After all, floor pads are color-coded based on the task at hand: stripping, polishing, scrubbing, etc. These standards are "not in stone," but have evolved in the professional cleaning industry, with nearly all manufacturers adopting the same color-coding criteria. "The problem is, sometimes someone will ask for a scrubbing pad when what they really need is a stripping pad," says the inmate. "If I give them the scrubbing pad, as they requested, and what is really needed is a stripping pad, then it can take longer to complete the task and possibly damage the [floor] machine or the floor surface or both."

He also says that "not all floor pads are created equal." Even though the correct pad may be selected based on the pad's color and the task at hand, pads from certain manufacturers may work more effectively on certain floors than others. These issues and others – such as what type of floor machine is being used – are what make floor pad inventorying and selection far more complicated than it would initially seem … and also why this inmate realized he had to become a floor pad expert in order to make sure the right pad was used every time.

Traditional or Cylindrical?

Before discussing the color-coding system established for floor pads, the first thing correctional facility administrators need to know is that not all floor machines use pads. Some floor machines are cylindrical floor machines, which have become much more popular in the United States in recent years[1]. These machines do not use pads at all. Instead, they have counterrotating brushes and among the reasons for their increasing popularity is that they are very easy to operate and their brushes last much longer than pads.

First-time users of a traditional low-speed buffer may find operating the machine to be like riding a horse in the rodeo – it goes just about anywhere it wants to go. By comparison, a cylindrical floor machine glides over the floor. The operator directs the machine and not the other way around. Additionally, the brushes last as much as 100 times longer than pads, reducing waste and significantly reducing costs.

Now, color-coding can vary based on the type of machine used, traditional (pad) machine or cylindrical brush machine, but generally speaking, the darker the color, the higher the abrasiveness. The following are the generally accepted color-coding systems for a traditional pad floor machine:
Light colors, such as white or pink, are used for polishing.
Red is used for cleaning or spray buffing (a spray of water/finish is applied to the floor to further help remove soils and marks and to enhance the shine).
Blue or green is used for deep scrub and recoat (reapplying floor finish).
Black, brown, or maroon is used for stripping the finish off the floor.
While several manufacturers now manufacture cylindrical brush floor machines, the color-coding system is not as standardized for these brushes. Because of this, Tornado, one of the first manufacturers to market cylindrical brush floor machines in the United States, has developed the following color-coding system:
Red, a medium duty brush for daily or routine general-purpose cleaning
White, for more delicate floors and floor polishing
Orange, a more aggressive pad, for use on grouted floors
Green, for heavy-duty floor scrubbing, heavy grout scrubbing, or cleaning heavily soiled floors
Burnishers

We've covered the bases for cylindrical and traditional floor machines, but there is one more floor machine we need to discuss. Correctional facilities often want their floors to have a "wet look" shine, and to accomplish this, they select burnishers. Also known as ultra-high-speed floor machines [2], burnishers do not enjoy the same industry color-coding standards that low-speed floor machines do. Further, the pads used on burnishers come in a wide variety of colors, which also can make selecting the right pad more difficult. And one more sticking point: choosing the right burnishing pad requires matching the pad both to the type of burnishing machine used – electric, battery, or propane – and to the type of finish applied to the floor. For that reason, administrators are advised to consult with their janitorial suppliers when selecting pads for burnishers.

Before closing, we did mention earlier that not all pads work the same even if they have the same color. Floor pads are typically made of four components – fibers, resin binders (the glue that holds the fibers together), abrasives, and web designs – and not all manufacturers make them with the same combination of these ingredients or in the exact same way. Because of this, some testing may be necessary to select the right pad for your floors and, once again, an astute janitorial distributor can prove very helpful.

[1] A low-speed machine typically rotates between 175 and 350 rotations per minute (rpm). A cylindrical brush machine normally rotates at 650 rpm.
[2] Burnishers and ultra-high-speed floor machines typically rotate at 1,200 to 2,500 rpm.

Sean Martschinke, a CIMS ISSA Certification Expert (I.C.E.), currently serves as the product manager for Tornado Industries, a manufacturer of professional floor care and other cleaning tools and equipment. He may be reached at smartschinke@tornadovac.com.


---