Contraband Corner
By Joe Bouchard
Published: 06/22/2015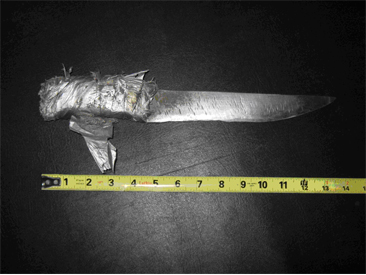 The following is an installment in "The Bouchard 101", a series featuring "Ice Breaker's" designed to promote training awareness and capabilities in the corrections industry.

"Would anyone care for a mint? I will pass this tin around. Please, take one!"

What could be more disarming than a trainer officer distributing breath mints or candy to an audience? It is a welcoming gesture and a way to suppress coughs. But can it serve as a doorway into the nefarious art of shank making.

To start the contraband corner icebreaker, instructors will need:
the scenario (see below)
a working definition of contraband
one small metal container of mints for every four participants. These can be found in any convenience store. Chewing tobacco containers with metal lids may also be used for this activity.
one sock or piece of cloth for every four participants
one weapon crafted from a sock and metal container of mints
a flip chart and markers
First, refer the students to your contraband policy for a working definition. If your facility does not have a contraband policy, this definition may be used: Contraband is any illegal good. It is something that is not permitted in the facility. It is anything prohibited by law, rule, or policy. It is someone else's property, purloined or borrowed, or authorized property in excessive amounts. Contraband can be permitted items that have been altered without permission.

(from page 1 of Wake up and smell the contraband: A Guide to Improving Prison Safety. (2nd edition) Horsham PA: LRP Publications, 2005, by Joseph Bouchard.)



Once you have given students the conceptual framework of the problem, make it more tangible. Hand out the scenario and read aloud.

"One of your co-workers is a hazard. You believe that no one can be so negligent by accident. Over the years, he has misplaced many items in his office: lighters, local tourist maps, transfer bulletins, and his personal cell phone.

He once left his work keys on the counter while prisoners were in the building. One time, he left his office door open and was conducting personal business on the telephone. He gave his home telephone number over the phone as well as one of his credit card numbers - and within earshot of the prisoners in his area of control. Despite warnings and discipline, his reign of dangerous mistakes continue.

Today, he asks you why you stole his breath mints from his desk. (That is another of what many consider to be his flaws: He never takes responsibility for his lack of security and is abrasive and accusatory.) Explaining that you did not take his mints, you offer to help search for them. You ask for a description.

"You know," he snarls in a tone of impatience, "they are such and such brand – the kind in the little metal box about two inches by three inches!"

"He has topped himself in idiocy," you think to yourself. "Some one will get hurt because of him.!"

You know that there is very likely a dangerous and pliable fist full of metal floating around the facility. Of course, you call control center and expect that there will be another facility shakedown originating from this colleague's negligence.

During the search, you think in terms of how that object could be fashioned into a weapon. You imagine how easy it would be to create a weapon from that mint box. Your blood chills as you ponder the possibilities…"

Divide the audience into groups of four. Tell participants that they represent a group of prisoners who obtained the small, metal container from the negligent staff member. Someone managed to get it to the housing unit, through the shakedowns, without detection by staff. Give one sock and one small metal container of mints to each group of four. Tell them to make a weapon out of the sock and the very bendable metal. Here are the rules:
This must be done within fifteen minutes, as that is when the next staff rounds are scheduled
Students can use any other materials, but these items must be things allowable in the prisoner property policy
Be careful. If you do not issue warnings, someone may cut their finger while working on the weapon.
While the groups are making the weapons, stroll around the room. Look at group dynamics, ingenuity, and imagination at work. You may also try to imagine which students benefit from this sort of hands-on learning.

When the fifteen minutes have expired, each group will explain the methodology and results of the exercise. Notice different ways that the same material can be fashioned into contraband of different dimensions. You can even open discussion of how each weapon could specifically be used to hurt staff. Flip charts can be used to help illustrate methods.

Then, pass your version of the weapon around. Of course, as a trainer, you have the advantage of more time and thought for your weapon. I was able, for example, to make an ordinary mint tin and sock into a two-bladed fist knife. (See photo.) Note that the center of the weapon is bound in a shredded sock for a better grip.

You can lead your audience in a discussion about the merits and flaws of each weapon. With the flip chart, you can also conduct a quick contraband control survey. Solicit a volunteer to record answers on the flip chart while you ask the students these questions:
Is contraband a problem in your facility?
What is the most common contraband item?
What is the strangest contraband item you have ever heard of?
What is the most dangerous bootleg you have seen?
What are some ways to slow the flow of contraband?
This is an excellent way to get participants in the mode of security awareness and is a good lead-in to such modules.

We cannot forget that there are many cautions to this icebreaker:
Get permission from the chain of command and the inspector to conduct this icebreaker;
Manifest or document the metal and weapons in and out of the training room. It is extra work, but it is consistent with the lesson of security first;
Keep an eye on the prisoner porters in the building;
Emphasize to students that they must be extremely careful. It is wise to have a first aid kit on hand.
Remember: one person's trash is another's treasure. What you throw away or misplace can be used against you or your colleagues. This is an age-old concept in corrections. But it is an important one. You may never look at a metal mint container in the same way again!

Joe Bouchard is a Librarian employed with the Michigan Department of Corrections and a collaborator with The International Association of Correctional Training Personnel (IACTP). He is also the author of "IACTP's Corrections Icebreakers: The Bouchard 101, 2014". The installments in this series include his opinions. The agency for which he works is not in any way responsible for the content or accuracy of this material, and the views are those of the contributor and not necessarily those of the agency. While some material is influenced by other works, all of the icebreakers have been developed by Joe Bouchard.

Visit the Joe Bouchard page

Other articles by Bouchard:
---