The New Cleaning Motto
By Dawn Shoemaker
Published: 07/06/2015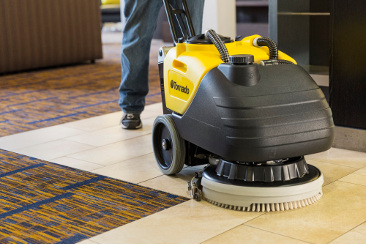 Those who have read or watched the financial advisor Suze Orman know she has a simple motto when it comes to life and money:
First people
Then money
Then things
Well, if Orman was involved with the professional cleaning industry, her motto might be the following:
First health
Then the environment
Then appearance
As more and more correctional facilities transfer from a traditional – non-Green – cleaning strategy to one that is environmentally preferable, the importance of placing health first may get lost in the shuffle. Green cleaning does not always address the invisible world of germs and bio-pollution. While green cleaning is important, when it comes to an overcrowded correctional facility, protecting health and eliminating germs must always be the top priority.

Does this mean that in some cases, a toxic cleaning product or one that has a definite negative impact on the environment should be used? Not necessarily. In fact, many of the products and cleaning systems that reduce cleaning's impact on the environment are also very effective at protecting human health.

The result is what is often referred to as "hygienic green cleaning." In the process of transferring to a green cleaning strategy, correctional facility administrators should realize that what really is most important is making hygienic cleaning their cleaning goal.

The Makings of Hygienic Cleaning

Over the years, "green cleaning" has had a variety of definitions. What is now generally accepted as the definition of green cleaning is the "use of products and services that have a lesser or reduced effect on human health and the environment when compared with competing products and services that serve the same purpose." This is based on an Executive Order signed by then President Bill Clinton.

The missing element in this definition is where hygienic cleaning comes in. Accordingly, we could define hygienic cleaning as the following:



"The use of products and services that have a lesser or reduced effect on human health and the environment when compared with competing products and services that serve the same purpose and that still protect human health."



With this clarified, the following are some products, technologies, and systems that are part of a hygienic green cleaning program:

Green-certified cleaning chemicals. Today, most green certification programs not only look to see if a product is manufactured with ingredients that have a reduced impact on the environment, but also verify that its performance is compatible with – if not better than – comparable traditional products. While this did not evolve overnight, certification agencies as well as manufacturers soon realized that being green is not enough. The product must also perform, leave surfaces not only clean but also appearing clean, and do so in a cost-effective manner in order for purchasers to select it.

Fewer cleaning chemicals. Through the use of more precise autodilution systems and chemical metering technologies, very often far less chemical is necessary to achieve effective cleaning results. Whenever less chemical is used in cleaning, while still removing germs and pathogens, the impact of cleaning on the environment is reduced.

No cleaning chemicals. What many observers foresee in the near future will be more cleaning procedures and equipment that require no chemicals whatsoever yet are still effective. Some of these systems were introduced almost twenty years ago and designed to work with chemicals. View this system as an indoor pressure-washing vacuuming-system for walls, restroom fixtures, floors, and more. Recent tests by a NELAP-accredited laboratory* found that the no-touch system worked surprisingly well without chemicals, being able to remove more than 99 percent of targeted microbes on surfaces using just plain water. Essentially, this means surfaces were sanitized, and no sanitizers or chemicals were used in the process.**

On Similar Paths

While there certainly is no conflict between green cleaning and hygienic cleaning, it is important that the emphasis remains on the protection of human health. In fact, and in practice, green and hygienic cleaning often go hand in hand. The result is cleaning that will protect health, protect the environment, and enhance a facility's appearance.

Dawn Shoemaker is a frequent writer for the professional cleaning and building industries.

* National Environmental Laboratory Accreditation Program
** Sanitizers are capable of destroying 99.99% of germs on surfaces in about 30 seconds; disinfectants can destroy 100% of all germs on surfaces (as specified on the label) in five to ten minutes.
---