You Animal! An Anthropomorphic Look at Staff Relations
By Joe Bouchard
Published: 07/13/2015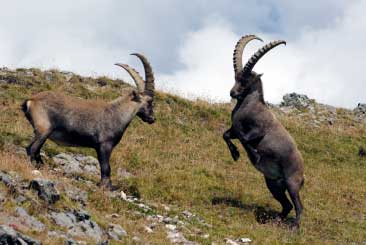 The following is an installment in "The Bouchard 101", a series featuring "Ice Breaker's" designed to promote training awareness and capabilities in the corrections industry.

Parallels have been made between animal activities and human behavior. This is very apparent in stories such as fables from the Brothers Grimm. For example, the human-like wolf in many stories is a cunning predator.

This may be interesting in and of itself, but how does this tie in with training criminal justice professionals? Can the compilation of expressions about human/animal parallels give us a better understanding of how to work together well in a prison setting?

With "You Animal!" we can do just that. This is a concept-driven, facilitator led exercise that requires very little in materials. This works well with modules that discuss staff relations and interactions.

First, the facilitator introduces the importance of staff unity:

"Safety is absolutely crucial in our vocation. Anything that we can control that contributes to the security of staff, offenders and the public is a worthy endeavor.

"It is obvious that we do not always get along. That is part of the human condition. And it does not always infringe on safety. However, it is when our differences are blatantly noticeable to enterprising offenders and unscrupulous staff that we face the possibility of manipulation, uneven enforcement and a host of other perils.

"The costs of staff division includes, decreased productivity, increased sick leave, stress leave, animosities and harassment suits. This is a specter that shortens careers and diminishes professional potential.

"This is why it is so important to delve into this topic in any way that we can. The following exercise is meant to inspire unity by exploring different behavior that all of us engage in. In a sense, when we are doing some of these things, we are like animals."

The Dysfunctional 13

The trainer then compiles a list of dysfunctional behaviors by asking for a volunteer to name an attitude or action that can contribute to staff disunity. If this is a shy group, you may start the group off by listing your favorite dysfunction as number one. I would, for example write the word "lazy" as number one. It is important to let the group know that it is better to use a concept and to refrain from naming an individual.

Compile division-inspiring behaviors through the number 13. I like that number because it is an unlucky sounding number and not insurmountable. After the first few attitudes are on the board, many others will follow in quick fashion. It is natural to want to air grievances, so getting to 13 is not a problem. Keep that list on the board.

Then pass out the "You animal!" test. (See below.) Allow the participants a few minutes to complete it. Then go back to the dysfunctional 13 and determine if animals are alleged to have such attributes. For example, the suggested first dysfunction was "lazy." And in the "You Animal!" test, the sloth is listed. The sloth is slow and deliberate. But humans see this as lazy. Thus, a sluggish co-worker may be called a sloth.

Another option to explore different behaviors is to apply the attributes and answers from the "You Animal!" test to corrections operations. Taking the sloth example once again, how can laziness contribute to staff division inside a prison? How can this behavior impact every day operations?

Using animals as a base, we can simplify the sometimes puzzling behaviors that we commit every day. This is an anthropomorphic manner in which we can understand poor behavior without embarrassing confrontation. In fact, those on the edge of some dysfunctional behavior in the work place may recognize the animal in themselves and rectify that behavior.



You Animal! Test


Next to each animal, please write a human behavior for which each is known. For example, Weasel – sneaky.
fox ____________________
wolf ____________________
eel ____________________
horse ____________________
dog ____________________
pig ____________________
sloth ____________________
snake ____________________
elephant ____________________
mule ____________________
Add more, if you can
Possible answers for "You animal!" test
fox ___sly_________________
wolf ___predator_________________
eel ___evasive_________________
horse ___strong_________________
dog ___loyal_________________
pig ___greedy, filthy_________________
sloth ___sluggish, slow_______________
snake ___deceptive_________________
elephant ___remarkable memory_________
mule ___stubborn_________________
Joe Bouchard is a Librarian employed with the Michigan Department of Corrections and a collaborator with The International Association of Correctional Training Personnel (IACTP). He is also the author of "IACTP's Corrections Icebreakers: The Bouchard 101, 2014". The installments in this series include his opinions. The agency for which he works is not in any way responsible for the content or accuracy of this material, and the views are those of the contributor and not necessarily those of the agency. While some material is influenced by other works, all of the icebreakers have been developed by Joe Bouchard.
Visit the Joe Bouchard page
Other articles by Bouchard:
---