You Villain! Icebreaker
By Joe Bouchard
Published: 08/03/2015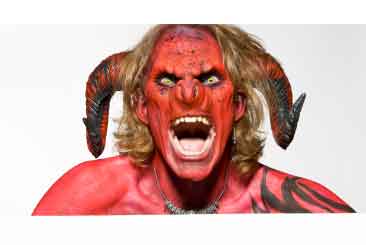 The following is an installment in "The Bouchard 101", a series featuring "Ice Breaker's" designed to promote training awareness and capabilities in the corrections industry.

Here is a bad joke:

Q: What did the over-weight polar bear say as he sat down hard?
A: Hi! I am the icebreaker!

This joke has inspired groans during its long life. And it points to the nature of bad starts. As any seasoned trainer knows, a failed opening line can knock one off one's square.

Sometimes the bad start is built into the makeup of the class. Imagine the discomfort of facilitating a module to a group composed of representatives from diverse agencies and occupations. The division in the class is palpable. In fact, the division is almost hostile. Never mind the topic. That is a bad beginning even before one has begun.

Not every class is like that. But if you have been training long enough, you will encounter such a scenario. How do you introduce the group to common ground and salvage what could otherwise be a tense class? The answer could lie in the You Villain! Icebreaker.

You Villain! is a way to get everyone in the room familiar with each other in a very short time. No props or markers are necessary. The facilitator simply starts like this:

"Good morning. Welcome to (title of the module). I am your instructor. Before we start learning about the topic at hand, we need to do some quick introductions.

I need each of you to state:
your name,
your agency,
time in the agency and
your occupation.
Then you need to tell me who you consider the worst villain in history or literature and why. I'll go first.



My name is Joe Bouchard. I work for the Department of corrections and have been employed here for 18 years. I am a librarian/trainer.

I believe that the most evil figure in literature is Sauron – the Dark Lord from Lord of the Rings because he wanted to cover the world in darkness and make slaves of the free people."



You should not expect such obscure references. Still, you should not be surprised if you get some like that. The purpose is to let people be themselves and to see the similarities in others. As a facilitator, you can make quick mental notes about who was selected and perhaps incorporate that into your presentation.

There are a few caveats.

First, you need to be on your toes when someone mentions a colleague. Perhaps a good natured reminder is warranted. You can stipulate that naming colleagues is forbidden in this icebreaker.

Also, current political figures may be named. Be prepared to defuse an argument between the left and the right. This may be especially explosive during an election year.

If there is animus in the class, that could inspire silence. You must utilize all of your skills in order to break the ice. This could be by reading the audience and choosing a hopeful.

In the event of shy students, you could offer another villain as a point of departure. Some love to hate 'em candidates are Hitler, Stalin, Genghis Kahn, and Satan.

A divided class can be a distraction for the facilitator. And the You Villain! Icebreaker may provide the common ground needed to break the ice. Use evil figures in history and literature to your advantage.

Joe Bouchard is a Librarian employed with the Michigan Department of Corrections and a collaborator with The International Association of Correctional Training Personnel (IACTP). He is also the author of "IACTP's Corrections Icebreakers: The Bouchard 101, 2014". The installments in this series include his opinions. The agency for which he works is not in any way responsible for the content or accuracy of this material, and the views are those of the contributor and not necessarily those of the agency. While some material is influenced by other works, all of the icebreakers have been developed by Joe Bouchard.

Visit the Joe Bouchard page

Other articles by Bouchard:
---