Direct Supervision Jails and Carpet
By Sara Thurston
Published: 08/17/2015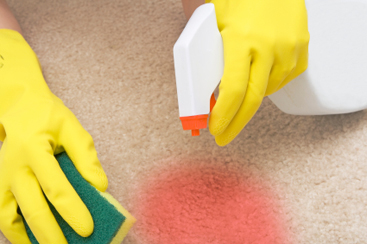 As many correctional facility managers are aware, several states now have or are creating what are called direct supervision jails. These look and operate much differently than a traditional correctional facility and often include the installation of carpet, instead of vinyl tile, in many areas. While a direct supervision jail has an institutional atmosphere, the carpet helps make it a bit more of a "normalized" setting.

Other differences include the following:
An officer stays with the prisoners up to 24 hours, essentially living among inmates.
The day room typically includes telephones, televisions, access to a commissary, personal hygiene items, private rooms and showers, and direct access to outdoor recreation.
In a sense, both the correctional staff and prison inmates "own" the jail, with all working together to make it a safer and healthier living environment.
Essentially, the objective of a direct supervision jail is to create a more pleasant living environment that affects – in a positive way – inmate behavior. In supporting this goal, the Corrections Center of Northwest Ohio recommends carpeting for several reasons:

Quiet: Carpet absorbs sound, helping to quiet the facility.
Cost savings: Carpeting has been found to be less costly to purchase and install than traditional hard surface flooring.
Durability: Carpet appears to hold up well and lasts about ten years*.
Tamper-resistance: Administrators report few if any damages to carpet by inmates.

Types of Carpet

While the Northwest Ohio correctional facility did not recommend a specific type of carpet, it is unlikely that a thick "plush" or Berber carpet would be installed, because of their typically high costs. Instead, what most likely is installed is carpet tile, also known as carpet squares or modular carpet.

According to a 2014 study entitled "Global Carpet Tile Market Report: 2014 Edition," by Market Research Reports, an international research firm, carpet tiles are finding their way into more and more corporate and institutional facilities. Not only are they replacing hard surface floors, but they are also replacing more traditional wall-to-wall carpet. The reasons for their popularity, according to the report, are that they are durable, cost effective, functional, easy to maintain, and lend themselves to flexible interior designs.

One key benefit of carpet tiles that cannot be replicated by any other type of carpet – or many types of hard surface floors for that matter – is that if a specific area of the carpet becomes excessively soiled or damaged, the problem carpet tiles can just be pulled up and replaced. However, the regular cleaning and care of carpet tiles, as with all carpet, is a bit more involved.

Care of Carpet Tiles

The most important thing correctional administrators should know is that carpet tiles must be vacuumed regularly. The recommended machine for the job is an upright vacuum cleaner with a beater brush. The beater brush provides the agitation necessary to help loosen soils so they can be vacuumed up.

Administrators should also encourage inmates to watch for spots in the carpet and remove them as soon as they are noted. Keep in mind that many commercial "spotters", as they are called, are made of chemicals which some correctional administrators may not want inmates to use (if they are handling this task). So here's a quick, safe, and easy way to handle many spots: mix cold water and dish detergent and apply it to a clean cloth. Blot – do not rub – the problem area. While this will not remove all spots, many types of spots will likely transfer from the carpet to the cloth.

To ensure the health and lifespan of the carpet, every six months it should be cleaned using a carpet extractor. Timing can vary depending on how many inmates are using the facility. A portable carpet extractor—often a "dual surface" machine—will be the most cost effective and easiest machine for inmates or others to use. A dual surface extractor is one that can clean both carpet as well as hard surface flooring simply with a change of wands.

When selecting a dual surface extractor, look for the following:

Heater element. While carpet can be cleaned using cold water, in many cases hot water will improve the effectiveness of the cleaning solutions so select a machine that offers both, cold as well as hot water cleaning, just in case.

Hose reel. Some extractors have a hose reel. The big benefit here is that the hose (which attaches to the wand) can be extended up to 25 feet or reeled back to just enough feet to do the job at hand. This offers flexibility and promotes safety.

Low moisture. A low moisture machine uses less water and has more powerful vacuum motors.

This last item is crucial. A low moisture machine ensures carpet dries faster—a key concern because direct supervision jails are 24/7 facilities. Wet carpet can cause safety problems and the longer it takes a carpet to dry, the more likely bacteria, mold, and mildew will develop. Finally, because a low moisture system uses less water and has more powerful vacuums, water is less likely to seep under the carpet tiles where it could cause them to loosen and come out.

While it was not addressed earlier, carpet offers one more benefit that we should mention. Carpet absorbs dust and dirt, preventing it from becoming airborne. Since one of the goals of a direct supervision jail is to provide a healthier environment, the installation of carpet is one of the best ways to make this happen.

Sara Thurston is with Nilfsk, makers of professional cleaning equipment and manufacturers of the U.S. Products line of portable extractors. She can be reached via her email address at sara.thurston@nilfisk.com.

*This can vary depending on foot traffic and how well the carpet is maintained.
---