But What Did You Actually See and Hear?
By Joe Bouchard
Published: 08/31/2015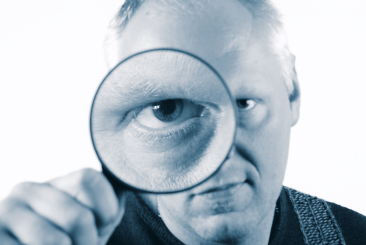 The following is an installment in "The Bouchard 101", a series featuring "Ice Breaker's" designed to promote training awareness and capabilities in the corrections industry.

Years ago, I incorporated a diversion-based icebreaker/exercise to my regular line up for my Introduction to Corrections Class for Gogebic Community College. It is a memorable exercise and with a little preparation, it can serve as an important lesson for pre-professionals. It will definitely take novices out of their zones of comfort.

I would start in the very first day of a new semester by distributing a test. I usually hand out a general questionnaire about opinions on punishment and corrections. The contents of the tests are not necessarily important. In fact, the tests should be general and not too difficult. The test serves as the diversion.
Distribute the test and tell students to answer in their own opinion. Explain that this is a test to gauge their feelings about corrections and court issues before they receive instruction. Later in the semester, they can reflect on their answers and see if they modified as the class progressed.
Two people in class know this is a ruse. They are the instructor and the plant in the students. My plant in the class was usually my wife. She blends in well with the class and quietly awaits for her part.
Prior, the plant is instructed to wait a minute or two to ask about question 13. When the plant sees that most are busy, she raises her hand and asks for clarification.
The instructor feigns impatience and says something rude and condescending like, "Is English a second language for you?" The instructor says this to the plant while standing within arm's reach.
As instructed earlier, the plant would quickly stand up, yell "Jerk" or something stronger, and push the instructor.
The instructor will stumble back, careful not to contact anyone else, and watch the heads of the class swivel.
The instructor then says, "Turn your tests over and write down exactly what you OBSERVED and HEARD. This is a simulated confrontation – it is not real. Again, report only what you saw and heard. Do not make assumptions. Do not fill in blanks with conjecture."
In effect, this is the first misconduct report that they will write. After a minute or so, let your plant take a bow and lead a discussion on what was directly observed. Not differences in location, timing, and details.
Apologize to the class for the ruse but explain that things can happen in an instant in corrections.
Acting ability and believability may impact the effectiveness of the exercise. In fact, if you are too believable, this may compromise student/instructor trust.

After the first time I tried this exercise, one student was very mad at me. Rather than writing her direct observations, she crafted an editorial about how disrespectful I was to the student. I had to explain (again) that the person who I condescended was a plant and that the words I used were mutually agreed upon by both parties. Without a feigned provocation, the "assault" from the student would have been less believable. In a week or two, the student told me that she understood and appreciated the exercise.

In corrections, often the ultimate question is: What did you see and hear? This is an exercise that can help students develop a vigilance and hone a mind for little details. Their future vocational life may depend on it.

Joe Bouchard is a Librarian employed with the Michigan Department of Corrections and a collaborator with The International Association of Correctional Training Personnel (IACTP). He is also the author of "IACTP's Corrections Icebreakers: The Bouchard 101, 2014". The installments in this series include his opinions. The agency for which he works is not in any way responsible for the content or accuracy of this material, and the views are those of the contributor and not necessarily those of the agency. While some material is influenced by other works, all of the icebreakers have been developed by Joe Bouchard.

Visit the Joe Bouchard page

Other articles by Bouchard:
---