Tales from the Local Jail: Volunteers, Change and 'Cupid the Cat'
By Gary F. Cornelius, First Lt. (Retired)
Published: 09/02/2019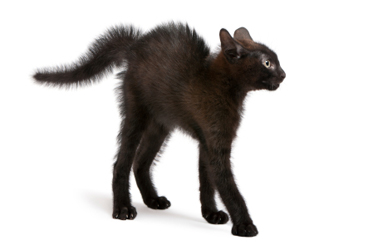 This article was originally published on Corrections.com on November 23, 2015.

Recently a local jail near where I reside asked me to speak to its volunteers, who come into the jail and provide a variety of programs services, including tutoring, mentoring, substance abuse and religious instruction. They are a fine group of concerned citizens who want to help offenders stay out of jail. Corrections veterans know that volunteers are a positive influence in the otherwise negative existence of the jail inmate. They can give hope to those offenders who truly want to change.

The key word is change! As a former jail programs director I have heard that word used by counselors, chaplains and volunteers. It is all right and commendable that we have these folks in jails to help offenders change-from law breaking people to productive citizens. We want offenders to change-but what exactly is change?

In my presentation, I discuss that word. I tell the volunteers that you will hear inmates say that they want to change or they have changed. How can you tell, I ask? Are you psychic? Just because they attend programs and recite Bible verses does not necessarily mean change. Offenders have lived dysfunctional lives on lip service: wearing different masks to suit the situation. To a family member, they can be sorrowful, while at the same time 'conning' them out of money. Needing a place to stay because instead of paying the rent, they spent the money on drugs-they wear a mask if desperation. Their lives are a mess and if they can 'con' a person into believing that they will change-they will. I discuss in the training why people become criminals, explaining for some they learn it from a dysfunctional criminal family, substance abuse, peers, or they think it is 'cool' to be a criminal-"sure beats working for a living!" For some it is a thrill to have power-illegal power- over others. Not all offenders want to continue the criminal life. Faced with consequences such as loss of freedom, decline in their health or the disintegration of their families, many do want to sincerely change.

But to the jail corrections staff-what is change? I have been asked this question by my college students. I answer that change is dynamic, is tangible and not just 'lip service'. Change in someone's life must be seen and understood. Change means doing things like:
Respecting and cooperating with staff and not getting into trouble in the jail.
Attending programs and trying, really trying to get something out of them.
Working with, and not manipulating officers, volunteers and programs staff.
Trying to reestablish positive communications with families and loved ones.
When released, working at a job, not getting fired, paying fines and court costs. Bills are paid; money is saved.
Not being re-arrested.
Cooperating with probation and parole officers.
Staying clean, sober and drug free.
Participating in community programs, including mental health counseling.
Maintaining good health-mental and physical.
Raising a family and being in a strong, positive and mature relationship.
I also advise volunteers that the reasons that people break the law and the problems in their dysfunctional lives will take a long time to change, requiring hard work from the offender. Some offenders will do the work; some will manipulate the volunteers to do a lot of the heavy lifting. For example, an alcoholic inmate wants to join Alcoholics Anonymous (AA) and get a sponsor-not because he wants to get sober and stay out of trouble, but because it will look good in front of the judge when he goes to court. So-he wants the volunteer to get him into the program, rather than applying himself through the jail programs section and being put on a waiting list for an interview. Or-instead of reading through the AA literature to find an AA group in his neighborhood, he asks the volunteer to find one. He may even ask the volunteer to testify for him in court before he even gets into the jail AA program. This may appear to be a trivial, small example, but some offenders think this way-appearing to 'change' and all the while manipulating is all right.

Speaking of trying to change someone, let's talk about Cupid the Cat. I use this example because it shows an offender's sneaky behavior about a cute little cat. In Houston in 2013, Cupid, a little cat, five or six months old, was found shot with an arrow, just under her bladder. A local veterinary clinic took her in; the story made the local news and monetary donations for her care came pouring in. The veterinarian was thrilled with the charity and turned over the management of the donations to her part time manager, a young woman who also worked for the City of Houston. Imagine her surprise when the veterinarian went to check on the accounts and discovered that the donated money had been transferred to a Pay Pal account with the part time manager's name on it. The total amount embezzled from the clinic was reported to be almost $20,000. The part time manager was charged with aggravated theft. She allegedly set up three Pay Pal accounts under different names and e mail addresses. She then transferred the funds into her own personal account.

So I ask jail volunteers: if this woman had no qualms about cheating and lying about the care of a cute little cat, do you think this criminal behavior will just cease-'poof' and disappear because she is in trouble with the law? If she says to you "I have changed"- do you just believe it? Or will she have to prove it by never stealing funds again, participating in counseling, paying back the money she took and facing the consequences of her actions, etc.?

Only her actions….and time will tell.

Just some food for thought.

And by the way, even though I am a dog guy, I do think that cats are cute.

Reference:
KHOU Staff. "Woman accused of stealing $20K donated to help cat shot with bow-and-arrow". KHOU, January 21, 2014. Accessed November 12, 2015. Retrieved from http://www.khou.com/story/news/crime/2014/07/24/12323412/

Corrections.com author, Lt. Gary F. Cornelius retired in 2005 from the Fairfax County (VA) Office of the Sheriff, after serving over 27 years in the Fairfax County Adult Detention Center. He conducts corrections in service training sessions and has taught corrections classes at George Mason University since 1986. Gary's books include The Art of the Con: Avoiding Offender Manipulation, Second Edition (2009) from the American Correctional Association and The Correctional Officer: A Practical Guide, Second Edition (2010) from Carolina Academic Press.

Visit the Gary Cornelius page

Other articles by Cornelius


---