Bexar County Jail's K-9 Places 5th out of 50 Teams in New Competition
By Rosanne Hughes, BCSO Communications Office
Published: 11/30/2015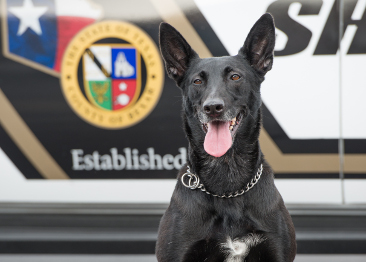 The Bexar County Sheriff's Office has an award-winning employee who is making a name for herself. But she's not your average employee.

Moka, a 7-year-old Belgian Malinois, is the agency's single-purpose narcotics K-9 assigned to the Bexar County Adult Detention Center, where she has worked since February 2011. In the last two years, she has participated in four competitions, each time performing well as she competed against law enforcement K-9's.

Her most recent exploit was placing fifth out of 50 teams with her handler, BCSO Deputy Esequiel Romero in the First Annual South Texas K-9 Competition at the Boggus Ford Events Center in Pharr, Texas on November 10.

The event, which was sponsored by the Hidalgo County Sheriff's Office, consisted of 50 dog teams from Hidalgo County, Williamson County, Border Patrol, Customs Enforcement and Laredo Police, among others. Deputy Romero and K-9 Moka entered two events that involved locating hidden narcotics and included both article searches and vehicle searches. Each narcotic detection event required teams to locate as many hidden narcotic finds as possible in three minutes without any false alerts. The Bexar County team located six hidden narcotic finds without any false starts.

"Here at the Bexar County Adult Detention Center, we strive to provide public safety for the community, staff, visitors and inmates," said BCSO Jail Administrator Raul S. Banasco. "Training and competition exercises are key elements in ensuring both Deputy Romero and K-9 Moka are ready to perform their daily duties."

Deputy Romero said he and his K-9 partner have developed a great working relationship over the last 22 months of working together. "She's part of my family," he said. "I just love her, and my children love her. She's very protective of the household, the kids, and me as her handler."

"This is the fourth narcotics competition we've been in for the last 22 months," Deputy Romero said. "Moka is a very intelligent narcotics dog. In a competition, a team only has three minutes to do a narcotics search. She's getting used to the process. "She's very precise when it comes to narcotic detection, so that's how she has performed so well in these competitions."

Deputy Romero praised the work of K-9 Moka's previous handler, Sergeant Robert Rodriguez, who relinquished his role as handler after being promoted.

"When I received Moka, she was already in top form after having worked with Sergeant Rodriguez," Deputy Romero said. "And now, I think we've just tried to capitalize on that and continue with training and putting her in different environments."

Sergeant Rodriguez praised K-9 Moka's strong work ethic. "I know her abilities," he said. "We've put many hours of training into her, and it shows with the results we get when she works. She just wants to work and please her handler," he said. "During my law enforcement career, I've had three different narcotic K-9s to work and train as a handler. She was my first female K-9 to work with. She is the most protective dog I've had; she's very alert and extremely intelligent."

He added, "The bond that a K-9 and his handler develop is incredible and unbreakable. The K-9 will protect, serve and die for the handler. The only thing the K-9's asks for, in return, is compassion, a kind word and love."

The Bexar County Sheriff's Office placed Moka into service as a narcotic detention canine in February 2011. The Detention K-9 team has been trained to detect marijuana, cocaine, ecstasy, methamphetamines and heroin. The team completed a 160-hour Basic Police Canine Program, including basic obedience. Deputy Romero and K-9 Moka hold narcotic certifications through the National Police Canine Association, National Narcotic Detector Dog Association, Worldwide Canine, the American Working Dog Association and Tejas Elite Canine Association.

This latest event was the fourth K-9 competition Deputy Romero and K-9 Moka had entered. In February 2015 they entered the Jeremy Triche K-9 Narcotics Competition in LaPlace, La., which was named after a Saint Johns Parish Louisiana Sheriff's Office deputy who was killed in the line of duty in August 2012. The second time the team competed, they placed 18th out of 61 in the singles event, the National Narcotic Detector Dog Association's national conference in Tennessee. They also participated in a K-9 competition in Laredo, Texas this summer.

Deputy Romero said with practice, Moka is becoming more skilled at competing. "She understands the process of competition detection is three minutes," he said. "In real life, the process is different. It's free flowing. You allow the dog to search and follow the scent cone – when she picks up the scent – and then she tracks back and forth, closing the distance, pinpointing where the narcotic placement is located."

In the meantime, the Bexar County Adult Detention Center will continue to be home for K-9 Moka, as she continues her important work of narcotic detection.

Rosanne Hughes is the Change Management Specialist for the Bexar County Sheriff's Office in San Antonio, Texas.
---