Maintaining High Moral Standards and Earning Respect in Corrections
By Gary York
Published: 12/14/2015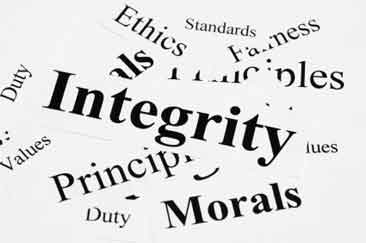 Those of us who work in the world of corrections must be especially sensitive to ethical issues we may encounter. The consequences of bad decision making can become a life-changing experience in many ways. Unethical behavior can lead to loss of job, loss of your hard-earned correctional certification and even misdemeanor or felony charges. Is it worth your entire future taking risks by using your official position for personal gain? Every day in corrections we face a multitude of situations in which we must make critical decisions. The choices we make will not only affect ourselves, but will also affect the lives of our fellow staff members, the agency and our families.

As we all know, correctional officers have a hard enough time surviving the stress of inmate threats and administrative pressures. We do not need corrupt officers or staff members contributing to the already present dangers officers face daily Risks such as being physically assaulted by an inmate who wishes to inflict great bodily harm upon us and in some cases even kill us. There are documented cases showing that both male and female officers have been beaten and raped by inmates. There is also the silent but deadly enemy that places officers at risk, known as communicable diseases, including officers having feces, urine, food and other foreign objects thrown on them by inmates. Mix in the fact that officers work long hours due to staff shortages with high stress levels and we learn that it takes a special kind of person to handle all these issues and maintain a high level of professionalism and integrity.

Knowing about all the above dangers and risks officers face when handling inmates, why do we still have officers and staff members helping inmates smuggle in contraband and falling in love with inmates? Each of us is responsible for knowing right from wrong. Sounds very simple to just do the right thing, but history shows us that some correctional officer staff still cross the line and get caught up in the concept that some things just must be and there is no need to justify or explain their activities. One of the most difficult things to understand is: Why do we have staff members who get caught up in bad behavior when they know their behavior is morally wrong? We as correctional officers, cannot allow our egos to take over and control our decision making. This can lead an officer to operate under the assumption that he or she can do whatever benefits them. This behavior can lead to a blatant disrespect regarding the rights and safety of fellow officers. Once a bite of the "Forbidden Fruit" is taken for personal gain the illegal and immoral activities almost always continue.

Here is a quote from philosopher Eric Hoffer that in my opinion explains corruption very well:



"It has often been said that power corrupts, but it is equally important to realize that weakness, too, corrupts. Power corrupts the few, while weakness corrupts the many."


We must weed out the weak links of our staff that create a bad name for the honest hard-working officers. The weak links bring shame upon our profession and make it hard on the rest of us trying to do the right thing for our agency and community.

Officer corruption presents a clear and present danger to our society. Unfortunately, we still have officers succumbing to the temptations of accepting huge sums of cash in exchange for favors to inmates. Favors that place fellow officers and prison staff in grave danger such as smuggling in drugs or weapons for inmates. Types of contraband include items used for escape purposes such as cell phones, guns, knives, work tools and maps. Joyce Mitchell, who helped two convicted murderers escape an upstate New York prison, is a good example of corruption and favoritism toward inmates. In return for her crimes she is now in prison.

Sooner or later every officer or prison employee will be propositioned by an inmate. Unfortunately, there are a number of officers who are attracted to inmates' lies and their manipulative ways. Inmates dangle the bait, and some officers swallow it-hook, line and sinker.

In other cases some officers are already corrupt and are just using the system for personal gain. The difference between a corrupt officer and an honest officer is: The corrupt officer has a PRICE and the honest officer has INTEGRITY.

How can each of us evaluate our actions?

A very common well-known test is the "Ethical Test". When facing an ethical dilemma, we must ask ourselves, will our action violate another person's rights, and is the action legal? Does your common sense tell you the action you are about to take is bad? Will your actions violate department procedure or your professional duty? Finally, would you be comfortable with your decision on the front page of the newspaper, or as I like to ask myself, would my Mother approve of my actions?

Legislators set the guidelines that define how we, as correctional officers, should conduct ourselves. Legislators define illegal behavior and punishment regarding correctional officer misconduct. The goal of these laws is to protect the rights of all people. Again corrupt public officials place honest hard-working officers and our citizens in danger.

Correctional staff should not just rely on management to provide training in ethical decision making. Each employee should be responsible enough to maintain good values and morals which will automatically increase the quality of performance and strengthen the respect from the community toward the agency as a whole.

Management does need to assure staff members who report corruption or improper staff conduct that their actions will not lead to retaliation or threat of losing one's job. I have interviewed many officers who were scared to give a witness statement for fear of retaliation. Why should someone who is willing to tell the truth be threatened? In many of those cases I found supervisors to be guilty of covering up for staff members who had done wrong. This type of conduct brings down an agency quickly.

Supervisors need to set the standards and set the example for good professional, ethical behavior. Supervisors must accept the responsibility of overseeing staff. Supervisors can be held criminally or civilly liable for a staff member's misconduct if their own conduct was a proximate cause of the violation. By neglecting to do something required or by omitting an important step, the supervisor can also be responsible for an officer's wrongdoing.

As Hyman Roth tells Michael Corleone in the movie The Godfather Part II, "This is the business we have chosen." Yes it is a choice to become a correctional officer, but becoming a correctional officer does not give us the right to abuse our authority or use our position for personal gain. We as correctional officers are a very important part of the criminal justice system. As professionals we must maintain high standards of behavior and character, marked by pride in oneself and one's career. Respect for people served in turn gains respect from others. In summary corruption undermines the entire prison system. Any person who has knowledge of a crime or an administrative violation is held responsible to report the incident to a supervisor without fear of retaliation.

I would like to end the year of 2015 by saying thank you to the hardworking, honest and loyal correctional officers throughout our country who work hard day after day with inmates who spend their prison life trying to manipulate staff into conducting illegal activities. To all of our fallen officers killed in the line of duty, we salute you and pray for your families. You may be gone but you are not forgotten.

For those who stay strong and do not give in to temptation, we are proud of you. For those officers who provide care, custody and control of inmates without violating laws, general orders, policies and procedures, keep up the good work. Walk the line with pride and honor. Thank you for serving and protecting your community.

Please do not forget to thank the hardworking, honest and loyal medical staff, teachers, counselors, and maintenance crew who work in our prison system and put up with verbal and sometimes physical abuse from inmates, we appreciate you working hard to try and make our society a better place to live.

Last but not least a special thank you to all the family members of prison and jail employees who wait every day for their family member to come home safely while missing out on quality family time. Thank you for giving them the strength and support they need to make it through the shift.

Gary York is a retired Senior Prison Inspector and is an Ethics and Crisis Intervention Instructor. He is also the author of the books "Corruption Behind Bars" and "Inside the Inner Circle".

Other Articles by Gary York.
---