Doughnut Trivia
By Joe Bouchard
Published: 12/14/2015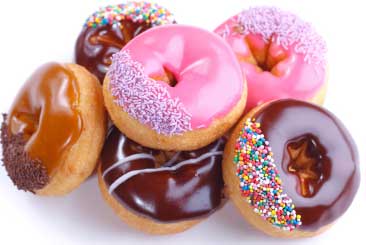 The following is an installment in "The Bouchard 101", a series featuring "Ice Breaker's" designed to promote training awareness and capabilities in the corrections industry.

Think about the perfection of a circle. It has no beginning and it has no end. It is the basis for an infinity sign. And, it can sometimes be delicious.

Doughnut trivia is a way to use simple pastries to get teams involved in a competition involving food. And it is a great way to segue into the concept of food as contraband.

Teams compete on doughnut trivia. The winning team gets to sample the doughnuts first. There are eleven questions to eliminate the possibility of a tie.

Break the class into teams and have them take turns answering the following questions. If during a team's turn the team guesses the correct answer, they will earn one point. If they fail to respond correctly, the opposing team has the opportunity to earn two points with a correct answer.

So grab a cup of coffee and dig in to the test.



DOUGHNUT TEST


Something as simple as a donut has a very complex history. How much do you know about these delicious breakfast (or any time) treat? Try your luck with the following.
Which ethnic group brought the doughnut to America?
What was the original name of the doughnut?
What kind of animal was involved in accidently inventing the doughnut?
How did this allegedly happen?
In what year was doughnut billed as "the hit food of the Century of Progress"?
In what city did this happen?
What is the significance of Doughnut Dollies?
How big was the largest doughnut ever made?
Where was this giant doughnut made?
The world record for eating doughnuts occurred in 1981. How many doughnuts did the record holder consume in six minutes?
Which famous explore and doughnut enthusiast took 100 barrels of donut flour, enough for two years' worth of donuts while exploring Polar Region?
DOUGHNUT TEST ANSWERS
The doughnut, as we know and love, supposedly came to Manhattan (then New Amsterdam) by the Dutch.
"Oily cakes."
A cow.
So, the story goes, a cow kicked a pot full of boiling oil over onto some pastry mix, thus inventing the golden brown delight.
1934
At the World's Fair in Chicago
During World War II, Red Cross women, known as Doughnut Dollies passed out hot doughnuts to the hard fighting soldiers.
The largest doughnut ever made was an American-style jelly doughnut weighing 1.7 tons (3739 lbs.), which was 4.9 m (16 ft.) in diameter and 40.6 (16in) high in the center. It was made in Utica, New York, USA on January 21, 1993
It was made in Utica, New York, USA on January 21, 1993.
According to the Guinness Book of World Records, the record for donut eating is held by a man named John Haight, who consumed 52 ounces of donuts (about 26 average donuts - or 20 Tom and Son's donuts) in just over six minutes in 1981.
On one of his expeditions, Admiral Richard Byrd, a noted donut-lover, took along 100 barrels of donut flour, enough for two years' worth of donuts.
From: http://www.ottawadonuts.com/donut_facts.htm Accessed September 30, 2012

Winning team gets first crack at donuts. Of course, the smart instructor will bring enough for all in class, though they may be withheld in order to build suspense and competition.

The trivia section can segue into information about the contraband one can find in the kitchen area of a correctional facility. Use your own information or sample from the information below.

Food service staff in correctional facilities have the awesome responsibility of ensuring that quality meals are prepared and delivered to hundreds of people. This happens three times a day, all year long – regardless of the state of equipment.

But, in this relentless preparation of meals for hundreds, there is a potential for profound danger. This comes in two basic forms, barter and weapons. Being aware of these two dangers, food service staff are important partners in contraband control efforts.

Food as barter. Food and items acquired from the kitchen can be used as barter. Food can be used as contraband, mostly in the way of trade for other goods and services. Extra rations can be promised by prisoner workers in exchange for protection, sex, as a payoff for gambling, etc. There are also the raw materials in the kitchen that can be used to produce prison-made alcohol.

Kitchen weapons. Materials to create weapons often originate from the kitchen. They can be made from discarded cans, altered equipment, and packaging. There are many other opportunities to acquire weapons. Staff patterns are scrutinized by enterprising prisoners to discern the perfect occasion to loosen unessential steel or plastic. If it moves, it will dislodge. If it dislodges, it is a weapon. The kitchen is not free of hazard.

Like other non-custody staff, food service staff perform three particular roles in contraband control. They feed the information machine, relate tales of contraband to newer staff, and monitor the work patterns of prisoners on assignment in the kitchen.

Joe Bouchard is a Librarian employed with the Michigan Department of Corrections and a collaborator with The International Association of Correctional Training Personnel (IACTP). He is also the author of "IACTP's Corrections Icebreakers: The Bouchard 101, 2014". The installments in this series include his opinions. The agency for which he works is not in any way responsible for the content or accuracy of this material, and the views are those of the contributor and not necessarily those of the agency. While some material is influenced by other works, all of the icebreakers have been developed by Joe Bouchard.

Visit the Joe Bouchard page

Other articles by Bouchard:
---