Archbishop of San Antonio Celebrates Christmas Mass with Inmates
By Rosanne Hughes, BCSO Communications Office
Published: 12/21/2015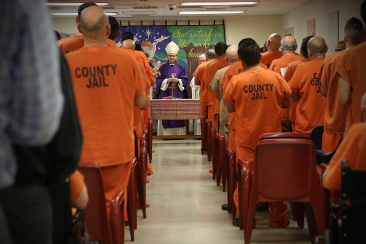 [Photo Credit: Robbin Cresswell, Bexar County Sheriff's Office]

Clothed in orange jumpsuits and lifting up tattoo-covered arms, they were not typical congregants at a Christmas service. But the roughly 60 men from the Bexar County Adult Detention Center who listened to San Antonio Archbishop Gustavo Garcia-Siller earlier this month sang along as a worship team played Christmas carols. It was one of two times each year the Archbishop conducts such visits inside the jail; the other happens each Mother's Day across the street at the jail's Annex Building.

Bexar County Sheriff Susan Pamerleau said inmates at the Bexar County Jail have access to various religious services on a regular basis, but the Archbishop typically visits inmates twice each year – speaking to the men before Christmas and to the women at Mother's Day.

"This is important for them," Pamerleau said, "because often, when individuals are in jail, they are at the lowest point in their lives, emotionally."

Jail Administrator Deputy Chief Raul S. Banasco said jail programs that meet spiritual needs can make a difference in the lives of incarcerated men and women. "Many times," he said, "inmates who seek religious services in jail gain a solid foundation for their transition back into the community as a productive citizen."

According to Aida Negron, Manager of Jail Services and Programs, approximately 52,000 men and women attended religious classes and worship services last year. Negron said there are more than 130 volunteers that assist with religious programming and more than 56 religious classes conducted inside the jail each week.

"When someone sits in a jail cell, removed from society and away from their loved ones, it can be a wake-up call for them," Negron said. "Many will begin questioning the meaning of their lives and why they exist. Spiritually based classes help them with these questions and provide a new way of thinking about life and who they are. This new way of thinking then becomes the foundation for new behaviors to emerge that are productive and good for society."

During his Christmas mass, the Archbishop urged the inmates to consider the choices they had made in their lives that led to their incarceration, and to seek lasting changes.

"At times we are deaf to His voice," he said. "We do not follow the Good Shepherd, but someone else who leads us astray. At times we are blind to what really matters in life. Allow the healing power of God to touch your lives."

He also urged them to seek forgiveness, both from God and from those whom they have harmed. "If we turn to Him and ask for forgiveness, He will forgive us," the Archbishop told the inmates. "God forgives. Always."

Rosanne Hughes is the Change Management Specialist for the Bexar County Sheriff's Office in San Antonio, Texas.
---