Utilizing Technology to Make Prisons Safer: How technology can help stop the professionalization of criminals behind bars
By Derek Brown
Published: 12/28/2015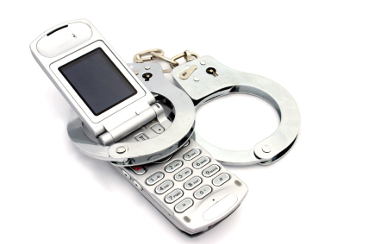 In this series of articles Derek Brown, VP Americas with the Wynyard Group, a market leader in crime fighting software, discusses how the smart use of technology can help officials manage two of the most challenging issues facing corrections institutions today.

Click here to read Part 1.



"Cell phones are perhaps the worst type of contraband because, in most cases, they provide an easy, continuing connection back to the inmate's life on the street – the type of lifestyle that led them to being incarcerated." [1] - Maryland Corrections Official.


Despite the best efforts of corrections officials, inmates are finding more creative ways of reaching out from their cells and carrying out crimes or intimidation beyond the prison walls. While there are many ways in which prisoners can extend their reach, such as communicating via visitors or notes hidden in legal letters, one of the most common is through the use of contraband cell phones.

The actual number of contraband phones currently being used is difficult to gauge, but according to a report in The New York Times, an inmate recently estimated that 10 percent of the inmates in his facility had access to an illicit cell phone.

This illicit use of cell phones has long posed a threat to the safety of the public as well as Bureau of Prisons (BOP) inmates and employees, according to a report by the U.S. Justice Department's Office of Inspector General [2]. Officials from the BOP went on to say that contraband cell phone use not only impacts on the security of prisons, it also allows criminal activity to increase both inside and outside the facility.

For instance, an inmate was sentenced to an additional 14 years in a federal institution in 2011 when he was convicted of running an identity-theft ring by using a smuggled cell phone. The fraudulent purchases came to just over a quarter of a million dollars. In addition, last year a prisoner in South Carolina was convicted of using a contraband phone to order the murder of a prison guard captain; The captain survived this attack while the inmate was given an additional 20 years behind bars.

Inmates are becoming more ingenious in their uses for contraband cell phones. According to the U.S. Attorney's Office, these cell phones or smart devices with internet access enable prisoners to coordinate drug transactions, commit identity theft and credit card fraud and even intimidate witnesses. For instance, some prisoners have even been posing as job recruiters in order to glean personal details from people eager to find work. Once this information has been given, prisoners are ordering debit cards in these people's names. In another and more alarming case, inmates were reportedly organizing the build and purchase of illegal machine guns.

There are various methods of blocking the use of cell phones, such as Managed Access Systems (MAS) which stop unregistered cell phones in a particular area from connecting to cellular networks.

Anyone using these phones is unable to make calls, send text message or emails. However, we are all aware that prisoners are innovative in their ability to circumvent obstacles and they are finding ways to get around such systems and connect to the network.

Should an inmate manage to successfully use a cell phone to carry out a crime and the phone is seized by prison officials, the device would then be passed on to law enforcement for potential use in a criminal case.

Cell phones seized from inmates provide a rich source of intelligence for investigators. Call data can be extracted and analyzed to identify other criminal suspects as well as building a case for prosecutors in cases that merit their attention. But cell phones are not the only source of communications data. Inmates have limited privacy rights, so all the prison-authorized voice and data communications systems used by inmates can be monitored and data can be stored and analyzed. Corrections officials and investigators can use software applications to do social network analysis, for example, to monitor gang activity and gain insight into gang organizations and hierarchies. And social media use by inmates, if allowed, can be monitored for threats and risks.

Technology can also enable more effective management of inmate populations, giving corrections officials "dashboards" and visualization tools, which alert them whenever defined events occur, such as "above the threshold" numbers of violent incidents within any facility or cell block, an increase in contraband seizures, patterns of non-compliant activity by staff, etc.

Investigators can rapidly load all this information and combine it with other lawfully gathered data, such as police records. This enables investigators to discover people, entities, patterns, locations and relationships of interest which inform operational decisions.

The software can rapidly allow officials to reveal links between inmates and known criminals and establish any relationships or patterns. This evidence can ultimately help investigators discover who is committing which crimes, when they are doing it – and crucially – how.

As Dr. Kelli Frakes, a professor at American Military University, wrote recently: "Similar to intelligence-led policing, the success of intelligence-led corrections will depend on several factors. Correctional facilities must be willing to not only embrace the philosophy, but also establish processes and tools to properly implement the strategy as well as measure effectiveness. It is not enough for correctional officers to collect information; policies and procedures are needed to ensure such information is analyzed and then disseminated properly."

[1] Rick Binetti, "Cell Phones Go to the Dogs: Maryland Uses Phone-Finding K-9s to Step Up Security Efforts," Corrections Today, October 2008, 59
[2] https://oig.justice.gov/challenges/2014.htm

Derek Brown is Wynyard Group's Vice President Americas responsible for driving the growth and success of Wynyard in the U.S., Canada, Central and South America. Derek has a proven track record of partnering with companies to protect their most valuable business assets through the intelligent use of technology.

In his most recent role as Chief Operations Officer for BAE Systems Applied Intelligence (formerly Detica) in the Americas, Derek managed the NetReveal and Cyber businesses in the U.S. and Canada, focused on tackling financial crime and non-compliance across the Banking, Insurance and Healthcare markets. Prior to this role, he was responsible for NetReveal's Government business, working with Law Enforcement and Tax Authorities across the globe. Derek has also held a number of leadership roles with Logica and EzGov.
---