Privately-funded College Degrees Help Offenders Stay out of Prison
By Andrew Garber, Washington Department of Corrections
Published: 12/28/2015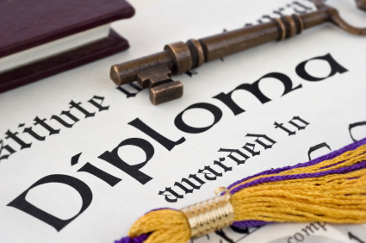 For much of his adult life, Eddie Parnel used drugs, dealt drugs and stole things.

He was caught and sent to prison. Three times.

The last time around, Parnel ended up at the state penitentiary in Walla Walla, where an inmate approached him about attending a new AA program there. "I was like, 'I've tried AA and it doesn't work for me," Parnel said, thinking it was Alcoholics Anonymous. "He told me 'No, man. They have a degree program here.' "

That moment was a turning point for Parnel who enrolled in the privately-funded program and walked out of prison last year with an Associate of Arts degree from Walla Walla Community College. "It saved my life," said Parnel, 42, now a full-time student at The Evergreen State College. "It allowed me to be somebody different."

A growing number of offenders in Washington State are getting the same opportunity as Parnel as privately-funded higher education programs sprout in prisons across the state

There is renewed interest, both in Washington and nationally, in using education as a way to change the behavior of inmates while they're in prison, and put them on the path to successful lives once released.

Research shows offenders who get an education while incarcerated are much less likely to return to prison after release than inmates who don't get an education.

A 2014 Rand Corporation report, for example, found that inmates who participated in correctional education programs had 43 percent lower odds of returning to prison than inmates who did not. Preliminary research by the Washington Department of Corrections (DOC) found that only 6.5 percent of offenders who've graduated with AA degrees at two DOC facilities have returned to prison. The overall recidivism rate for the state is 27.8 percent.

"Education is a catalyst for success. That's what these folks need," said Mike Paris, education services administrator for the Department of Corrections. "They need success. They need to demonstrate to themselves that they can be successful. Because everything that they've done in life to this point, they feel like they've been failures. If they have the educational background, they can be part of mainstream society."

Several hundred offenders are enrolled in college degree programs at the Coyote Ridge Corrections Center, CRCC, in Connell, the Washington State Penitentiary, WSP, in Walla Walla, the Clallam Bay Corrections Center near Forks, the Monroe Correctional Complex north of Seattle, and the Washington Corrections Center for Women in Gig Harbor.

The programs, primarily focused on Associate of Arts degrees, are run in partnership with the Washington Department of Corrections, the State Board for Community & Technical Colleges (SBCTC) and a mix of nonprofit organizations including University Beyond Bars and the Freedom Education Project Puget Sound.

In addition, the SBCTC plans to introduce legislation in January that would remove a ban on state funding for higher education in prisons. If approved by the Legislature, that would allow DOC to expand offerings in conjunction with its private/public partnerships.

Changing the future

Research shows gaining a college education while in prison reduces the odds an offender will commit new crimes upon release, in part, because earning a degree makes it easier to find good jobs.

Parnel, who spent time in prison for multiple convictions including drugs and burglary, said that getting an education has done much more. It let him reimagine his future.

"The Associate of Arts degree lets you be anybody you want," said Parnel, who maintained a 3.94 GPA while earning the degree. "I said I want to be a scientist, and now I get the opportunity to be a scientist."

While in prison, Parnel saw the effect getting an education had on other inmates as well.

"You see changes in the way people think," he said. "Maybe you had that literature class and talked about something that changed the way you look at things. Maybe you had an anthropology class that really sparked something in your knowledge about different cultures."

Dirk Van Velzen, who earned a bachelor's degree in prison through correspondence courses (with funding from his father) also said taking classes while incarcerated has a profound effect by changing the way inmates view the future.

"You know a degree will make you more employable," said Van Velzen, who spent time in California and Washington prisons before being released earlier this year. "I really felt like my time in prison wasn't wasted. It helped me create a future and have the skills to be confident that I can do whatever I want to do."

Van Velzen created a non-profit scholarship fund, the Prison Scholar Fund, while in prison to help other offenders attend college and, post release, is trying to expand the program's reach.

Tanya Erzen, a professor at the University of Puget Sound and director of the Freedom Education Project Puget Sound (FEPPS), believes there's a societal shift underway when it comes to educating offenders. "It's just become much more a part of the cultural conversation," she said.

Part of that is due to the success of programs like FEPPS, but Erzen notes criminal justice reform has become a hot topic nationally with former President Bill Clinton saying he regrets signing an omnibus crime bill that led to longer prison sentences and President Barack Obama recently visiting a federal prison, the first sitting president to do so.

Obama also has directed that Pell grants be made available to certain offenders in prison. Under the pilot program, aimed at those eligible for release within five years, offenders could access the grants to pursue postsecondary education and training.

Parnel, now a top student at The Evergreen State College, said that if he had not been able to get a degree while in prison, "I would have been released and I would have continued to be part of the recidivism problem. I'd have gone out and got back to dealing drugs."

Instead, one of his goals is to become a scientist and "to pay taxes. That may sound horrible, but it's true," he said. "I didn't pay taxes my entire life. I want to have an income and I want to pay taxes. I want to be that guy – a stand-up guy in society."

Andrew Garber has more than 30 years' experience as a reporter at daily newspapers in South Carolina, Florida, Maine, Idaho and Washington. He spent 14 years at The Seattle Times with most of that time as a statehouse reporter covering the governor's office, the Legislature and state government. He joined the Washington Department of Corrections in March 2015.
---