Open the Door - Segregation Reforms in Colorado
By Rick F. Raemisch & Kellie Wasko
Published: 01/04/2016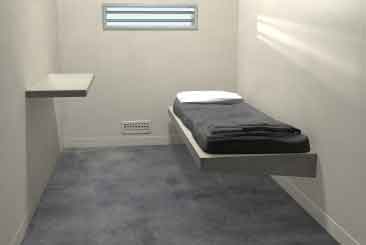 The following is Part 1 of 3 in a series about segregation reforms in Colorado.

In 1993, the Colorado Department of Corrections (CDOC) completed construction of its first facility entirely dedicated to Administrative Segregation: Colorado State Penitentiary. Located in the historic prison town of Cañon City, the facility was built for the specific purpose of handling Colorado's most dangerous offenders through isolation and containment in single cells. These offenders had been physically violent toward staff or other offenders, or were at risk of becoming victims of violence themselves. For such offenders, Administrative Segregation meant safety. But as time went on, the housing assignment was not used for just those that were dangerous, but instead became accepted practice for housing those with non-violent infractions and affiliations, as also became common in most states. At that point in time, Colorado was leading the industry in designing and building this institution and representatives from other state corrections came to Colorado to look at the facility as a model to be replicated.

During the late 20th century, assignment to Administrative Segregation — in some states known as solitary confinement — was standard protocol for difficult, dangerous offenders. Like traditional Administrative Segregation programs of the time, Colorado's program involved 23 hours of cell time and one hour out to exercise and shower each day. Per U.S. Constitutional requirements, Administrative Segregation offenders had access to a cell-side law library. They also had access to medical and mental health care. Additionally, each Administrative Segregation offender had a TV in his cell through which he could view periodic cognitive rehabilitative and educational programs. Nonetheless, the model of containment and the architecture of isolation was booming in Colorado as it was growing across the nation as a remedy to manage offenders who would not conform to orderly operations of general population through dangerous and violent behaviors.



REFORMING ADMINISTRATIVE SEGREGATION



In 2011, philosophies regarding Administrative Segregation began to shift. The late Tom Clements, then executive director of CDOC, felt that change was in order for Colorado. Armed with more than 30 years of experience working with the Missouri Department of Corrections, Clements began advocating for a restructuring of Colorado's Administrative Segregation program.

Clements was not the only one pushing for change. In 2011, the Colorado legislature laid the foundation for Administrative Segregation overhaul in the form of Senate Bill 11-176, which set forth guidelines for reclassification efforts and the awarding of earned time. The bill mandated significant changes, the likes of which few U.S. departments of correction had adopted.

Clements brought in the National Institute of Corrections to lend expertise to the reform process. These experts made the following recommendations regarding offender placement in Administrative

Segregation: narrow the criteria for placement of offenders in Administrative Segregation; use Punitive Segregation before Administrative Segregation; and develop a step down process for release from Administrative Segregation.

When reform implementation began in 2011, Colorado's Administrative Segregation offenders numbered more than 1,500 or 7% of the DOC population. Deputy director reviews were performed to determine whether offenders who had lived in Administrative Segregation for a year or longer should be progressed back to General Population. Initial reviews resulted in a push of more than 700 offenders from Administrative Segregation to General Population. And a Residential Treatment Program was developed and implemented in late 2012 to support the transition of offenders with serious mental illness out of the administrative segregation housing setting. In 2014, the CDOC expanded the model of Residential Treatment to the San Carlos and Denver Women's Correctional Facilities.



FROM ADMINISTRATIVE SEGREGATION TO RESTRICTIVE HOUSING



Horrifically, in March of 2013, an offender was released directly from Administrative Segregation after years of isolation, to the community as a parolee. This parolee assassinated a citizen in Denver as well as the Executive Director of the Department of Corrections, Tom Clements.

In July of 2013, Rick Raemisch, former secretary of the Wisconsin Department of Corrections, took the helm at CDOC after Clements' murder. At this time approximately 700 offenders remained housed in CDOC's reformed Administrative Segregation with 49% of the offenders being released from Administrative Segregation directly back into the community. There were still offenders who had been housed within Administrative Segregation for over 24 years; offenders with death penalty cases were being housed and managed in Administrative Segregation solely in response to their sentence and not institutional behaviors; and the five reformed statuses or levels of Administrative Segregation had resulted in a revolving door, with offenders progressing and then being regressed for minor rule infractions. Offenders had been placed into administrative segregation and they had to earn their way through multiple levels to be released from Administrative Segregation. In the event that they did not successfully make it through all the levels, they would regress accordingly and the cycle would continue. Ultimately, these offenders could spend years in Administrative Segregation and not know when they are coming out – for as many as 24 years. Mr. Raemisch recognized that the CDOC facilities and the public were not safer as a result of the continued use of long term Administrative Segregation.

Under Raemisch's leadership, it was clear that in order for the CDOC to operate safer facilities and to meet and fulfill the Departments ultimate Mission of long term public safety - further Administrative Segregation reforms had to occur.

As such the Department initiated a number of on -going reform efforts focused upon ending the reliance on the use of Administrative Segregation and developing a new determinate "Restrictive Housing Policy" by implementing the 13 guiding "Restrictive Housing" principles developed by the Association of State Corrections Administrators (ASCA). The CDOC not only embraced these guiding principles but well exceeded them with aggressive ambition and through implementation of policy and procedures that would pave the way for future reforms. The reform efforts were focused upon the use of restrictive housing for only the most violent, dangerous and disruptive offenders, while excluding offenders with Serious Mental Illnesses from being considered for restrictive housing placement.

Administrative Segregation terminology and all previous levels of Administrative Segregation were abolished and replaced with a newly developed restrictive housing policy which included a sanction matrix for violent acts that could result in consideration for placement in restrictive housing - maximum security status. Indeterminate sentences were also eliminated and replaced with determinate sanctions to ensure that offenders know why they are being assigned to restrictive housing - maximum security status and specifically for how long.

Furthermore the practice of releasing offenders directly from Administrative Segregation environments to the community was immediately ceased, and since March 2014 there have been zero (0) offenders released from restrictive housing - maximum security status directly to the community.

To support the newly developed restrictive housing polices and to ensure for a successful transition from restrictive housing to general population, the CDOC established a progressive Management (Step down) Process where offenders transition out of restrictive housing - maximum security status and are allowed to come out of their assigned rooms and re-socialize with small groups of other offenders, yet still be managed within highly structured and controlled close custody environments to ensure for the safety of our staff and the offender populations. These newly developed units are referred to as Close Custody Management Control Units (MCU) and Close Custody Transition Units (CCTU), which were designed specifically to assist offenders with pro-social stabilization and cognitive intervention programming prior to progression to larger general population living environments.

During May and June of 2014, a multidisciplinary committee of CDOC staff reviewed each of the offenders who had been housed in Administrative Segregation longer than 12-months for progression, and by July 2014 the Colorado Department of Corrections had successfully decreased their Administrative Segregation population to less than 1% of the total population of offenders with under 150 offenders remaining in Restrictive Housing – Maximum Security status.

The success of CDOC's Administrative Segregation Reforms and Restrictive Housing initiatives can be attributed to the following units, programs, and tools, all of which were created to reduce the reliance on the use of long term segregation, and designed to facilitate offender rehabilitation and success.

Continue reading next week on Corrections.com...!

Rick Raemish has been the Executive Director of the Colorado Department of Corrections since 2013. Rick has successfully implemented prison reforms in Colorado resulting in a safe, dramatic reduction of offenders held in administrative segregation, now less than 1% of the population, and eliminating the use of administrative segregation for offenders suffering from serious mental illness. Throughout his career in criminal justice, Rick has held many esteemed positions including Sheriff of Dane County, Wisconsin and head of the Wisconsin Department of Corrections.

Kellie Wasko is the Deputy Executive Director of the Colorado Department of Corrections. Prior to her appointment, Kellie was the director of clinical and correctional services and the warden for multiple correctional facilities throughout the state. She has spent time working in adult and juvenile detention in both the private and public sectors.
---