Why Polished Floors?
By Adam Strizzi
Published: 01/18/2016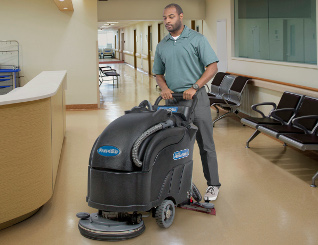 If you have recently visited a hospital or medical facility, one of the things you probably noticed was that the facility's hard surface floors were not only clean, but polished to a very high luster. Known in the professional cleaning industry as a floor with a "high gloss" shine or a "wet look," there are actually many reasons medical facilities in particular take this extra step and have a high luster on their floors.

For patients and their families, a high gloss shine builds trust. People are always concerned – if not downright nervous – about going to a hospital or similar medical location, and the shine on the floor helps them feel more comfortable. In its own way, it conveys a message that this facility is well run and has a well-managed, skilled staff that is very conscientious about the comfort and care people will receive there.

A little experiment will show just how true this is.

Close your eyes and imagine you are scheduled for surgery in, shall we call it, hospital number 1. Walking into the facility to be checked in, you notice the floors, which are often the first thing we all notice when entering any building. In this hospital, we see areas of the floor that are definitely soiled; a soda spill has gone unattended and has now dried on the floor; dust has collected under a couch; and as far as a shine on the floor, there is none to see.

Now, close your eyes once again and imagine you are having your surgery performed at another hospital, which we will call hospital number 2. As soon as we walk in, we see the floors are very clean. No dried spills this time and no debris is noticed anywhere on the floors. And as to the shine, the overhead lights are not only reflected in the high gloss floors, you can count them on the floor as you walk into the building.

Now ask yourself: Where would you like to have your surgery? Of course hospital number 2. You feel safe and you trust this location.

Well, in many ways, this is the same experience inmates have when first entering a correctional facility. The condition of the floor tells them a lot about the facility, how well run it is, and how safe it is. This is true for correctional staff as well.

In relation to the bigger picture--the overall cleanliness of the facility--starting with a high-gloss shine on floors can make the job of administrators and correctional staff a bit easier. The high-gloss shine evokes a sense of cleanliness; studies, especially in schools, have shown that in general people have more respect for a clean facility—and that respect often results in better behavior.*

Keeping the Shine

If we are all on the same page so far and realize the potential benefits of a high-gloss shine, the next issue that must be addressed is how to accomplish this. A medical facility may spend thousands of dollars annually just in labor costs, having its floors stripped, refinished, as well as buffed or burnished. A correctional facility will likely not have these costs because much of this labor will be performed by inmates trained to perform these tasks.

But what both types of facilities share in common are the following:
Floor care, especially strip and refinish, is very time consuming.
It is very disruptive; entire areas may need to be blocked off for hours while the finish is drying.
Depending on the type of cleaning solutions and polishes used, it can be potentially damaging to the indoor environment, especially in an enclosed correctional facility.
There are safety issues; stripping and refinishing a hard surface floor is considered one of the most dangerous of cleaning tasks.
Because of this, it is very important that correctional facilities, just like their medical facility counterparts, have an effective floor matting system in place. This includes not only mats at entries to the facility, but very importantly, interior mats that can help prevent soil and moisture being transported from one area of the facility to another on the soles of inmates' or staff members' shoes.

The type of interior mats we are referring to are called "wiper" mats. As the name implies, they wipe dust, moisture, soil, and contaminants from shoes as they are walked on. **

In addition to helping prevent soil from spreading in a facility, effective wiper mats can have a significant impact on protecting indoor air quality. This is accomplished because they capture and then trap dust that might become airborne, typically this attribute of a mat is referred to as "soil retention."

When selecting a wiper mat for inside a correctional facility, make sure it is made from a blend of microfiber and olefin. Some of the benefits of this fiber blend include the following:
The combination overall has much higher dust and soil retention properties.
Microfiber, because it is positively charged, attracts lint, dust, and contaminants preventing them from becoming airborne.
Olefin is designed to hold moisture and liquids.
The backing of the wiper mat is also crucial. A vinyl backing will help protect the high-gloss floor surface, which is the key goal.

We should note that correctional administrators are advised that these types of mats are typically purchased online or through a janitorial distributor. "Rental" mats tend to be of lower quality and therefore less effective at protecting the floor or the health of the facility. While they may cost less initially, long-term those pennies saved turn into costly dollars.

*The opposite can be true as well. For example, school officials and building owners are invariably advised to remove graffiti as soon as it is noticed. Graffiti, which we can refer to as bad behavior, attracts more graffiti or more bad behavior.

**What are called scraper mats are placed outside a facility to scrape off much heavier debris than would normally be found inside a facility.

Adam Strizzi is marketing manager for Crown Matting Technologies, one of the oldest and largest matting manufactures in North America. He can be reached via email at astrizzi@crown-mats.com
---