Never Let Them See You Sweat
By Joe Bouchard
Published: 02/08/2016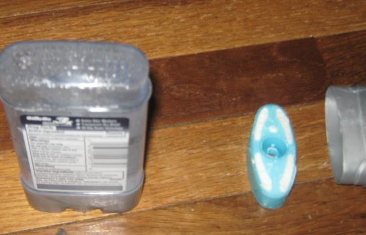 It is important for corrections professionals to remember that there are many unintended utilities for common items. That is part of what makes it dangerous to work in a corrections setting. I realize that this is an obvious truth. But it is important to think of ways that items can be misused and look for them. What you discover may save the life of a colleague, prisoner, or member of the public.

Personal hygiene is very important for the health of staff and prisoners. This is especially true in the close quarters of a correctional facility. Still, there are many implications for contraband regarding common deodorant containers.

These items are used for moving and concealing contraband.
Students break up into teams and are given a deodorant underarm container. The instructor gives the teams ten minutes to list how this item can be misused.
Instructor gives the following information.
Students report their findings to class.
Plastic deodorant containers are everywhere. When empty, they make a convenient place to hide things more or less in plain sight. For example, one of my colleagues made a discovery of a cell phone stored inside of a deodorant container. The phone was housed in the container right on top of a foot locker.

It may be that the container is more valuable on the unofficial market than the deodorant itself. It really is a simple matter to use, sell or discard the original product. Then, the plastic central screw core is removed from the container, leaving an empty cavity. The empty container can house so many things. Anything smaller than an MP3 player can fit into the vessel.

It should be noted that not all containers are the same. Some deodorant containers are made of clear plastic. Others are not. Like newer televisions that can be purchased by prisoners, those with clear plastic housings help staff in the search for contraband.

In addition, not all containers are the same size. One only has to think of the travel-sized containers that are less than half the size of a normal sized deodorant container.

Further differences are found where the deodorant is dispensed. Many containers feature a soft plastic platform on which the deodorant rises as the knob is turned. In this sort of container, the platform can act as a concealing lid below the cap once the central screw is removed. This adds one more step to the search. Other containers have the platform trapped under a grid – a place where the deodorant oozes out in a gel through holes in the top. With this, the contraband artist would really have to work with the plastic in order to use the inner lid as a concealer.

Of course, the deodorant need not be empty in order to conceal things. In fact, small items can be placed inside the solid deodorant. They can then be rolled down back into the container and concealed in an even more effective manner. Pictured below is a needle pressed into a deodorant stick. The needle is kept in place by the product and rolled into the container.

Let your imagination run wild with the chilling possibilities. Wires, money, razor blades, thumb drives, and needles are just a few things that could be hidden in the deodorant itself.

And we cannot forget the utility of adhesive labels on deodorant containers. Most deodorant labels are very effective as makeshift tape. Corrections veterans routinely see many notes and other contraband affixed to the bottom of carts and tables with deodorant labels.

I know that this is not a new concealment trick. But it is something that did not occur to me until I was made aware of it. That just goes to show that there are very few new tricks and corrections. They are just new to the individual corrections professional until they are discovered or taught. The more concealment schemes that you discover will aid in safety in your facility.

Even the most seasoned corrections veterans may discover something new.

Joe Bouchard is a Librarian employed with the Michigan Department of Corrections and a collaborator with The International Association of Correctional Training Personnel (IACTP). He is also the author of "IACTP's Corrections Icebreakers: The Bouchard 101, 2014". The installments in this series include his opinions. The agency for which he works is not in any way responsible for the content or accuracy of this material, and the views are those of the contributor and not necessarily those of the agency. While some material is influenced by other works, all of the icebreakers have been developed by Joe Bouchard.

Visit the Joe Bouchard page

Other articles by Bouchard:
---