You're without sight: Color blind
By Joe Bouchard
Published: 02/22/2016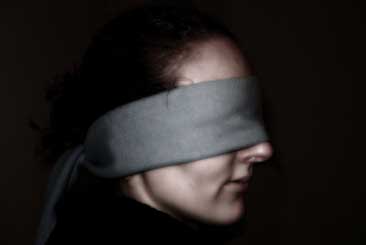 The following is an installment in "The Bouchard 101", a series featuring "Ice Breaker's" designed to promote training awareness and capabilities in the corrections industry.

How does a facilitator impart the lessons of trust, teamwork, adherence to instruction and patience to corrections staff? Use the exercise "Color Blind".

There are very few things needed. Four blindfolds, four coloring books and four small boxes of crayons.

The facilitator also has an index card that says "You cannot tell this to the blindfolded team member". This is the Direct Order Card.
Divide the class into four teams.
Select one student on each team who will be blind folded. Do not blindfold until step 3 is completed.
The person to be blindfolded is allowed to look at an uncolored picture from a coloring book for a few minutes.
Instructors may thwart the teams. For example, a picture may be turned upside down by the instructor while the blindfolded student is unaware. At this point, the facilitator silently presents the Direct Order Card to the sighted team members. The thwarting could be arbitrary and not impact all teams. That is the nature of circumstances in an unpredictable world.
It is up to the facilitator's discretion to throw wrenches in the works like this or to let the team guide the sightless member without hindrances.
Team members are not allowed to touch the crayons or paper or blindfolded team mate. They may only use their words to guide the blindfolded colleague.
At the end of ten minutes, the blindfold come off and pages are displayed.
The teams report out to the entire class about the challenges and triumphs involved in how they guided the blinded team member.
Teamwork is so important in our vocation. Sometime we are guiding colleagues who have no real grasp of the situation – like giving vision to those who cannot see.

Joe Bouchard is a Librarian employed with the Michigan Department of Corrections and a collaborator with The International Association of Correctional Training Personnel (IACTP). He is also the author of "IACTP's Corrections Icebreakers: The Bouchard 101, 2014". The installments in this series include his opinions. The agency for which he works is not in any way responsible for the content or accuracy of this material, and the views are those of the contributor and not necessarily those of the agency. While some material is influenced by other works, all of the icebreakers have been developed by Joe Bouchard.

Visit the Joe Bouchard page

Other articles by Bouchard:
---