Chipping Away at the Cultural Wall
By Andrew Garber, Washington Department of Corrections
Published: 03/07/2016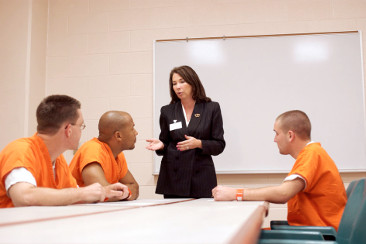 CLALLAM BAY CORRECTIONS CENTER – Behind the concertina wire and concrete walls, dozens of inmates gather in classrooms each day to discuss math, politics, religion, history and even creative writing.

While some of the classes are for college credit, most are held just for the sake of learning. And the courses are rapidly growing in popularity among offenders, who credit them not only with increasing their understanding of the world, but also with breaking down racial and cultural barriers.

"It's helping us bridge gaps," said Andre Parker, 34, a member of the Black Prisoners' Caucus, which started the education program, called Taking Education and Creating History, or TEACH, in 2013.

Pointing to a white inmate sitting next him in a classroom, Parker said "I might never have even spoken to him in here (prison), ever. Now he comes to class, and if I see him out there I'll say 'hey man, how's it going?' And his friends see that, and it starts bridging things."

The TEACH program, which started with a handful of students and a couple of courses, has grown to encompass more than 100 offenders and a long list of courses that offer students a path to college degrees. It's operated through volunteers, private donations and the inmates' own money. No state dollars are used.

Research nationally indicates that providing an education significantly reduces recidivism after release, but Sandra Diimmel, Clallam Bay's education director, says the TEACH program does much more.

"It's changed peoples' mindsets," Dimmel said. "We're actually getting offenders who want holds (on transfers to other prisons) so they can stay here. And who wants to stay at Clallam Bay?" she said, noting the prison's location on the Olympic Peninsula, outside Forks, is a long way from most offenders' friends and family.

Black Prisoners' Caucus

Dimmel and others credit Kimonti Carter, a 36-year old inmate serving a life without parole sentence, for his efforts to help launch the program.

Carter was transferred to Clallam Bay in April of 2012, after spending more than a decade at the Monroe Correctional Complex. He was president of the Black Prisoners' Caucus at Monroe. That group was instrumental in creating a higher education program at the prison called University Beyond Bars.

Carter said that when he arrived at Clallam Bay, there was no Black Prisoners' Caucus. Although there were education programs to earn high school equivalency diplomas and learn certain technical skills, there was no way to earn a college degree.

Leaning on his experience at Monroe, Carter, with the help of other offenders, won support from the prison administration to start a Black Prisoners' Caucus.

"It gave us the opportunity to get back into the natural order of things. How do we improve our community, how do we improve men who are going home soon? What can we do to help guys get educated and do something more productive with their sentence?" Carter said.

The caucus then came up with the idea of TEACH, and earned support for that program as well.

Mark Black, an assistant to Associate Superintendent Jeri Boe, said he had his doubts about what the offenders were doing at first. "I was trying to find out what is the agenda, what is the motive," he recalled. "I had to look into it to realize there can be acts of selflessness. They worked tirelessly to get this done."

As a new program, TEACH didn't have the resources to bring in instructors from universities or community colleges, and it's a long drive for volunteer instructors. So the offenders wrote to college professors, asking them for advice on how to teach courses themselves.

TEACH started off with a Survey of African American History course, but soon branched out into other subjects and reached out to other offenders in the prison.

"For many of the guys, once you begin to get involved, it begins to change the way you think and the way you see things. The way you problem solve and view the world and your position in it," Carter said.

"Going to school is actually giving me, not only the opportunity to learn a few things, but also to become wiser in the process," he said. "Then it's something that you want other people to be able to experience."

Creating Good Things

In the beginning, because TEACH was started by the Black Prison Caucus, there was some skepticism by other offenders that "oh, this is just something for the black guys," Carter said.

But that soon changed and TEACH began running classes with students from a broad spectrum of the prison population.

"Generally there's a lot of separation in prison. Whether it be skinheads or street gangs," said Stephen Young, 33, a TEACH student who is serving a life without parole sentence. "We're all coming together and helping to bridge the gaps between groups. It's kind of a cool thing really. It's nothing that I've experienced in prison before. And it's creating good things."

John Galdamez, 36, agreed, noting that TEACH "has helped out the Hispanic community a lot because (the prison) didn't have an ESL (English as a Second Language) class. TEACH started an ESL class and it's a way to help educate others. This is chipping away at the wall."

Some of the courses offer college credit, but many are designed simply to broaden offenders understanding of the world around them, or bring their literacy skills up to a level where they can take college-credit courses.

Nearly 30 percent of offenders at the prison do not have a high school degree or its equivalent. The majority of inmates' have less than a 9th grade level in math, and 29 percent have less than a 9th grade reading level.

"We're going through a political science course now," Carter said, "and a lot of the guys coming out of that class are saying 'now, when I watch debates and politics on the news, I actually understand what's going on. I understand the difference between a conservative, and a moderate or a liberal, and what it is that they're arguing over.' "

TEACH has high hopes for expanding its offerings and has reached out to other prisons to see if there could be a way to transfer course credits between prisons when offenders are moved.

There's an element of selfishness in all this, as well, offenders said, in that having inmates go through the classes provides for more interesting discussions outside of class.

"Our conversations are vast," Carter said.

Andrew Garber has more than 30 years' experience as a reporter at daily newspapers in South Carolina, Florida, Maine, Idaho and Washington. He spent 14 years at The Seattle Times with most of that time as a statehouse reporter covering the governor's office, the Legislature and state government. He joined the Washington Department of Corrections in March 2015.
---