The Face of a Transformed Life
By Rosanne Hughes, BCSO Communications Office
Published: 03/07/2016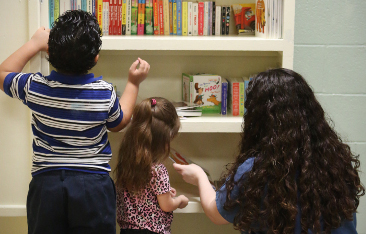 Photo Credit: Robbin Cresswell, BCSO

Day after day, corrections professionals like Aida Negron see the faces of incarcerated men and women file past her. Each face tells a story. One face tells the story of an abusive childhood. Another tells the story of despair and addiction. Then, as she walks down a hallway, Negron sees the face of hope in an inmate whose life is getting better as she regularly attends a class each day in the jail.

Negron, Manager of Jail Services and Programs at the Bexar County Adult Detention Center in San Antonio, Texas, has worked at the jail since 1993.

"Some were able to stay out and never come back, because they straightened out their lives," she said. "Other times, we would recognize each other. Sometimes they would break down in tears and say, 'Aida, I'm back.'" One day, Negron saw the face of a woman struggling with an addiction to cocaine. Little did she know they would later become friends and colleagues.

"I first met Michele Brown in 1994, when I was a substance abuse counselor in the jail and she was incarcerated," Negron said. "She was a good-humored and bright woman with a lot of spunk and potential."

When they first met, Brown was angry at the criminal justice system that held her, and not particularly open to treatment and recovery. She joined Negron's substance abuse program in the jail reluctantly. "I thought it would look good when I went before the judge," she says today.

But she saw in Negron someone who had empathy.

"Aida was able to reach me," Brown said. "She had a soft spirit and a genuine concern for our well-being, and I realized that someone actually cared about me – and she saw what I could become."

After decades in and out of the criminal justice system for crimes associated with her 30-year cocaine habit, Brown was finally clean of her drug use in October 1998. The mother of six children and grandmother of four not only conquered drugs and incarceration, she completed her bachelor's and master's degrees from Texas A&M University. She went on to work for Bexar County as a Reentry Specialist.

In addition to the substance abuse class, her faith in God and another jail program helped her in her journey, she says. It was a parent-child contact visitation program for incarcerated mothers called Mothers And Their Children, or MATCH. Bexar County was the first in the nation, 30 years ago, to implement MATCH. Ten years later, Papas and Their Children (PATCH) was created.

But it was her relationship with Negron that influenced her to return to the Bexar County Jail, years later. This time, it was to serve as a volunteer for the MATCH program. Working together over the years, Negron and Brown have grown to be colleagues and personal friends.

"I have seen a tremendous change in Michele's life from the time I first met her when she was incarcerated to today," Negron said. "She is such an inspiration to me personally, but also to so many women who have been moved by her personal story. Her willingness to make lasting changes in her life has impacted her family, but she's gone beyond that by paying it forward and helping many other incarcerated women and their families."

Bexar County Sheriff Susan Pamerleau praised Brown's success.

"We're so proud of Michele, and the men and women like her, who are making positive changes in their lives while incarcerated in the Bexar County Adult Detention Center," Pamerleau said. "She's proof that jail programs can be instrumental and effective in changing lives for the good. It's not just about locking people up and throwing away the key."

Bexar County Jail Administrator Deputy Chief Raul S. Banasco said jail programs are an important component in breaking the destructive cycle of recidivism.

"In society, women offenders face unique challenges as single parents while going through the criminal justice system," Banasco said. "That's why programs like MATCH are important in breaking the cycle with the offenders' children."

Negron said Brown's story, though dramatic, is not isolated. The faces of other formerly incarcerated mothers and fathers with true life change have crossed her path as well.

"Over the course of the last 30 years that this program has operated at the Bexar County Jail, a significant number of incarcerated parents have been transformed by this program," Negron said. "We are purposefully trying to interrupt the cycle of generational incarceration," she said. "By positively affecting a mother, we affect her children, and subsequently the family, and the community."

Rosanne Hughes is the Change Management Specialist at the Bexar County Sheriff's Office in San Antonio, Texas.
---