ADTC Correction Officer Receives Kidney From Co-worker
By Minhaj Hassan, NJ Department of Corrections
Published: 03/07/2016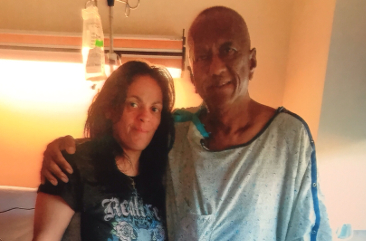 One day last spring, Gladys Garcia noticed something didn't look right with Ernesto Dizon, her close friend and longtime co-worker at the Adult Diagnostic and Treatment Center (ADTC) in Avenel, N.J.

"His face looked very swollen, and it looked like it lost some color," she recalled.

Running into him another time while getting a soda from a vending machine, Garcia - a communications operator at ADTC for the last nine years – asked Dizon if he was feeling okay. It was then that Dizon revealed some shocking news: He needed a new kidney.

His kidneys were only functioning at 20 percent. For several months, Dizon - a senior correction officer who has been with the New Jersey Department of Corrections for 10 years - had quietly been going to dialysis sessions three mornings a week. After each session, Dizon would go straight to ADTC to work his shift.

Upon hearing the news, Garcia asked Dizon to "give me your doctor's number." The reason: she wanted to donate one of her kidneys to him.

Initially, Dizon thought Garcia was simply making another wisecrack. Having worked with Garcia for several years, Dizon had become accustomed to her unique sense of humor.

"He looked at me like I was joking and then walked away," Garcia remembered.

Eventually, Dizon realized Garcia was being serious. Nonetheless, he felt uncomfortable with her making such a significant, generous offer.

"He told his family that he didn't want to put me through all the pain," she said, "but I didn't think twice."

Garcia said reaching her decision hardly involved any soul searching, and that "it was just a gut feeling." She thought of Dizon's daughters and the impact their father's deteriorating health would have on them.

"Their father is the world for those little girls," Garcia said. "He needs to walk down the aisle for them on their wedding day." Dizon has three daughters, ages 7, 9 and 13.

The communications operator said even psychiatrists and other medical professionals asked during the approval process if she was certain she wanted to make the organ donation.

"I was absolutely sure," Garcia said confidently. "I told them my kidney is not going to be rejected. My kidney belongs in his body."

It turned out she was right. The kidney transplant took place on October 13 at Saint Barnabas Medical Center in Livingston. The procedure of removing a kidney from Garcia lasted about two hours. She said the procedure involved an incision, a camera and some "sharp objects."

Dizon's kidney transplant took about six hours. "It's like getting a new battery," said Dizon, who currently is on leave. "It is a gift of life. It is amazing."

On that day, Garcia hardly felt nervous.

"I was excited. I was looking forward to it," she said. "I couldn't wait for the day to arrive. It was like Christmas."

The whole process went smoothly.

"The doctors said it was one of the fastest kidney acceptances they had seen," Garcia said.

Dizon praised Garcia for her bravery and altruism.

"It's unbelievable," he said. "She is an angel. She saved my life. She takes on the character of her mom. I'll always be grateful."

Dizon's health problems began some four years earlier, at age 49, when a routine blood test revealed he had higher-than-normal levels of creatine, an acid that helps transport energy to cells. Having elevated levels can cause kidney damage, the correction officer said.

After the levels remained stubbornly high, he was placed on a dialysis. Last spring, he learned he would need a new kidney, or he would need to keep the grueling dialysis regimen. Later in the year, Dizon broke his hip. He believes that injury was a by-product of the numerous medications he had been taking, adding that his bones felt "brittle."

In the weeks leading to the operation, Garcia had gone through a battery of tests, including a mammogram, stress test, bone density exam, blood pressure and cholesterol screenings. Everything came back fine, with Garcia describing the process as "pieces of a puzzle coming together."

Garcia spent three days in the hospital.

"I've been doing everything as normal as can be," she said just before knocking on a wood table.

Major Colm Foley of ADTC has known Dizon close to 10 years. He described him as easygoing, smart and capable.

"It is an unfortunate thing that has happened to him," Foley said. "He is an excellent officer. He is a credit to the department."

Garcia, according to Foley, is an orderly, dedicated and diligent employee whose willingness to help was underscored through her kidney donation, he said.

"She went above and beyond. She gave something of herself that not many people would," he remarked. "It's great the department has people of her character."

Dizon said he is improving gradually and remains hopeful and positive minded about the future.

"I'm taking it one day at a time," he said. "My kids have more time with me now."

Minhaj Hassan worked as a journalist before coming to the New Jersey Department of Corrections' Public Information Office in January 2015.
---