Correction Officer Helps Save Woman in Flipped Car, Earns Prestigious Honor
By Minhaj Hassan, NJ Department of Corrections
Published: 03/28/2016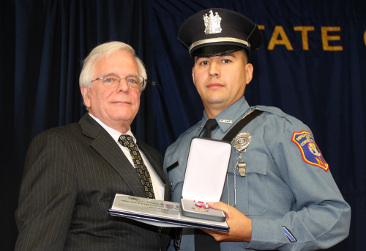 On the afternoon of June 12, Jeomar Alicea made a routine trip to a supermarket in Cinnaminson, N.J., to pick up a bag of rice. The 36 year-old senior correction officer at the New Jersey Department of Corrections' Albert C. Wagner Youth Correctional Facility was enjoying his vacation day, sunshine and warm temperatures throughout.

Just minutes into his drive home, he saw something that was far from pleasant: a driver losing control and the vehicle flipping over. As he described it, "it was surreal."

Driving behind a 1996 Honda Civic, Alicea noticed a white Ford Fiesta merging into, cutting off the Civic directly in front of Alicea's vehicle. The abrupt merger caused the driver of the Civic to swerve to the right to avoid a collision. However, as the Civic's driver attempted to steer back into the middle lane, the vehicle lost control, skidding across the highway's multiple lanes before striking a curb and flipping over once. The vehicle landed on its roof in a grassy area separating the north and south lanes.

Luckily, when the vehicle was skidding across all those lanes – a movement known as yawing – there were few cars in the way.

"I was seeing it, and I was like, 'Oh my God!'" he recalled. "There are usually a lot of cars driving by there. It almost looked like a pathway was open."

Alicea quickly pulled his vehicle over to the right shoulder and dashed across several lanes to reach the median where the vehicle was upside down. Alicea looked through the passenger side window to assess the situation. He then quickly went to the other side to help the motorist.

The driver, a female in her 20s, was partially ejected from the vehicle after it flipped over. Her torso was sticking out of the car, but the rest of her body was pinned inside, he said.

Soon, other people also stopped, among them a retired paramedic. Those lending assistance were able to partially lift the car and remove the driver.

Alicea stabilized the victim's head as she lay on the ground, making sure she didn't move in order to avoid pain. That was the hard part, according to Alicea.

"She was very scared and shaken up," Alicea remembered. "I tried to calm her down, saying everything was going to be OK."

Because she only spoke Spanish, Alicea remained at the scene to translate her recollections. Despite the horrific nature of the accident, Alicea said the victim's only apparent injury was a cut below one of her wrists.

Alicea was recognized with the Meritorious Service Award at the Departmental Service Awards Ceremony. As described by the department, the award is given for an act "of such an outstanding nature that it engendered local, state national or international attention to both the individual and the New Jersey Department of Corrections."

The award follows one that he previously received for another incident. In 2014, Alicea received the Commissioner's Commendation, which is given to individuals who have performed "highly intelligent and valuable acts of service."

Alicea was modest when asked about the integral role he had in assisting the injured motorist, saying he simply followed his instincts and what he has been taught in his professional and personal life. They are the kinds of values, he said, that you don't stop practicing just because you're not on the clock.

"If I can help, I will," he said. "That's just who I am. That is my nature."

Still, he is mindful that most people would probably do the bare minimum and not a whole lot more. He believes much of that stems from a lack of communal feeling and being overly guarded.

"We live in a society where people tend to be nonchalant and say, 'That's not my business,'" Alicea opined. "But I think we have to make it our business in order to make a positive difference. People have become very impersonal. They would rather text than make a phone call."

Alicea said the values of helping people and selflessness were learned during his time in the United States Marine Corps, where he served between 1997 and 2001. He had been stationed at Camp Lejeune in North Carolina, and he served a year in Iwakuni, Japan.

"They instill in you honor, courage and commitment," Alicea said. "You never lose those values. You feel obligated to help anyone in need."

Minhaj Hassan worked as a journalist before coming to the New Jersey Department of Corrections' Public Information Office in January 2015.
---